Conexión Vertical - 30 de Junio


"RECONOCE TU DEPENDENCIA"
Cuenta la historia que Dalila había intentado varias veces pedirle a Sansón que le dijera qué lo hacía tan fuerte, pero no lo había logrado hasta que un día le dijo: ¿Cómo puedes decirme "te amo" si no me confías tus secretos? ¡Ya te has burlado de mí tres veces y aún no me has dicho lo que te hace tan fuerte!".Lo presionó tanto que finalmente logró que Sansón le revelara su secreto: "Nunca se me ha cortado el cabello -le confesó-, porque fui consagrado a Dios desde mi nacimiento. Si me raparan la cabeza, perdería la fuerza, y me volvería tan débil como cualquier otro hombre".
Dalila arrulló a Sansón hasta dormirlo con la cabeza sobre su regazo y luego hizo entrar a un hombre para que le afeitara las siete trenzas de su cabello. De esa forma, comenzó a debilitarlo y la fuerza lo abandonó.Entonces ella gritó: "¡Sansón! ¡Los filisteos han venido a capturarte!". Cuando se despertó, pensó: "Haré como antes y enseguida me liberaré", pero no se había dado cuenta que el Señorlo había abandonado. Así los filisteos lo capturaron y le sacaron los ojos, se lo llevaron a Gaza, donde lo ataron con cadenas de bronce y lo obligaron a moler grano en la prisión, pero en poco tiempo, el cabello comenzó a crecerle otra vez.
Los gobernantes filisteos se habían juntado para celebrar un gran festival y exigían que trajeran a Sansón para que los entretuviera, así que lo sacaron de la prisión. En ese momento Sansón le pidió a un joven sirviente que lo llevara hasta el lugar donde se encontraban las columnas que sostenían el templo y pusiera sobre ellas sus manos. Entonces oró: "Soberano Señor, acuérdate de mí otra vez. Oh Dios, te ruego que me fortalezcas sólo una vez más. Con un solo golpe, déjame vengarme de los filisteos por la pérdida de mis dos ojos". Entonces Sansón apoyó las manos sobre las dos columnas centrales que sostenían el templo, las empujó con ambas manos y pidió nuevamente en oración: "Déjame morir con los filisteos". Y el templo se derrumbó. De esa manera, Sansón mató más personas al morir, que las que había matado durante toda su vida.
Cuando reconocemos que dependemos completamente de Dios, El convierte nuestros fracasos en victorias, lo hizo con Sansón y hoy también puede hacerlo contigo, solo acepta que ya no puedes seguir luchando en tus propias fuerzas y necesitas que Él intervenga a tu favor para darte la victoria que estás esperando.
Dios no puede evitar las consecuencias de nuestros actos y decisiones pero si puede hacer que estos sean más beneficiosos para nuestras vidas.
Un pequeño paso de obediencia es un gigantesco paso hacia la bendición.
Brisna Bustamante S.
Sub Coordinadora Call Center
¿Que piensas de este devocional, fue de bendición para tu vida? Envía tus comentarios a]teayudamos@cvclavoz.com
Haz clic aquí para visitar la página de CVC La Voz
Si necesitas oración o consejería, CVC La Voz tiene personas preparados para recibir ayuda. CVC La Voz Radio Cristiana provee contenido dinámico y relevante diariamente para impactar vidas. Tenemos un grupo dedicado de consejeros listo para recibir su petición de oración, comentarios o preguntas.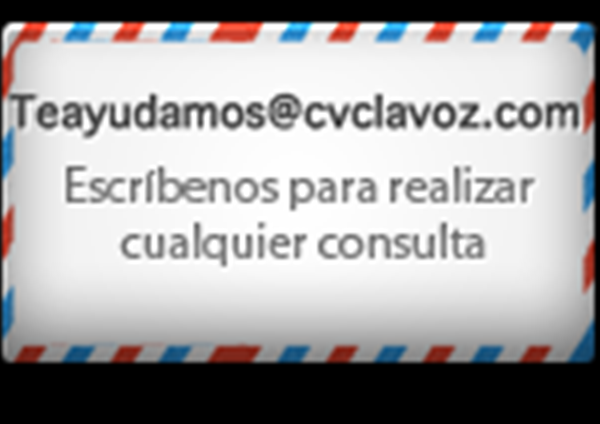 Recently on Conexión Vertical
Follow us on Facebook
Get Conexión Vertical devotionals directly to your News Feed.
Have something to say about this article? Leave your comment via Facebook below!
advertise with us
Example: "Gen 1:1" "John 3" "Moses" "trust"
Advanced Search
Listen to Your Favorite Pastors