Conexión Vertical - 5 de Diciembre

¡Al rescate!
Ana María Frege Issa
Si ahora mismo hiciéramos una encuesta a nivel mundial ningún país podría decir que no sufre de violencia, decadencia moral, corrupción o cualquiera de esos males que están destruyendo nuestras sociedades.
Todo el mundo parece estar enfrentando problemas sociales que nos cuestionan, preocupan y hasta desalientan.
En Génesis 18 Abraham decide interceder por Sodoma. Bien sabemos que no se trataba de una ciudad modelo, Dios iba a destruirla por su maldad, por su pecado.
Abraham bien podría haberse quedado callado y aceptar la voluntad de Dios, al final el patriarca bien sabía que Dios es soberano en sus decisiones y que sin duda, si había tomado esa decisión era porque tenía motivos para destruirlos. Pero no sucedió eso, sino que Abraham decidió interceder por ellos y de los 50 justos con los que se inicia la conversación, Dios termina aceptando que si encontrara sólo 10 justos no destruiría la ciudad.
Hay que ser valiente para hacer lo que Abraham hizo y no porque Dios no quiera escucharnos o sea inaccesible sino porque se atrevió a interceder y pedirle a Dios que cambiara su decisión. Muchos de nosotros nos conformamos con la frase: "Si es la voluntad de Dios…" y ya no nos tomamos la molestia de orar, de presentarle a Dios nuestras inquietudes.
La intercesión de Abraham ante Dios por Sodoma es un modelo de cómo la oración del justo puede mover la mano de Dios.
Puede ser que las noticias te sorprendan, alarmen y hasta te desanimen pero ¿has estado intercediendo por tu ciudad? ¿Te has puesto a pensar lo que nuestra oración haría en nuestras ciudades y países?
Es verdad que no hay retorno para las decisiones que tomamos, las que ya fueron hechas no pueden ser cambiadas y tienen sus consecuencias pero nosotros tenemos una salida, una oportunidad. Podemos cambiar la historia y Dios está dispuesto a darnos una mano, Él quiere ayudarnos.
"Los ojos de Jehová están sobre los justos, Y atentos sus oídos al clamor de ellos". Salmos 34:15
Tienes la oportunidad de rescatar tu ciudad, tu país. Puedes cambiar la historia de tu nación y Dios sólo está esperando que le hablemos, que seamos los embajadores que interceden por su país, que le confiemos nuestros problemas y descansemos en su misericordia.
Haz clic aquí para visitar la página de CVC La Voz
Si necesitas oración o consejería, CVC La Voz tiene personas preparados para recibir ayuda. CVC La Voz Radio Cristiana provee contenido dinámico y relevante diariamente para impactar vidas. Tenemos un grupo dedicado de consejeros listo para recibir su petición de oración, comentarios o preguntas.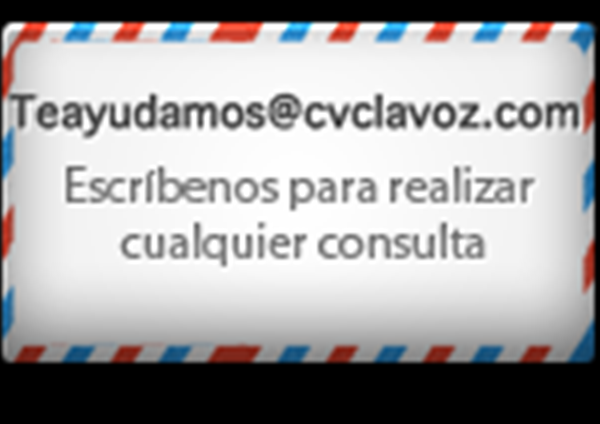 Recently on Conexión Vertical
Follow us on Facebook
Get Conexión Vertical devotionals directly to your News Feed.
Have something to say about this article? Leave your comment via Facebook below!
advertise with us
Example: "Gen 1:1" "John 3" "Moses" "trust"
Advanced Search
Listen to Your Favorite Pastors