Conexión Vertical - 2 de Septiembre


¡No me soltarás!
"Aun cuando yo pase por el valle más oscuro, no temeré, porque tú estás a mi lado. Tu vara y tu cayado me protegen y me confortan" - Salmos 23:4 NTV
El doctor Alfonso debía entregar medicamentos, al único centro de salud de un pequeño pueblo, alejado de la ciudad; en el último tramo antes de llegar, debía caminar por un estrecho y peligroso sendero que rodeaba la montaña, no podía detenerse ya que quería aprovechar la luz del día para llegar a su destino final, esa era su meta.
Sin embargo una pequeña piedra hizo que resbalara hacia el vacío, pero instintivamente reaccionó agarrándose de una raíz que sobresalía, pensó ¿Qué hago? ¿Quién me ayudará si no vi a nadie en todo el camino? Entonces gritó insistentemente: ¡Dios ayúdame, Dios ayúdame!, pero la única respuesta que oía era solo el silbido del viento.
Estaba agotado y su mano ya no aguantaba más el peso de su cuerpo, así que con gran desesperación pensó en dejarse caer al vacío. Pero en ese instante alguien lo tomó fuertemente de la mano y entre jalones le arrastró hasta el borde del sendero. Era un hombre robusto de piel canela, habitante del pueblo al cual se dirigía y que lo había estado vigilando todo el camino de manera silenciosa, porque era conocedor de los peligros de la zona. Su silencio y su intervención oportuna salvaron al doctor de un fatal desenlace.
Dios conoce muy bien nuestros caminos, los peligros, las complicaciones y los retos que afrontamos. Tengamos por seguro que el Señor está siempre atento, para que cuando lo necesitemos, El venga en nuestro socorro a tomarnos de la mano. Nunca llega tarde ni se distrae, sino que está mirándonos con la misma atención, con la que un padre observa a su hijo cuando está aprendiendo a caminar.
Aunque andemos en valles obscuros o si estamos en calma Dios está con nosotros, no hay nada ni nadie que nos aleje de su presencia. Su mano está ahí para sacarnos una y otra vez y traernos de vuelta al camino.
"No me soltarás en la calma o la tormenta" dice una conocida canción, y esto es tan cierto que lo podemos comprobar día a día
"Ciertamente tu bondad y tu amor inagotable me seguirán todos los días de mi vida, y en la casa del Señor viviré por siempre." Salmos 23:6 NTV
Soraida Fuentes
Haz clic aquí para visitar la página de CVC La Voz
Si necesitas oración o consejería, CVC La Voz tiene personas preparados para recibir ayuda. CVC La Voz Radio Cristiana provee contenido dinámico y relevante diariamente para impactar vidas. Tenemos un grupo dedicado de consejeros listo para recibir su petición de oración, comentarios o preguntas.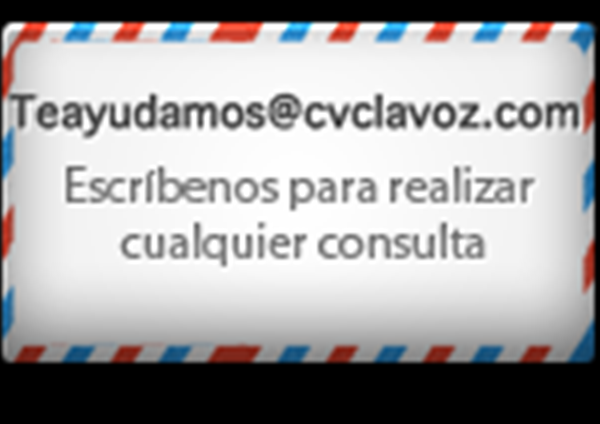 Recently on Conexión Vertical
Follow us on Facebook
Get Conexión Vertical devotionals directly to your News Feed.
Have something to say about this article? Leave your comment via Facebook below!
advertise with us
Example: "Gen 1:1" "John 3" "Moses" "trust"
Advanced Search
Listen to Your Favorite Pastors