Conexión Vertical - 31 de Enero

Un encuentro personal
"Porque el Hijo del hombre vino a buscar y a salvar lo que se había perdido". Lucas 19:10
Había un hombre llamado Zaqueo. Era jefe de los cobradores de impuestos de la región y se había hecho muy rico. Zaqueo trató de ver a Jesús: pero era de poca estatura, por lo cual, no podía ver por encima de la multitud. Así que se adelantó corriendo y se subió a una higuera que estaba junto al camino, porque Jesús iba a pasar por allí. Cuando Jesús pasó, miró a Zaqueo y lo llamó por su nombre: «¡Zaqueo! - le dijo – ¡baja enseguida! Debo hospedarme hoy en tu casa». Zaqueo bajó rápidamente y lleno de entusiasmo y alegría, llevó a Jesús a su casa; pero la gente estaba disgustada, y murmuraba: «Fue a hospedarse en la casa de un pecador de mala fama». Mientras tanto, Zaqueo se puso de pie delante del Señor y dijo: – Señor, daré la mitad de mi riqueza a los pobres y, si estafé a alguien con sus impuestos, le devolveré cuatro veces más. Jesús respondió: – La salvación ha venido hoy a esta casa. (Lucas 19:1-9)
Si Jesucristo entra en nuestra vida, trae salvación. Esto fue lo primero que Él mismo declaró a Zaqueo, quien pensaba, que quizás debía hacer valer sus buenas obras, diciendo: "La mitad de mis bienes daré a los pobres". Pero Jesús le dijo: "Hoy ha venido la salvación a esta casa". Lo que importa ante todo, es recibir la salvación que el Salvador ofrece, recibir su gracia y su perdón.
Hoy día, Él quiere entrar en tu corazón ¿Tienes lugar para Él? Esto consiste sencillamente en creer en Él, comprender que murió en nuestro lugar y amarle. Jesús fue crucificado para sufrir el castigo que nosotros merecíamos.
"Hoy es necesario que pose en tu casa", dijo Jesús a Zaqueo. Éste descendió aprisa y le recibió gozoso. Zaqueo necesitaba de Jesús, ¿y tú? Jesús te dice: – Quiero habitar en ti, dame un lugar en tu trabajo, en todos tus ratos libres… ¿Qué vas a responder?, "que en todo Él tenga la preeminencia".
Tal vez pienses que tú te encuentras arruinado y perdido, pero Dios te invita a tener una nueva vida, a tener una nueva relación con Él, quien quiere darle un verdadero sentido a tu existencia.
Solo Jesús y el valor de su sangre derramada en la cruz pueden asegurar la salvación eterna a cada uno de los que creen en Él.
Es necesario tener un encuentro real y personal con el Salvador, de corazón a corazón, para escuchar su voz.
Este día te animo a entregarle tu vida y recibirlo en tu corazón, experimentarás la paz que tanto has estado buscando, la que sólo Jesús te puede dar. CVCLAVOZ
Brisna Bustamante
El siguiente crédito, por obligación, es requerido para su uso por otras fuentes: Este artículo fue producido por Radio Cristiana.
Haz clic aquí para visitar la página de CVC La Voz
Si necesitas oración o consejería, CVC La Voz tiene personas preparados para recibir ayuda. CVC La Voz Radio Cristiana provee contenido dinámico y relevante diariamente para impactar vidas. Tenemos un grupo dedicado de consejeros listo para recibir su petición de oración, comentarios o preguntas.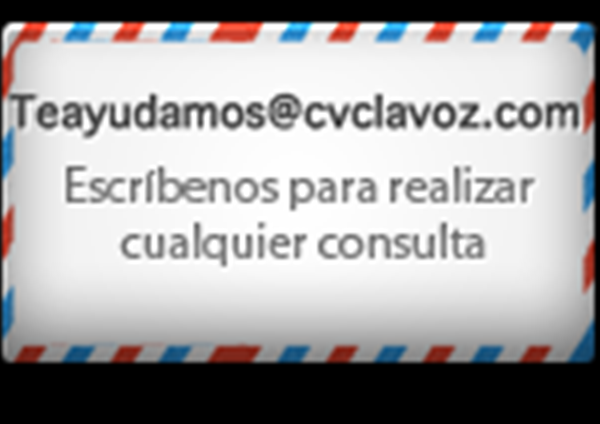 Recently on Conexión Vertical
Follow us on Facebook
Get Conexión Vertical devotionals directly to your News Feed.
Have something to say about this article? Leave your comment via Facebook below!
advertise with us
Example: "Gen 1:1" "John 3" "Moses" "trust"
Advanced Search
Listen to Your Favorite Pastors