Conexión Vertical - 2 de Junio


¡Sigue Saltando!
Cuentan que un grupo de ranas viejas viajaban por el bosque y, de repente, dos de ellas cayeron en un hoyo profundo. Todas las demás ranas se reunieron alrededor del agujero. Cuando el grupo de ranas vio cuan hondo era el hoyo le dijeron a sus compañeras que estaban en el fondo que, para efectos prácticos, se debían dar por muertas.
Las dos ranas no hicieron caso a los comentarios de sus amigas y siguieron tratando de saltar fuera del hoyo con todas sus fuerzas.
Las otras ranas seguían insistiendo en que sus esfuerzos serían inútiles.
Finalmente, una de las ranas puso atención a los que las demás decían y se rindió, se desplomó y murió. La otra continuó saltando tan fuerte como le era posible. Una vez más la multitud de ranas le gritó que dejara de sufrir y simplemente se dispusiera a morir.
Pero la rana saltó cada vez con más fuerza hasta que finalmente salió del hoyo.
"¿No escuchaste lo que te decíamos?" fue lo primero que preguntaron las otras ranas una vez que vieron fuera a su compañera.
La rana les explicó que era sorda y que ella pensó que las demás la estaban animando a esforzarse más por salir del hoyo.
Como estas ranas, puedes estar enfrentando una situación que parece imposible de solucionar, puede que haya gente que te diga que es inútil todo lo que haces y que te rindas, tal vez tu hayas estado cuestionando a Dios por tu situación y pensado que lo que haces no tiene sentido y que es mejor dejarse morir como la rana que se quedó en el fondo del hoyo.
Pero esos no son los planes de Dios para ti. Sigue luchando, no te rindas. Puede ser que otras personas, en tu misma situación o en una similar, hayan decidido dejarse morir pero tú no estás solo, recuerda que: "Antes, en todas estas cosas somos más que vencedores por medio de aquel que nos amó" Romanos 8:37
No escuches lo que la gente tiene que decir, cree en la promesa de Dios, en su fidelidad y sigue saltando porque Él nunca falla y te ha asegurado la victoria.
Ana María Frege Issa
Coordinadora Call Center
Tags: Confianza, Fe, problemas, Vencer, esfuerzo, Promesa.
Haz clic aquí para visitar la página de CVC La Voz
Si necesitas oración o consejería, CVC La Voz tiene personas preparados para recibir ayuda. CVC La Voz Radio Cristiana provee contenido dinámico y relevante diariamente para impactar vidas. Tenemos un grupo dedicado de consejeros listo para recibir su petición de oración, comentarios o preguntas.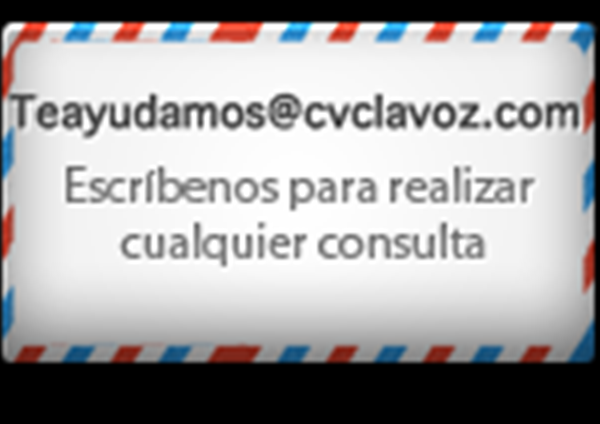 Recently on Conexión Vertical
Follow us on Facebook
Get Conexión Vertical devotionals directly to your News Feed.
Have something to say about this article? Leave your comment via Facebook below!
advertise with us
Example: "Gen 1:1" "John 3" "Moses" "trust"
Advanced Search
Listen to Your Favorite Pastors