Conexión Vertical - 5 de Junio

Su Perdón
La Biblia está llena de historias impresionantes de amor, guerras, alimento que llueve del cielo, el sol se detiene, multitudes alimentadas con cinco panes y dos peces, ciegos que vuelven a ver, muertos que resucitan y muchas más. Hay relatos de perseverancia, de amor, de compasión de rectitud, de coraje, de fe, de arrepentimiento, de perdón y salvación.
Todas las historias nos enseñan algo pero hoy vamos a recordar a aquellos hombres y mujeres que fallaron, se equivocaron, desobedecieron, pecaron, o hasta se rindieron. Gente que, aun habiendo andado con el Maestro, no hizo lo que debía.
Todas estas historias son perfectamente aplicables a nuestras vidas, en un momento u otro, unas más que otras posiblemente, pero todas tiene algo para cada uno de nosotros. Tal vez te has identificado con Jonás tratando de huir del llamado de Dios o Sansón permitiendo que tus fuerzas se vayan al involucrarte con cosas del mundo o quizás la parábola del Hijo pródigo sea la que más se aplique a tu vida y quién sabe, hasta podrías haber sido como Judas ó Pedro en algunas oportunidades. Sin duda alguna hay muchos relatos y personajes en los que nos vemos reflejados.
Pero sin importar con quién te identificas o cuál es tu historia, lo más importante es el fin que le des a tu historia.
Muchos de los hombres y mujeres que fallaron se arrepintieron, pidieron perdón y retomaron el rumbo de sus vidas y cambiaron la historia de la humanidad. No están en la Biblia por casualidad, sino para enseñarnos que Dios tiene un plan con nuestras vidas y que sin importar qué hicimos Él quiere perdonarnos.
¿Te equivocaste? ¿Fallaste? Bueno, no esperes más para pedirle perdón a Dios y cumplir el propósito que Él tiene para tu vida.
Recuerda que Dios siempre está presto a perdonarnos y a darnos una nueva oportunidad. Si no fuera así, hace mucho que la humanidad habría desaparecido, el pecado habría terminado con nosotros. Si a Dios le interesara castigarnos y darnos la espalda, ¿qué sentido tendría la muerte de Jesús en la cruz? Él decidió dar su vida por nosotros aún sabiendo de nuestras imperfecciones y de nuestros errores. ¿Qué otra prueba de su inmenso amor?
"Señor, Señor, si tuvieras en cuenta la maldad, ¿quién podría mantenerse en pie? Pero en ti encontramos perdón, para que te honremos". Salmos 130:3-4 (DHH)
Autora: Ana María Frege Issa
Tags: Perdón, historias, amor, arrepentimiento, pecado, maldad.
Haz clic aquí para visitar la página de CVC La Voz
Si necesitas oración o consejería, CVC La Voz tiene personas preparados para recibir ayuda. CVC La Voz Radio Cristiana provee contenido dinámico y relevante diariamente para impactar vidas. Tenemos un grupo dedicado de consejeros listo para recibir su petición de oración, comentarios o preguntas.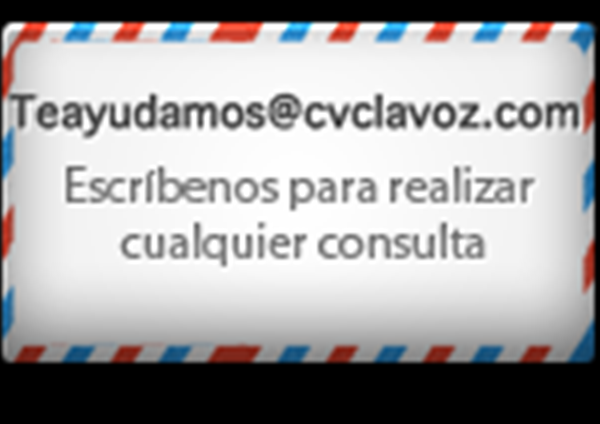 Recently on Conexión Vertical
Follow us on Facebook
Get Conexión Vertical devotionals directly to your News Feed.
Have something to say about this article? Leave your comment via Facebook below!
advertise with us
Example: "Gen 1:1" "John 3" "Moses" "trust"
Advanced Search
Listen to Your Favorite Pastors