Conexión Vertical - 9 de Diciembre

¿A pesar de todo, me seguirás amando?
Resulta fácil hacer un trabajo cuando tenemos todas las herramientas necesarias para realizarlo, o bien decir adiós a alguien, pero íntimamente sabiendo que al siguiente día lo volveremos a ver. Tampoco hay dificultad alguna en hacerle un favor a aquella persona que nos cae bien y nos agrada. De igual manera se nos hace muy fácil alabar y servir a Dios, en especial cuando recibimos buenas noticias y todo nos sale bien. Pero, ¿que pasa cuando no es así?;
"Aunque la higuera no florezca, Ni en las vides haya frutos, Aunque falte el producto del olivo, Y los labrados no den mantenimiento, Y las ovejas sean quitadas de la majada, Y no haya vacas en los corrales; Con todo, yo me alegraré en Jehová, Y me gozaré en el Dios de mi salvación." Habacuc 3:17
Pero… Si todavía no llega lo que estas esperando, no ves los frutos de tu trabajo, y pareciera que en lugar de vivir una vida abundante, vives en escasez. O quizás tus planes no salieron como pensabas y no puedes ver una salida. Si has estado peleando como buen soldado, pero sigues viendo al enemigo tan fuerte como antes, con todo ¿Podrás aún alegrarte y gozarte sabiendo que tienes a Dios de tu lado?
Si estas pasando problemas y por tanto, has dejado de orar, de leer su palabra, o has dejado de servir, de obedecer, puede que te encuentres desanimado, pensando que Dios no te oye, o que si lo hace de todas maneras no te responde. Entonces hay una pregunta para tí, ¿que te movía a orar, buscar y servir a Dios?, ¿el amor que sientes por El o sus bendiciones?
"Por lo cual, levantad las manos caídas y las rodillas paralizadas; y haced sendas derechas para vuestros pies, para que lo cojo no se salga del camino, sino que sea sanado." Hebreos 12:12-13
Si estas pasando por una situación difícil ¡No esperes hasta que las bendiciones lleguen para confiar en Dios! por el contrario, comienza a confiar ahora, que todo está mal, para que luego lleguen las bendiciones. Al buen trabajador se lo reconoce, cuando se ha sacrificado en realizar su trabajo, y al buen siervo por su servicio. Ahora levanta nuevamente los brazos, no paralices tus rodillas ¡vuelve a orar y a trabajar para Dios! ¡Porque solamente en su camino, es donde se ven los milagros!
Y Recuerda que nosotros estamos con Dios por amor, no por lo que nos pueda dar, aunque ya nos dio mucho al darnos la salvación.
¡Gózate porque El te ama y si confías en El, El hará!
Shirley Chambi
Haz clic aquí para visitar la página de CVC La Voz
Si necesitas oración o consejería, CVC La Voz tiene personas preparados para recibir ayuda. CVC La Voz Radio Cristiana provee contenido dinámico y relevante diariamente para impactar vidas. Tenemos un grupo dedicado de consejeros listo para recibir su petición de oración, comentarios o preguntas.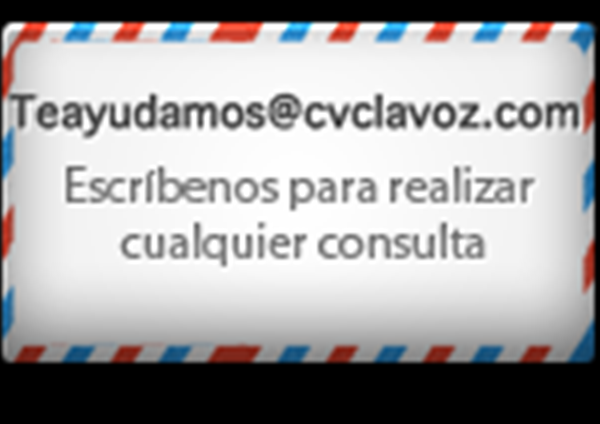 Recently on Conexión Vertical
Follow us on Facebook
Get Conexión Vertical devotionals directly to your News Feed.
Have something to say about this article? Leave your comment via Facebook below!
advertise with us
Example: "Gen 1:1" "John 3" "Moses" "trust"
Advanced Search
Listen to Your Favorite Pastors