Conexión Vertical - 9 de Junio


¿A que no sabes de lo que me entere?
En las muchas palabras no falta pecado; Mas el que refrena sus labios es prudente. Proverbios 10:19
En las escrituras, leemos que las palabras tienen poder, para bendición o maldición, sin embargo vemos a menudo, como se usa algo tan valioso de manera tan imprudente.
Por lo tanto vemos gente que habla, casi sin poder parar y por su incontinencia verbal, terminan diciendo palabras, de la cual tal vez en poco tiempo se arrepientan. De esta manera, se hiere, miente, promete, engaña, o bien se maltrata, todo a través de las palabras.
Cuantas veces pasa, que nos comienzan a contar algo de una persona y al poco tiempo nos vemos involucrados, también nosotros aportando nuestra propia opinión o experiencia y cuando nos queremos acordar estamos murmurando, en chisme, opinando de situaciones y personas que tal vez no conocemos en profundidad.
Por lo tanto, debemos estar alerta a preguntas tales como: te enteraste lo que pasó? o bien te voy a contar un secreto, pero no se lo digas a nadie... o bien la versión religiosa del chisme: te cuento esto, pero te lo digo para que estés orando.... No vayas a tomarme por un chismoso.
Si por un instante pudiéramos comprender lo dañino que resulta esto, seguramente seríamos mas prudentes en el uso de nuestras palabras. Es frecuente ver personas, que hablan abundantemente, casi presumiendo saber de todo, sin embargo la prudencia, está en refrenar sus labios.
Otra característica del que habla mucho, es que es mas propenso a equivocarse, no aprende de otros y de tanto hablar no escucha a los demás, sino solamente a si mismo.
Es importante reflexionar, si realmente le estamos dando buen uso a nuestras palabras, piensa por un momento las veces que lastimaste a alguien sin querer, por una palabra demás que se te escapó. Piensa también en las palabras que a tí te han marcado, que otros te han dicho casi sin pensar pero que en tí produjeron un dolor que aún hoy recuerdas.
Hay personas que se relacionan con los demás, con palabras fuertes, a veces con gritos o insultos y esto casi que forma parte de su vida normal, pero hoy a la luz de la Palabra, el desafío es cambiemos nuestra forma de hablar, para que logremos lo que dice la Biblia acerca de cómo debemos hacerlo.
Sea vuestra palabra siempre con gracia, sazonada con sal, para que sepáis cómo debéis responder a cada uno. - Colosenses 4:6
Daniel Zangaro
Director RDS
Haz clic aquí para visitar la página de CVC La Voz
Si necesitas oración o consejería, CVC La Voz tiene personas preparados para recibir ayuda. CVC La Voz Radio Cristiana provee contenido dinámico y relevante diariamente para impactar vidas. Tenemos un grupo dedicado de consejeros listo para recibir su petición de oración, comentarios o preguntas.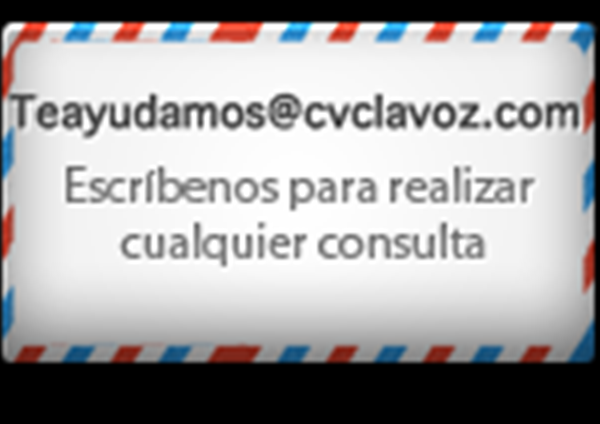 Recently on Conexión Vertical
Follow us on Facebook
Get Conexión Vertical devotionals directly to your News Feed.
Have something to say about this article? Leave your comment via Facebook below!
advertise with us
Example: "Gen 1:1" "John 3" "Moses" "trust"
Advanced Search
Listen to Your Favorite Pastors