Conexión Vertical - 10 de Febrero

Decisiones
Todos los días, desde el momento que despertamos estamos tomando decisiones. El mismo hecho de levantarnos ya es una decisión y este proceso de elecciones se extiende a lo largo del día y va desde las más sencillas hasta las cruciales para nuestras vidas, inclusive si elegimos no tomar ninguna decisión estamos decidiendo.
Toda toma de decisiones genera en nosotros un grado de incertidumbre y tensión, y muchas veces nos desgastamos buscando cuál será la mejor opción para nosotros y peor aún, si la decisión involucra de forma directa a otras personas.
En 1 Reyes 3: 3-15 encontramos un hermoso relato. Jehová se le apareció a Salomón y le dijo que pidiera lo que él quisiera. El rey no pidió más poder, ni dinero, ni más años, tampoco pidió que su reino nunca tuviera problemas; solo pidió sabiduría y el Señor se agradó tanto de su petición que le dio un corazón sabio y entendido.
¿Cómo conocer cuál es la mejor decisión para nuestras vidas? ¿Qué es lo que Dios quiere de nosotros?
Nuestro entendimiento es muy limitado y a veces nos quedamos viendo sólo las circunstancias que nos rodean, las consecuencias inmediatas y no vemos lo que Dios tiene para nosotros más adelante.
Si dejamos nuestras decisiones en las manos de Dios y le pedimos que nos dé su gracia y sabiduría seguramente nos irá muy bien.
No busquemos a Dios sólo cuando tenemos que tomar grandes decisiones ni usemos la oración como una salida de emergencias, sino esforcémos en tener una relación continua y cercana con Dios. Pongamos nuestras vidas, sueños, problemas, anhelos, familias y todo lo que atesoramos en las manos de nuestro Padre. Pídele a Dios sabiduría y permite que tus decisiones sean guiadas por Él.
Recuerda que Dios nunca se equivoca. CVCLAVOZ
"Y si alguno de vosotros tiene falta de sabiduría, pídala a Dios, el cual da a todos abundantemente y sin reproche, y le será dada". Santiago 1:5
Ana María Frege Issa
Corrdinadora Call Center RDS
El siguiente crédito, por obligación, es requerido para su uso por otras fuentes: Este artículo fue producido por Radio Cristiana CVCLAVOZ.
Haz clic aquí para visitar la página de CVC La Voz
Si necesitas oración o consejería, CVC La Voz tiene personas preparados para recibir ayuda. CVC La Voz Radio Cristiana provee contenido dinámico y relevante diariamente para impactar vidas. Tenemos un grupo dedicado de consejeros listo para recibir su petición de oración, comentarios o preguntas.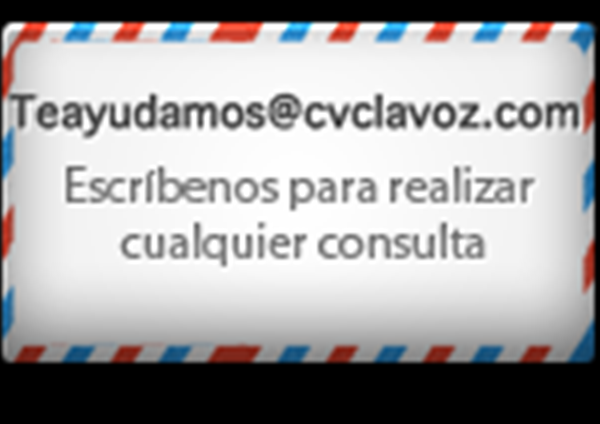 Recently on Conexión Vertical
Follow us on Facebook
Get Conexión Vertical devotionals directly to your News Feed.
Have something to say about this article? Leave your comment via Facebook below!
advertise with us
Example: "Gen 1:1" "John 3" "Moses" "trust"
Advanced Search
Listen to Your Favorite Pastors