Conexión Vertical - 8 de Noviembre

Todo Obra para Bien
"Y sabemos que a los que aman a Dios, todas las cosas les ayudan a bien, esto es, a los que conforme a su propósito son llamados". Romanos 8:28
Existió un gran violinista llamado Paganini. Algunos decían que él era muy extraño, otros, lo veían sobrenatural. Eran mágicas las notas que salían de su violín, por eso nadie quería perder la oportunidad de ver uno de sus espectáculos. Una noche, un auditorio repleto de admiradores lo esperaba. La orquesta entró y fue aplaudida, el maestro fue ovacionado, más cuando la figura de Paganini surgió triunfante, el público deliró. Paganini colocó su violín en el hombro y lo que se escuchó fue indescriptible. Breves y semibreves, fusas y semifusas, corcheas y semicorcheas, parecían tener alas y volar al toque de sus dedos encantados. De pronto, se escucha un sonido extraño, una de las cuerdas del violín se rompió. El maestro paró, la orquesta paró, pero Paganini no se detuvo. Mirando su partitura, continúo tocando dulces melodías. El maestro y la orquesta, vuelven a tocar, pero antes que el público se serenara, otro sonido perturbador llama la atención de los asistentes. Otra cuerda del violín se rompe. El maestro y la orquesta paran nuevamente, solo Paganini no para. Como si nada hubiese sucedido, él saca sonidos de lo imposible. El público atónito, exclama Ohhh! Una tercera cuerda del violín se rompe; la respiración del público se detiene pero Paganini continúa. Como si fuese un contorsionista musical, saca todos los sonidos de la única cuerda de su violín destruido. El público se pone de pie y aplaude eufórico. No es apenas un violinista genial, es el símbolo de un guerrero, que continúa adelante frente a lo imposible.
En determinados momentos, nos encontraremos en circunstancias similares, pero no olvidemos que tan sólo son eso, circunstancias que no serán duraderas, pero que antes de que se vayan de nuestras vidas, Dios permitirá que aprendamos algo de ellas.
No veamos nuestros problemas como castigos, pues Dios necesita cumplir su propósito en cada uno de nosotros, y mediante ellos, quiere hacernos más fuertes y enseñarnos a depender completamente de Él.
No os ha sobrevenido ninguna prueba que no sea humana; pero fiel es Dios, que no os dejará ser probados más de lo que podéis resistir, sino que dará también juntamente con la prueba la salida, para que podáis soportarla.
1 Corintios 10:13
Autora: Brisna Bustamante
Haz clic aquí para visitar la página de CVC La Voz
Si necesitas oración o consejería, CVC La Voz tiene personas preparados para recibir ayuda. CVC La Voz Radio Cristiana provee contenido dinámico y relevante diariamente para impactar vidas. Tenemos un grupo dedicado de consejeros listo para recibir su petición de oración, comentarios o preguntas.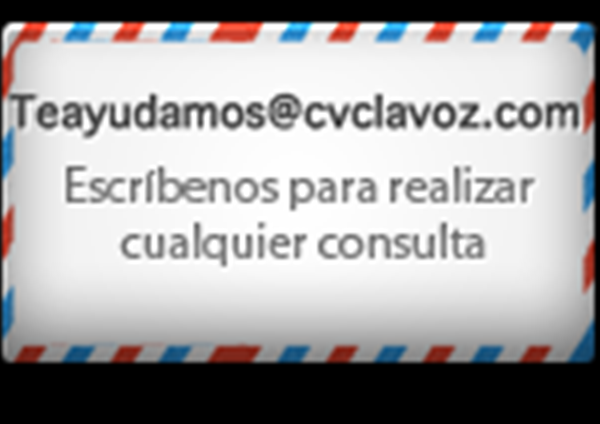 Recently on Conexión Vertical
Follow us on Facebook
Get Conexión Vertical devotionals directly to your News Feed.
Have something to say about this article? Leave your comment via Facebook below!
advertise with us
Example: "Gen 1:1" "John 3" "Moses" "trust"
Advanced Search
Listen to Your Favorite Pastors