July 3
God's Awesome Creation
Whenever I get frustrated with people or paperwork or staring into a computer screen, Lord, I have found respite in getting outside. How marvelous, how complex, how subtle, how perfect, how beautiful is the world you made. If I crouch down close to the ground, I can see not only the flowers but the drops of dew, the bugs crawling on the ground, and the bees doing their pollinating. I can smell earth, feel the sun's warmth, and touch the waxy chlorophyll factories, a.k.a. leaves, that you use to grow your plants.
At night I can look up and like Abraham derive immense comfort from the stars you put there. "He determines the number of the stars and calls them each by name. Great is our Lord and mighty in power; his understanding has no limit" (Psalm 147:4,5). Great flaming gas balls in the sky—Lord, they seem to serve no purpose other than their stunning beauty in the night sky and as aids to navigation. Did you put them there just for us?
If you not only made them with a word but take inventory of them and even care enough to have a personal name for each, all 50 billion of them just in our galaxy among the billions of galaxies, well, that tells me that you are capable of keeping track of me and my life too. You are awesome.
---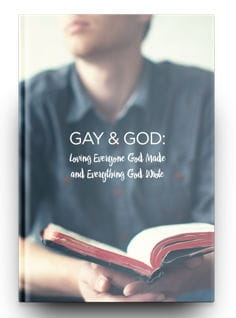 Gay & God: Loving Everyone God Made and Everything God Wrote
Jesus wanted his people to be known for their love. But sadly, love is often the last thing homosexuals find in the church.
This brand-new resource from Time of Grace called Gay & Godshows youthe deep meaning and true significance of Jesus' words, "Love your neighbor as yourself."It also teaches you what the Bible actually says on the topic of homosexuality—and empowers you to show practically the love of Christ in a culture where being gay is the new normal.
For more from Time of Grace visit them at TimeofGrace.org or visit their  OnePlace.com and LightSource.com pages!