What Was, What is and What is to Come - In His Grip - Week of August 25, 2014

What Was, What is and What is to Come
Here I am in the middle of the Pocono Mountains on our yearly family outing we refer to as "Cousins' Camp." Inside this large mountain house we rent each year are the most important people in the world to me – our three adult children, their spouses and our 14 grandkids. They are all asleep after a memorable day at the one and only amusement park in these mountains, a day we will never forget.
Down by the pond with the rising mist sits my wife, Sharon. She is having devotions and surely ruminating on the great day of fun and memory building we just had a few hours ago. It is so peaceful here. It is in those quiet moments that we are forced to reflect on what was, what is and what is to come.
What was! For us, the only "what was" that truly rocked our world is what happened on that day, July 6th, 1993 when we began our journey into every parent's nightmare. That was the day our youngest child, Mark, at the age of sixteen was taken from us in a horrid car crash. That was the day I was unbolted from my love affair with this world and hung on to my Savior, or should I say, He hung on to me. For these past many years, every time our entire family is together we remember what was – someone is missing from the table.
What is! God is in the process of doing something that He promised He would do just a few days after we lost Mark on that infamous day. I was reading in Joel that God promised something I have clung to ever since:
I will restore to you the years that the swarming locust has eaten, the hopper, the destroyer, and the cutter, my great army, which I sent among you. "You shall eat in plenty and be satisfied, and praise the name of the LORD your God, who has dealt wondrously with you. And my people shall never again be put to shame. (Joel 2:25-26 ESV)
There it is! I have noted two things in this passage. First, the promise of God is that He will restore what life has destroyed for his children. Second, the tragedies we face are all filtered through His sovereign hand. It is God who sends the swarming locust for purposes we might never understand. And yet. We cling to the promise of restoration every day, especially when the pain of our loss is seemingly too much to bear. And every day, we see the traces of His hands as we choose to embrace and enjoy the "wondrous" blessings of family and His presence.
What is to come! No words I could write could ever answer that question, for God has already told us of what is to come.
Then I saw a new heaven and a new earth, for the first heaven and the first earth had passed away, and the sea was no more. And I saw the holy city, New Jerusalem, coming down out of heaven from God, prepared as a bride adorned for her husband. And I heard a loud voice from the throne saying, "Behold, the dwelling place of God is with man. He will dwell with them, and they will be his people, and God himself will be with them as their God. He will wipe away every tear from their eyes, and death shall be no more, neither shall there be mourning, nor crying, nor pain anymore, for the former things have passed away." (Revelation 21:1-4 ESV)
Digging Deeper: Joel 2:25 – 26; Revelation 21:1-4
SPECIAL OFFER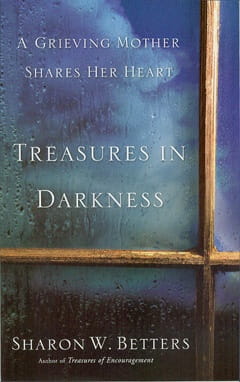 "In twenty years of women's ministry I have never read such a compelling, painfully real, transparent perspective on grief...Do you know of someone struggling with grief and loss? This treasure needs to be the first gift you place in their hands." Tammy Maltby, co-host of Aspiring Women and author of 'Lifegiving'.

"...Sharon squarely faces personal pain and tenderly offers the realities of faith to provide a journey to hope even through our darkest nights." -Bryan Chapell, Covenant Theological Seminary.

"Recognizing that our lives here on this side of heaven will be fraught with darkness and sorrow, Betters's experience with grief will encourage and comfort you. With biblical wisdom and gentle insight, she'll draw your broken heart up to where hers is resting safely in the loving arms of the Savior. I heartily recommend this book." -Elyse Fitzpatrick, Author of Idols of the Heart, Give Them Grace

FREE with each book: Loss of a Loved One CD, one hour long interview with Chuck and Sharon Betters. Retail Value: $12.95
For more information from In His Grip with Dr. Chuck F. Betters please visit http://www.markinc.org/
http://www.oneplace.com/ministries/in-his-grip/
Recently on In His Grip Devotional
Follow us on Facebook
Get In His Grip Devotional devotionals directly to your News Feed.
Have something to say about this article? Leave your comment via Facebook below!
advertise with us
Example: "Gen 1:1" "John 3" "Moses" "trust"
Advanced Search
Listen to Your Favorite Pastors