Priorities That Build Strong Marriages, Part 1 - In His Grip - Week of March 30, 2015

Priorities That Build Strong Marriages, Part 1
By Dr. Chuck F. Betters
People of faith often forget that the first place to serve our God is in their marriages and homes. And when we forget that important principle, we endanger the godly legacy that it is our privilege to help build. If we are going to leave a godly legacy for the next generation we must divorce-proof our home and our legacy.
A few years ago, I preached a message series titled, "Twenty-seven Precious Promises." Every week our congregation looked at a Scriptural promise from each book of the New Testament. We determined how that promise equips us to be a redemptive presence in this fallen world.
We learned the definition of "redemptive presence" in Matthew 6:33:
But seek first His kingdom and His righteousness and all these things will be added unto you.
My wife, Sharon, and I chose to engrave this verse on the inside of our wedding bands as a reminder of our life calling. These few words teach us a profound truth: our faith is practical and we must choose to live life through the grid of a Biblical worldview.
How often people excited and passionate about Christ and living for Him, forget that the first place we need to be a redemptive presence is in our own homes, our own marriages. When it's easier to be holy while "serving God" at church with Christian friends, we convince ourselves that our homes are not our priority. Yet this is a lie from the enemy because it's in our homes that we show a broken world what the love of Christ really is.
In Mark 5 Jesus makes it clear that our first priority for reflecting redemption is in the context of family. In a stunning show of power, Jesus healed a demoniac by forcing the demons into a herd of pigs. Their demonic power was so great the pigs rushed over a cliff and died. The grateful man is filled with joy and passion for Christ. He wants to go with Jesus and His disciples to help build God's kingdom. Jesus' response is startling:
Jesus did not let him [go with them], but said, "Go home to your family and tell them how much the Lord has done for you, and how he has had mercy on you."
We often hear that 50% of marriages, even in the evangelical church, end in divorce. Would that statistic be different if couples applied this command to their marriages? If they saw their homes as their priority for reflecting the love of Christ - even when it's tough?
Ten Ways to Help Divorce-Proof Your Marriage
Next week I'll develop each of these principles. In the meantime, I hope these thoughts will encourage each of us to think carefully about our own marriages and how we can "make abundant riches known in the name of Christ" in our own homes.
1. Develop a Christocentric Worldview, in particular God's view of marriage.
2. Marry the right person.
3. Pick your battles. Is it really worth fighting vehemently over who takes out the trash, loads the
4. Understand the uniqueness and greatness of Biblical roles.
5. Pray and worship together
6. Don't ever take for granted your relationship. Continually focus on growing up in your marriage.
7. Partner in ministry. Find an outreach ministry in which you can serve together.
8. Always remember the Biblical priorities in your relationships.
9. Be transparent and honest in your communication.
10. Learn to embrace pain as your friend. This is perhaps one of the most difficult principles to live out
There is no better woman in the world for me than my wife. I know this because we are married and God's design is for her to complete me. Our relationship not only brings joy and pleasure, it also is an opportunity for us to become more like Christ. Marriage requires sacrifice, seeing our spouse's needs as more important than our own. Such moments are often painful and yet that is the model of Christ. And isn't He the One whom we are to emulate in all of life?
So with Jesus I encourage you to "go home to your family and tell them [by the way you treat them, love them, encourage them] how much the Lord has done for you, and how He has had mercy on you."
In His Grip,
Dr. Chuck F. Betters
We Need a Miracle - Help Us Stay on OnePlace!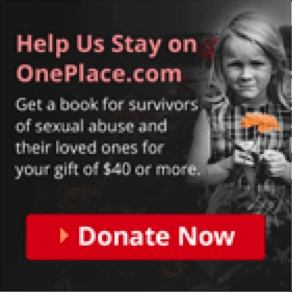 People from over 70 countries access In His Grip resources every month. We need your help to keep these messages on OnePlace for another year. We have support through March 31. If the Lord wants us to stay on OnePlace, He will move listeners to fund In His Grip for another year.
Our team watched God perform a miracle in moving listeners to keep In His Grip on another outlet. Within a month, listeners raised over $30,000 to keep us on that station for one more year. We need another miracle if we are to stay on OnePlace.
You can be part of that miracle by contributing to the over $40,000 we need in order to commit to another year on Oneplace.

Has God used this broadcast to encourage, equip and energize you to walk by faith? Has one of our resources helped turn your heart toward Jesus? Are you one of the thousands of people from over seventy countries who have accessed these messages of help and hope? Will you help us help others by giving to this ministry?
We need to hear from you as soon as possible. No gift is too small – give a one time gift or for $1 a day, become an Outreach Partner.

We would love to send you a book called Hope Blooms After the Storm by Dr. Terry Eccles for a gift of $40 or more in March. Please, partner with us in offering the help and hope that only Jesus gives.
SPECIAL OFFER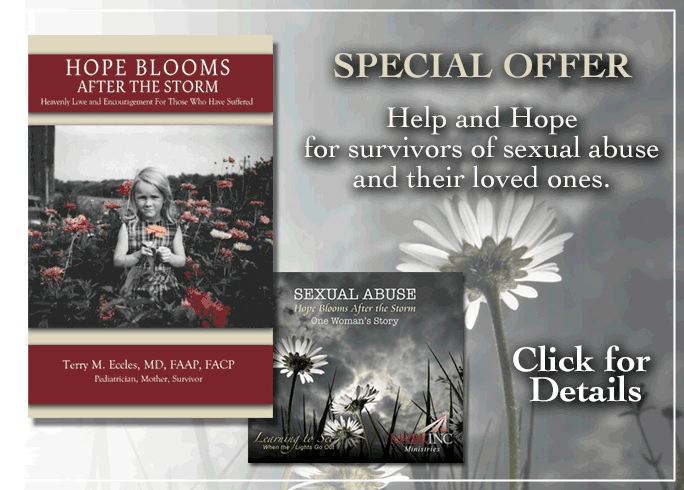 Hope Blooms

For a gift of $40 or more, our thank you gift to you is Hope Blooms After the Storm, Heavenly Love and Encouragement for Those Who Have Suffered, by Dr. Terry Eccles, with the bonus CD Sexual Abuse, One Woman's Story.