A Strange Quality of Light
 "… I have come into this world, that those who do not see may see, and that those who see may be made blind." (John 9:39)
Jesus made the claim that He was the light of the world. He also commissioned His followers with the exhortation that we are the light of the world. From the statement quoted above we learn that the light of which our Lord was speaking is a very strange quality of light. It makes it possible for those who are blind to see and it reveals the blindness of those who think they see.
When I was a child I lived near coal mines. One day there was a terrible explosion in a coal mine and 20 miners were trapped and isolated for three days in a small pocket of that mine. When they were rescued there was great jubilation and celebration among the rescued miners and those who had broken through to them. All the celebration grew quiet when one of the rescued miners asked the question "Why didn't you guys bring any lights?" The rescuers had actually brought many lights. The miner who asked the question had been blinded by the flash when the explosion happened. He had been blind for three days but in the pitch black darkness of the mine he didn't know he was blind until the light came.
The light that Jesus is – and the light He told us that we are – has that purpose and function. It reveals the spiritual blindness of those who think they see and it gives sight to those who know they are spiritually blind. Jesus did not give us that light. He told us we are that light. Are you willing to let the light of Jesus shine through you?

---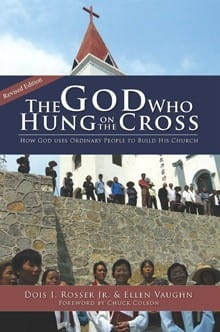 Free Book: The God Who Hung on the Cross
This newly revised paperback edition features reflections on 25 years in ministry by Dois Rosser. The book details the history and vision of ICM, the parent organization for the Mini Bible College, and the vehicle for distributing MBC to congregations around the world. Dois' story is an inspiration, encouraging Christians to give of their time and resources to experience the abundant power of God at work. Journey around the world with Dois and discover that you too can be a part of something bigger than yourself!