A Formula for Vision
"… But for this reason I came to this hour. Father, glorify Your name." - (John 12: 27, 28)
When we have a vision we must also have a plan. It has been said that without vision the people perish, but without a plan the vision perishes. Nehemiah not only had a vision to repair and rebuild the wall around Jerusalem. He had a plan to do so. As an enslaved exile his plan was to present his vision to the emperor for whom he was a cup bearer.
This was extremely dangerous because there was a death penalty for being sad in the presence of the emperor, or for bringing anything negative to the attention of the emperor while he was serving him. Nehemiah had the faith to pray silently and then present his vision to the emperor. The emperor showed empathy and compassion for Nehemiah. He not only approved his plan. He supplied everything that was needed to see that the plan was followed to the letter.
Has God put a vision in your heart of what He wants you to do? If you have a vision do you have a plan? In that context consider this formula for your vision: vision + faith + sacrifice = miracle. If you have a vision and a plan to carry out that vision, are you willing to sacrifice for that vision? Are you willing to die for that vision?
Our Lord had a vision and a plan. He was willing to sacrifice and die for His vision and plan. He mandated that we should follow His example. Regarding your vision and plan, are you willing to pray essentially: "Father glorify Yourself and send me the bill. Anything Father, just glorify Yourself?"

---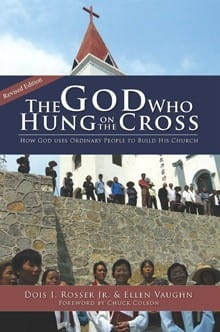 Free Book: The God Who Hung on the Cross
This newly revised paperback edition features reflections on 25 years in ministry by Dois Rosser. The book details the history and vision of ICM, the parent organization for the Mini Bible College, and the vehicle for distributing MBC to congregations around the world. Dois' story is an inspiration, encouraging Christians to give of their time and resources to experience the abundant power of God at work. Journey around the world with Dois and discover that you too can be a part of something bigger than yourself!