There Must Be a Vision Caster
"Only let your conduct be worthy of the gospel of Christ, so that whether I come and see you or am absent, I may hear of your affairs, that you stand fast in one Spirit, with one mind striving together for the faith of the gospel…" - (Philippians 1:27)
In these words we have the vision of the Apostle Paul for his best and favorite church, the Church at Philippi. This church was Paul's sending church because they supported him while he planted the Church of Jesus Christ on the world map. Paul is in prison as he writes and he is not sure that he will ever be physically present with this church again. However, his vision for them is that they would be what he calls a "Fellowship of the Gospel."
According to Paul a fellowship of the Gospel is a spiritual community in which every member is an authentic disciple of Jesus Christ. Every member is Christ-like and all the members are Christ-like together in ways that convince the world of the truth of the Gospel. When the world observes these people who live and act as if they only have one mind between them because they stand fast in one Spirit, the world believes the Gospel.
In the words quoted above Paul is being the vision caster for the Church in Philippi. His vision for his favorite church should cast a vision for our churches today. Especially those of us who lead churches should aspire and pray to see the churches we lead become and continue to be a fellowship of the Gospel.
Love is not love until it is shared and a vision is not a vision until it is shared by a vision caster.

---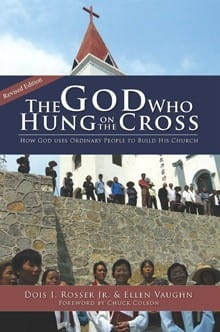 Free Book: The God Who Hung on the Cross
This newly revised paperback edition features reflections on 25 years in ministry by Dois Rosser. The book details the history and vision of ICM, the parent organization for the Mini Bible College, and the vehicle for distributing MBC to congregations around the world. Dois' story is an inspiration, encouraging Christians to give of their time and resources to experience the abundant power of God at work. Journey around the world with Dois and discover that you too can be a part of something bigger than yourself!