Eternal Values: Inner vs. Outer
"…This priceless treasure we hold, so to speak, in common earthenware – to show that the splendid power of it belongs to God and not to us." - 2 Corinthians 4:7 (J.B. Phillips)
Many years ago the famous American statesman, John Quincy Adams, was crossing a street. Due to his poor health it took him five minutes to reach the other side. A friend passing that way asked, "How is John Quincy Adams this morning?" He replied, "John Quincy Adams is doing just fine. The house he lives in is in sad disrepair. In fact, it is so dilapidated, John Quincy Adams may have to move soon, but John Quincy Adams is doing just fine, thank you!"
John Quincy Adams had good theology. To make a clear distinction between the inward man, (our spiritual man who is eternal), and the outward man, (our body which is temporal), and clearly value the inward man above the outward man, is a vital dimension the Apostle Paul shares with us in II Corinthians chapters 4 and 5.
According to Paul, the outward man does not always know why things happen the way they do. Therefore, the outward, physical man is often perplexed. However, Paul tells us that in our inward man, there is a continuous persuasion because Christ lives in us. Paul writes that the outward man is persecuted and suffers, but in the inward man there is a Person Who is continuously assuring us, "I will never leave you or forsake you."
Speaking from his own experiences of suffering, illness and persecution, Paul acknowledges that sometimes our outward man gets knocked flat. Sometimes our little clay pot gets knocked down, but never knocked out. Because there is a Great Treasure living in our clay plot, we always get up and keep going.
Dick Woodward, In Step with Eternal Values

---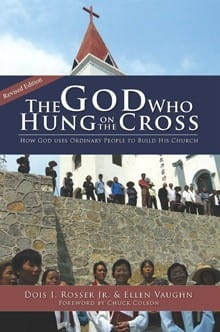 Free Book: The God Who Hung on the Cross
This newly revised paperback edition features reflections on 25 years in ministry by Dois Rosser. The book details the history and vision of ICM, the parent organization for the Mini Bible College, and the vehicle for distributing MBC to congregations around the world. Dois' story is an inspiration, encouraging Christians to give of their time and resources to experience the abundant power of God at work. Journey around the world with Dois and discover that you too can be a part of something bigger than yourself!