A Kinsman Redeemer
"And his name shall be called in Israel, 'The house of him who had his sandal removed.'" - (Deuteronomy 25:10)
One Law of Moses stated that if a man died and had no son his widow could go to one of his relatives and ask him to marry her. If he refused to marry her she could subpoena him to court. If he affirmed that he was not willing to marry her, they had a ceremony: before the court she spit in his face and removed his sandal. He was then disgraced and boycotted in business. The man who obeyed this law, however, was called "a kinsman redeemer."
This law is the background for one of the most beautiful love stories in all of inspired and secular literature: the book of Ruth. As a widow Ruth has the right to ask a man named Boaz to marry her. Although they meet and he shows her he loves her and would love to redeem her, she has to ask him to be her redeemer.
When we understand the ways this story relates to our redemption we will realize that we must personally ask the risen, living Christ to be our Kinsman Redeemer. To redeem Ruth, Boaz pays off all her debts and marries her. Our Redeemer pays all our sin debt through His death on the cross. Then, through His resurrection He enters into a relationship with us the New Testament describes as a marriage to Him.
We also read in the New Testament that He is standing at the door of our life showing us, like Boaz, that He loves us and would love to redeem us. Like Ruth we must have a "romance in reverse" individually proposing to Him, asking Him to be our personal Redeemer.
Have you ever done that?

---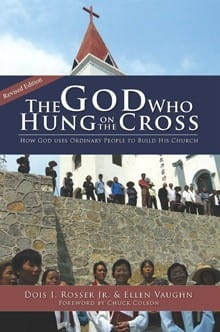 Free Book: The God Who Hung on the Cross
This newly revised paperback edition features reflections on 25 years in ministry by Dois Rosser. The book details the history and vision of ICM, the parent organization for the Mini Bible College, and the vehicle for distributing MBC to congregations around the world. Dois' story is an inspiration, encouraging Christians to give of their time and resources to experience the abundant power of God at work. Journey around the world with Dois and discover that you too can be a part of something bigger than yourself!