A Great Question
 "The lamp of the body is the eye. If therefore your eye is good, your whole body will be full of light. But if your eye is bad, your whole body will be full of darkness." - (>Matthew 6: 22, 23)
Someone has said that 5% of people think, 10% think they think while 85% would rather die than think. And the 10% who think they're thinking are merely rearranging their prejudices! In the teaching of Jesus quoted above He is telling us that the way we think can be the difference between a life that is filled with light or happiness and a life that is filled with darkness or depression and unhappiness. In this teaching He is focusing a great question: "How do you see things?"
In this profound metaphor Jesus is challenging us to join the 5% who think, and He is emphatically teaching the critical importance of thinking correctly. When He refers to the eye He means our outlook and our mindset. In that sense He is saying that if our eye is good and healthy our life can be filled with happiness, but if our outlook and mindset are unhealthy our life can be filled with the opposite.
The context in which this metaphor was given by Jesus is the greatest discourse He gave to His disciples. The most sound and healthy truth for living ever stated in this world is found in what we call The Sermon on the Mount which is recorded in the Gospel of Matthew chapters 5-7.
The best way to have a healthy mindset is to align what we think with the values Jesus taught and modeled in this great discourse and in all His other discourses, parables and metaphors.

---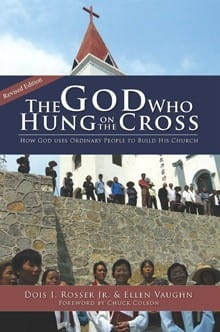 Free Book: The God Who Hung on the Cross
This newly revised paperback edition features reflections on 25 years in ministry by Dois Rosser. The book details the history and vision of ICM, the parent organization for the Mini Bible College, and the vehicle for distributing MBC to congregations around the world. Dois' story is an inspiration, encouraging Christians to give of their time and resources to experience the abundant power of God at work. Journey around the world with Dois and discover that you too can be a part of something bigger than yourself!