For the Days You Need to Hear Some Good News: Truth from Psalm 23
Sometimes we need a reminder, that God's goodness is real.
In a world of dark, He gets blamed for a lot of stuff that swirls around us, "Why would God let that happen? Why did God cause that to happen? Why didn't God do something different?"
But the truth is we often have no idea how much He has protected us from, how He's continually working on our behalf, even behind the scenes where we can't see. Following after us. Chasing us. To bring great blessing, and to show us the way.
"Surely (not maybe, but surely) your goodness (good things, favor, welfare, bounty) and love (deeds of devotion, faithfulness, favor, mercy, kindness, unchanging love) will follow (to chase, to pursue, to run after) me all the days of my life (all of our appointed days), and I will dwell (to remain, stay, to inhabit) in the house of the Lord forever (having no end)." Psalm 23:6
This word used for "follow" there is from the Hebrew word, "Radaph," which means to chase after, to relentlessly pursue. There's another time we see this same word used, but with a very different message:
"Disaster pursues (Radaph) sinners, but the righteous are rewarded with good." Prov. 13:21
We're all being "chased" in this life. By someone. Or something. We may not see it but it's happening. We live in a spiritual world, where unseen forces are at work. Eph. 6:12
Yet as believers, we have this constant hope and reminder that though we live in a world of struggle, where hard things may happen, and the enemy seems to be hot on our trail, we are ultimately being "chased, followed, pursued," by a loving God, who has the very best in store for us. Who has great purpose and blessing. Who gives favor and pours out goodness. He is relentless in His pursuit of us, he never gives up on us. And he is far greater and more powerful than any scheme of the devil or hardship the world may throw our way.
Radaph. To relentlessly pursue. To not give up on. To not let go off. Ever. This is His heart for us.
Don't ever doubt that God doesn't know what He's doing. That's a lie straight from the enemy's voice. What He has allowed in our lives, He will use for good somehow. Whatever has happened that we don't understand, He does understand, and He's still got a plan. God can make a way where the trail seems to have gone dark. He knows. And He loves. His following after us has nothing to do with how good we are, or how much we feel that we're not enough. It's all about how good He is. His faithfulness is what causes Him to run after us.
That's how much He cares.
He's chasing you with goodness today. Don't be surprised. Look around you. Look up. Notice the little things. Be aware that He is with you. And for you.
His hope:
"...he is a rewarder of them that diligently seek him." Heb. 11:6
"...but the righteous are rewarded with good." Prov. 13:21
"...your goodness and love will follow me..." Ps. 23:6
Such huge grace.
"Dear God,
Thank you for your goodness and your love that relentlessly pursues us in this life. Thank you that your plans for us are good. No matter what our current circumstances may be, we know you hold us in your hands, we believe that you will use anything we face in this world to strengthen us and help us to ultimately bring honor to you. Thank you that you are able. Thank you that your love is big. Thank you that you remain faithful. And that you will never let us go. Forgive us for the times we doubted you and fought for control over what we'd already given to you. We lay it all at your feet again today, all the things that worry us, all of our burdens. We bring before you our loved ones who we care so much about. And we wait for your goodness to shine. We love you Lord and need the fresh touch of your Spirit over our lives today.
In Jesus' Name,
Amen."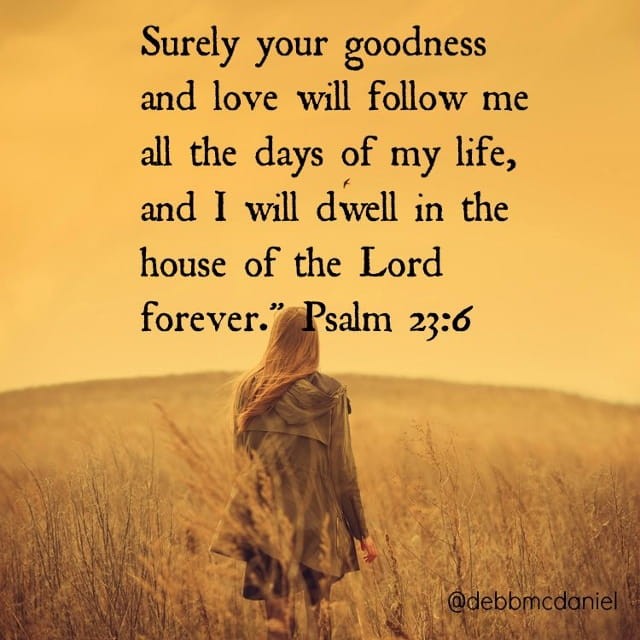 (photo image by Shutterstock)
(This post was first published here on 9-10-15.)
Debbie McDaniel is a writer, pastor's wife, mom to three amazing kids (and a lot of pets). Join her each morning on Fresh Day Ahead's facebook page, DebbieWebbMcDaniel, for daily encouragement in living strong, free, hope-filled lives.
Find her also at Twitter.
---