Prayer for American Hostages in Iran: God Has Not Forgotten
Pastor Saeed Abedini.
Robert Levinson.
Jason Rezaian.
Amir Hekmati.
These are the names of the 4 American hostages still being held in Iran. Many believe that the nuclear deal with Iran has now closed the door on any future negotiations to be made for their release. Whatever side you take on this issue, one thing remains true. God has not forgotten. He sees. He knows. And He is greater than any power of this world and can still work miracles to secure their release.
Pastor Saeed Abedini, who lived in Idaho, was detained in Iran in September 2012, for charges of activities with home churches. In 2013, Abedini was sentenced to eight years in prison on charges of "attempting to undermine the Iranian government." A report by the American Center for Law & Justice shares, "Abedini was beaten by fellow prisoners in an unprovoked attacked as he was leaving his cell. He has endured torture and numerous beatings, sometimes at the hand of prison guards. At one point, reports circulated about death threats targeting Abedini from ISIS prisoners held at the same Iranian facility."
Robert Levinson, a former FBI agent and contractor for the CIA, vanished after visiting Iran in 2007, according to CNN reports. Iranian officials have denied any knowledge of his whereabouts. "In the years since Levinson went missing, his family has released video and photos that they say prove he is alive. A series of photographs the family said they received in April 2011 showed a bearded, shackled Levinson, wearing an orange jumpsuit and holding signs written in broken English."
Jason Rezaian, the Washington Post bureau chief in Tehran; his wife Yeganeh Salehi and two freelance journalists were detained in July 2014. Though the others were later released, Rezaian was eventually charged with espionage and other serious crimes including "collaborating with a hostile government" and "propaganda against the establishment," according to the Washington Post. His family shares in a report with CNN that Rezaian "was denied bail. And for months, he has been denied access to proper legal representation. He has not been allowed to see visitors aside from his wife and has endured long interrogations."
Amir Hekmati, a former US marine, has been detained since 2011 on charges that he was "spying for the United States," which he firmly denies. Reports say that Hekmati "was tried, convicted of 'working for an enemy country' and sentenced to death in January 2012." Though a higher Iranian court overturned that sentence and ordered a retrial, Amir has continued to be imprisoned since that time, suffering "threats, miserable prison conditions, and prolonged periods of solitary confinement."
Jay Sekulow, Chief Counsel of the ACLJ, says, "It is unconscionable that the Obama Administration would sign a deal with Iran without securing the freedom of Pastor Saeed who has been imprisoned for nearly three years simply because of his Christian faith. President Obama told the Abedini family face-to-face that he considered the release of Pastor Saeed a 'top priority.' How could that be a 'top priority' when a deal is reached and Pastor Saeed is left behind? What happened today makes a bad deal even worse. We will now focus our attention on convincing Congress to reject this deal."
Naghmeh Abedini, wife of Pastor Saeed, shares,
"I plead with Congress to ensure that my husband, an American citizen, is not left behind. With the announcement of a deal and yet silence as to the fate of Saeed and the other Americans held hostage in Iran, their fate lies now in the hands of Congress. I plead with each member of Congress to review the deal with our family at the forefront of their thoughts. Congress holds the key to bringing my husband home..."
Naghmeh asks for continued prayers from believers.
"Dear friends,
Many of you have asked if Saeed was part of the nuclear deal that was reached with Iran a few hours ago. I am sorry to say that Saeed was NOT part of the deal and that State Department has NOT provided any assurance of Saeed's release.
The Lord has been preparing me for this. Our hope is in the Lord. We had all prayed that God would deliver Saeed and that He would get all of the Glory and this is exactly what is happening.
Thank you for your continued prayers. Our family needs it and appreciates it.
Psalm 121: 1-2 (NKJ)
1 I will lift up my eyes to the hills—
From whence comes my help?
2 My help comes from the Lord,
Who made heaven and earth."
Praying along with our sister in Christ, and with many of you, for the miraculous release of these four American hostages, and for the many believers being persecuted around the world because of their faith in Christ.
May we not forget. May we keep on praying…for those who are hurting…who are lost…who are in prison…who are being persecuted.
We know this truth - one can imprison a person, but one can never imprison God. His Spirit moves freely, not bound by chains or human domain. He comforts, He chases, He leads, He guides. He gives wisdom, He covers with peace, He whispers hope, He pursues with love.
Noone can outrun him. He cannot be pushed into a box. He can never be silenced, stopped, or prevented from doing His work in this world.
And you can never, ever, be too far outside the reach of his embrace.
There is no prison too secure...there is no pit too deep...there is no valley too filled with dark...that you're ever beyond His reach. The very power that broke prison chains, raised Lazarus from the dead, and healed the sick, is the same power that is alive and still working today.
He is the same, yesterday, today, and forever.
And He is greater.
Dear God,
Thank you that salvation is found in you alone. You are faithful and true. You are mighty and just. Thank you for your great power. Thank you that you have set us free from the clutching grasp of sin and death.
We ask that you would set the captives free. We pray for a miracle, that you would bring release to these prisoners. We pray for Pastor Saeed Abedini, Robert Levinson, Jason Rezaian, and Amir Hekmati. And for the many others who are suffering persecution because of their faith. We ask for your strength and your grace to comfort them. We ask that you would release your power, cover them with your protection, extend your peace, and grant deliverance to your people.
For your name's sake, would you open blind eyes, release the prisoners, and bring your light to those walking in darkness. Thank you that you are able to do immeasurably more than all that we ask or think, thank you that we do not have to fear evil for you are greater, thank you that nothing is impossible with you.
We ask that you would cause an awakening of your presence as never seen before. We ask that your Name be proclaimed, that all plans to silence the Name of Jesus would be thwarted and crushed.
We pray that you would unify your people, that all who call themselves Christians would rise up, believing in your great Truth and power.
In the Mighty Name of Jesus,
Amen.
"Remember those who are in prison, as though in prison with them, and those who are mistreated, since you also are in the body." Heb. 13:3
"The Spirit of the Lord God is upon me, because the Lord has anointed me to bring good news to the poor; he has sent me to bind up the brokenhearted, to proclaim liberty to the captives, and the opening of the prison to those who are bound…" Is. 61:1
"Greater is He who is in you, than he who is in the world." 1 Jn. 4:4
"...with God all things are possible." Matt.19:26
"He who dwells in the shelter of the Most High will abide in the shadow of the Almighty. I will say to the Lord, "My refuge and my fortress, my God, in whom I trust." Ps. 91:1-2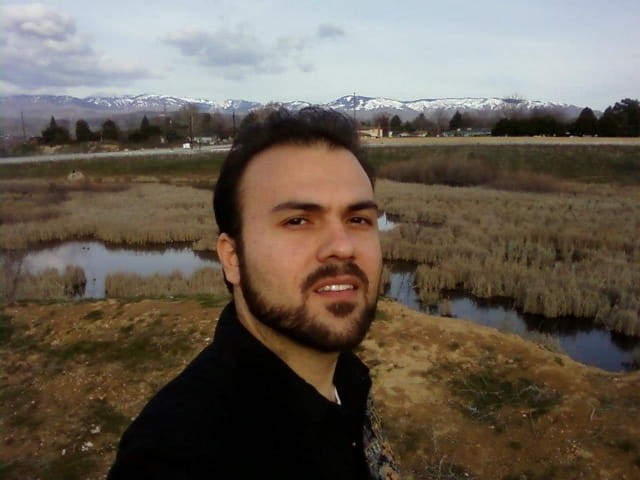 Sources: American Center for Law & Justice, Fox News, CNN, Naghmeh Abedini
Photo Credit: Naghmeh Abedini
Debbie McDaniel is a writer, pastor's wife, mom to three amazing kids (and a lot of pets). Join her each morning on Fresh Day Ahead's facebook page, DebbieWebbMcDaniel, for daily encouragement in living strong, free, hope-filled lives. Find her also at Twitter.
---