Thoughts on Being Still in a World of Busy
I took a long walk in the pre-dawn glimmer. Just to clear my mind. Cluttered thoughts whirling since I had opened my eyes, way too early that morning. I really just wanted to close them again, pull up the covers, and drift back into a dream, but knew such a gift was an impossibility. I was awake. It was done. Bombardment of a myriad of thoughts clamoring for attention, burdens pressing hard on my spirit, plaguing my mind, too many things to be contained in one heart.
You may understand, all too well.
Usually I run. That day, I walked. Long. Took cues from my dog. Stopping along the path…taking time, not being in a hurry, breathing in fresh, cool morning air…listening to every sound, birds, wind…noticing things around me that normally wouldn't catch my attention in the midst of all the busy.
Dogs are really very smart. If only we'd listen more to what they try to tell us at times. Slow down to stop along the way. Listen close to the sounds. Notice what's around you. Breathe in deep.
So as the thoughts swirled, and we walked along, conversations began, with God. Time passed.
And ever so slowly…peace came.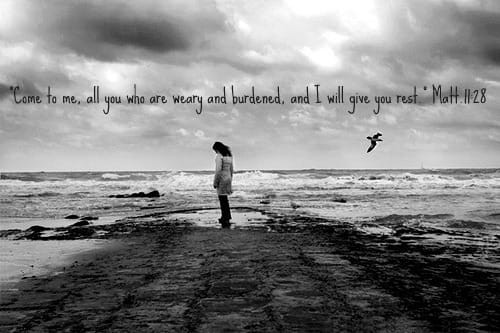 "Come to me all you who are weary and burdened and I will give you rest." Matt. 11:28
Such life words.
Often in life, we run. We're busy. We're pressed for time. We rub shoulders every day with people who are desperate, hurting, or lonely. Sometimes we notice, but many times we don't. We're just too busy, preoccupied, or overwhelmed ourselves. And to be honest, many days, "we" are those people, the desperate, the hurting, the lonely. Just needing someone to notice. To slow down. To take time.
Crazy world we live in, huh?
We desperately need joy-givers, hope-bringers, those in our lives who will help us remember what's really important, and what it means to slow down long enough to breathe.in.grace.
We desperately need to "be" those kind of people, for the ones who are starving - for joy, for hope, to know they're not alone. Though we will never have all the answers, we can point them to the One who does.
For many of us, running comes naturally – active, moving, stirring, going – it's what we're all about. It's the slowing down and stopping to listen and notice, that often seems very - unnatural. Like we're supposed to be doing something more but just haven't figured it out yet.
We're rewarded for how much we accomplish, especially in short amounts of time. We live in a culture that praises movement, that places value on the busy. We tend to get impatient with those who are too slow about anything.
Nothing wrong with running. Or being active. Except this one thing.
We often never stop.
We're too busy to stop. We even forget what it feels like. So much so, that when we finally do, we feel like we're wasting time. We feel guilty for being "lazy." Or we feel some sudden pressing need to check an electronic device, to see if someone needs us, or to make sure we haven't missed something really important in those past few minutes that we've tried to slow down and rest.
Slowing down takes work. Stopping and just breathing deep – takes practice.
Maybe that's why God says it so clearly -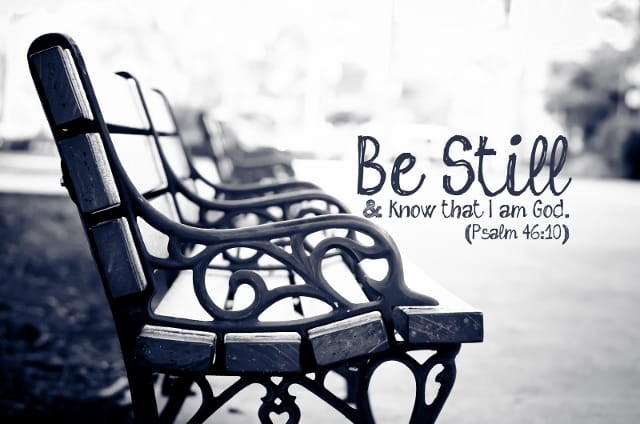 "Be still and know that I am God." Ps. 46:10
Seems simple enough. Yet often the hardest thing in the world.
Be still and know that He is God.
Be still and know.
Be still.
Be.
Breathing in His grace today. And remembering to take time to slow down…
Dear God,
Thank you that your yoke is easy and your burden is light. Thank you that you promise to give the worried, the hurried, the pressured, and stressed out - rest and peace for our souls - if we'll just come before you. Thank you for your reminder that we don't have to carry it all. Forgive us for the times we try to, for not taking time to rest. Thank you for the refreshing that comes from your Spirit, filling us again with joy, covering us with a shield of favor and blessing, leading us forward with hope. Equip us to be those who notice the lonely, the hurting. Help us to slow down, to take time, to point others to you.
In Jesus' Name,
Amen
(This article previously appeared on freshdayahead.com)
Debbie McDaniel is a writer, pastor's wife, mom to three amazing kids (and a lot of pets). Join her each morning on Fresh Day Ahead's facebook page, DebbieWebbMcDaniel, for daily encouragement in living strong, free, hope-filled lives. Find her also at Twitter.
---