When Life Is a Battle - Stand Strong
After hearing such tragic news of precious, innocent lives lost in a church shooting in Charleston, SC just last night, am reminded again, we face an enemy here in this life. It's more than what we can see before us. It's more than another person who we think has wronged us. It's more than our own struggles and weaknesses we deal with or the negative self-talk we sometimes battle.
This enemy is real and fierce, and will stop at nothing to try to bring you defeat and destruction. Maybe you've noticed too. Because if you're a believer who is living like salt and light in a dark world, you won't go for long without encountering obstacles and attacks he'll hurl your direction. God's words are true, this battle is real, and intense.
If you're facing this today, please know you're not alone, neither are you left to fight alone. Many of us are in the battle with you, and God is the One who fights on behalf of His own, constantly shielding, protecting, strengthening, even when we're unaware. We never fight alone. He's with us, covering us as we live. He's with us, covering us even in death, and ushers us immediately into the peace and joy of His presence. 2 Cor. 5:8
He's given us His words that are true and powerful, so that we'll have the wisdom to stand against the enemy. As I read these verses this morning, the reality struck me again that Paul wrote them while in chains, in prison. Yet the truth is - the enemy, no matter how vicious his schemes, can never chain our spirits that have been set free by Christ. Paul was not silenced by the cruel attacks from dark forces. Neither should we be.
Focusing here today, putting on His armor, staying alert, and praying, that God will equip believers everywhere to "stand strong." Press on – courageous and free – never held back by fear or defeat. For God has the final victory over our lives...
"A final word: Be strong in the Lord and in his mighty power. Put on all of God's armor so that you will be able to stand firm against all strategies of the devil. For we are not fighting against flesh-and-blood enemies, but against evil rulers and authorities of the unseen world, against mighty powers in this dark world, and against evil spirits in the heavenly places.
Therefore, put on every piece of God's armor so you will be able to resist the enemy in the time of evil. Then after the battle you will still be standing firm. Stand your ground, putting on the belt of truth and the body armor of God's righteousness. For shoes, put on the peace that comes from the Good News so that you will be fully prepared. In addition to all of these, hold up the shield of faith to stop the fiery arrows of the devil. Put on salvation as your helmet, and take the sword of the Spirit, which is the word of God. Pray in the Spirit at all times and on every occasion. Stay alert and be persistent in your prayers for all believers everywhere." Eph. 6:10-18
Remember, your battle today may be more about what is unseen than what you see before you. And when you resist the enemy, God's word reminds us in James 4:7 that he has to flee.
Stand strong my friends, grace to you this day.
You're never alone.
He loves you. He fights for you. He is with you.
"Do not be afraid of them; the LORD your God himself will fight for you." Deut. 3:22
Dear God,
We thank you that you hold the victory over sin and death in this world. We thank you that you came to set the captives free. We thank you for your redemptive work you've done in our lives. We thank you for freedom and the hope you bring.
And we say this, out loud, for all to hear and know - we will not be silenced.
Your word says to "stand our ground," and that's what we will do, in the power of your Name. The enemy has no control over us, and we bring your word of Truth as weapon against his schemes. We know that we do not fight alone, for you are constantly at work on behalf of your children, shielding, protecting, strengthening, exposing deeds of darkness, bringing to light what needs to be known, covering us from the cruel attacks we face even when we're unaware.
We ask that you would give us wisdom and discernment to recognize the schemes of the enemy in our lives and to stand strong against his work.
We ask that you would remind us to pray, constantly, for all believers.
We ask that you would help us to stay alert in a dark world that tries hard to make things look "not so bad."
We ask that you would help us to be salt and light, that we would be loving and gracious, yet unyielding to sin.
We ask that you help us to remember to put on your armor daily, for you give us all that we need to stand firm in this day.
We thank you that though you remind us in your word that the whole world lies under the power of the evil one, 1 Jn. 5:19, you are still greater and we have overcome, 1 Jn. 4:4, because you have set us free, Jn. 8:36.
We thank you for your truth, "no weapon formed that is formed against you will prosper," Is. 54:17 and that you tell us this is our "heritage" in you, our inherited blessing, place of possession, and gift straight from your hand.
We ask for you to comfort all who weep, as our hearts are grieved over the tragic events of our brothers and sisters in Christ in Charleston. Lord, we ask for your peace, we ask for your protection, we trust you for your constant work on behalf of your children. We ask that you would bring justice, we ask that you would bring light, knowing that you expose the deeds of darkness.
We pray for this one who needs to know the message of your salvation in Jesus Christ. We pray that your Spirit would not give him rest, we ask that in your power, you would reveal yourself to him in his darkness.
We love you Lord. We need you. We stand together in your great and powerful Name.
In Jesus' Name,
Amen.
We do not have to walk in fear. For when we belong to Christ, the enemy never has the final word. We are secure in God's hands and He tells us to "stand firm." Whether in life, or in death, we may always be found standing firm for the cause of Christ.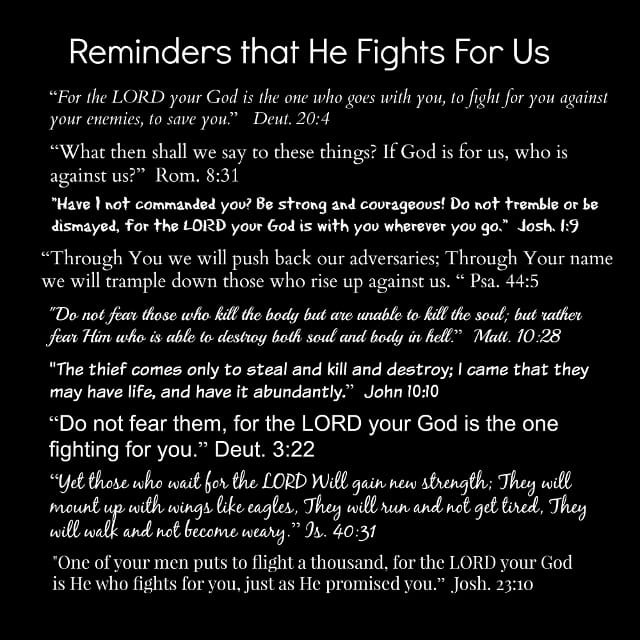 Debbie McDaniel is a writer, pastor's wife, mom to three amazing kids (and a lot of pets). Join her each morning on Fresh Day Ahead's facebook page, DebbieWebbMcDaniel, for daily encouragement in living strong, free, hope-filled lives. Find her also at Twitter.
---