My son called to me from the back yard, "Mom! Come fast, look, it's a SNAKE!!!" I smiled to myself as I unloaded backpacks and checked homework folders. "Yes, Of course it is, and it's April Fool's Day too." I knew to watch my steps on that particular day. You see, I live with pranksters, funny people, schemers. I planned to take careful notice of what was in my cup, what was on the floor, what was up above me, what was in the blow dryer, what was on the toothbrush, and what was even in the midst of the stories they told me through the day. They have such creativity. Smile.
My daughter then called to me too, "Mom!!! It's true, it's a snake! Don't touch it Noah! Mom, come see it, FAST!"
"Wow, they are such great actors," I thought to myself, "Their attempts to make things seem so "real" this time is amazing."
I heard Gracie scream. "Mom!!! Please come, HELP!!!"
"OK, might as well play along," I reasoned. "I'm coming," I called out, and headed for the back door, ready to pretend my dramatized fear over some fake object tossed in my direction.
And there. There it was. Not plastic. Not rubber. Real. Slimy. Snake. More screams. This time from me. "Don't touch it!" I yelled, as it slithered off into the garden, trying to escape our attention. Serious excitement for a few suburb kids who love nature. And a double edged April Fool's joke right there.
Sometimes in life, I've noticed that things are not always what they seem. Fake. Plastic. A facade. What we think is real, sometimes isn't all real. And what we think could not possibly be real, sometimes really is real. Never do we see it unfolded more clearly than in the reality shows we watch every week and somehow dream are true. Our own sense of what is real gets twisted.
Maybe sometimes, we even view God in that weird way. We begin to listen to the lies. Like He's somehow not who He says He is. Like He's up there playing some cruel joke on us all. Twisting the plots to our otherwise happily ever after fairy tale lives. We find ourselves left feeling betrayed, in the midst of unexpected loss, shattered dreams, broken relationships, loneliness, a hard diagnosis attached to our family name, or through long stretches of waiting.
Here's truth. Life is not an April Fool's joke. And, as much as we begin to wonder sometimes, God is not playing tricks on anyone. He's not playing hide and seek. He doesn't play games with us. He's not withholding good because we were not the "lucky winner." He doesn't play Let's Make a Deal and make us guess what's behind door #1 in order to get the prize. He's not scheming to vote anyone off the island. And He's not the One causing us to suffer through the cruel plot twists and turns of life.
We live in a real world where unfortunately, hard things happen. But in the midst of all the stuff, He knows our way. He knows our thoughts. He knows our needs. He knows our desires.
And He's near. He's not some far off distant Being, uncaring, too busy, hiding from us because we bug Him too much. He reaches out in our need, in our loss, in our doubt. If life was a game of chase, He would be the One chasing after us. Constantly. Seeking us out.
That is reality. He chases after us. And though we sometimes run, or hide from Him, or try to keep our distance, thinking He would never have our best in store, He still pursues us…out of great love.
His plans for us are good, His reach for us goes deep, there is no place too far that He can't find us still.
God loves us. And that's no joke.
It's real, and it breathes hope – on April Fool's Day – and every other day of the year.
Grace.
7 Verses for Tough Times to Remind Us - He Knows Our Way and Has a Plan:
"Surely your goodness and unfailing love will pursue me all the days of my life, and I will live in the house of the Lord forever." Ps. 23:6
"He reached down from heaven and rescued me; he drew me out of deep waters." Ps. 18:16
"For I know the plans I have for you," says the LORD. "They are plans for good and not for disaster, to give you a future and a hope." Jer. 29:11
"You saw me before I was born. Every day of my life was recorded in your book. Every moment was laid out before a single day had passed." Ps. 139:16
"He drew me up from the pit of destruction, out of the miry bog, and set my feet upon a rock, making my steps secure." Ps. 40:2
"How great is the goodness you have stored up for those who fear you. You lavish it on those who come to you for protection, blessing them before the watching world." Ps. 31:19
"You intended to harm me, but God intended it for good to accomplish what is now being done, the saving of many lives." Gen. 50:20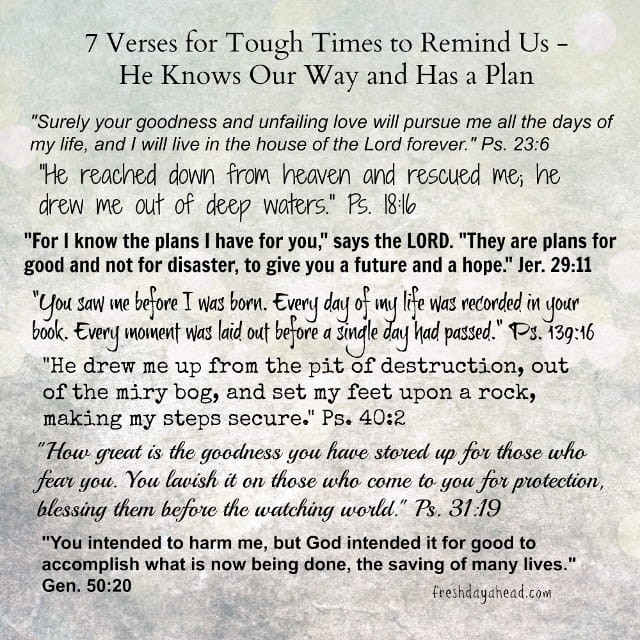 Debbie McDaniel is a writer, pastor's wife, mom to three amazing kids (and a lot of pets). Join her each morning on Fresh Day Ahead's facebook page, DebbieWebbMcDaniel, for daily encouragement in living strong, free, hope-filled lives.
Find her also at http://www.freshdayahead.com and Twitter.
---