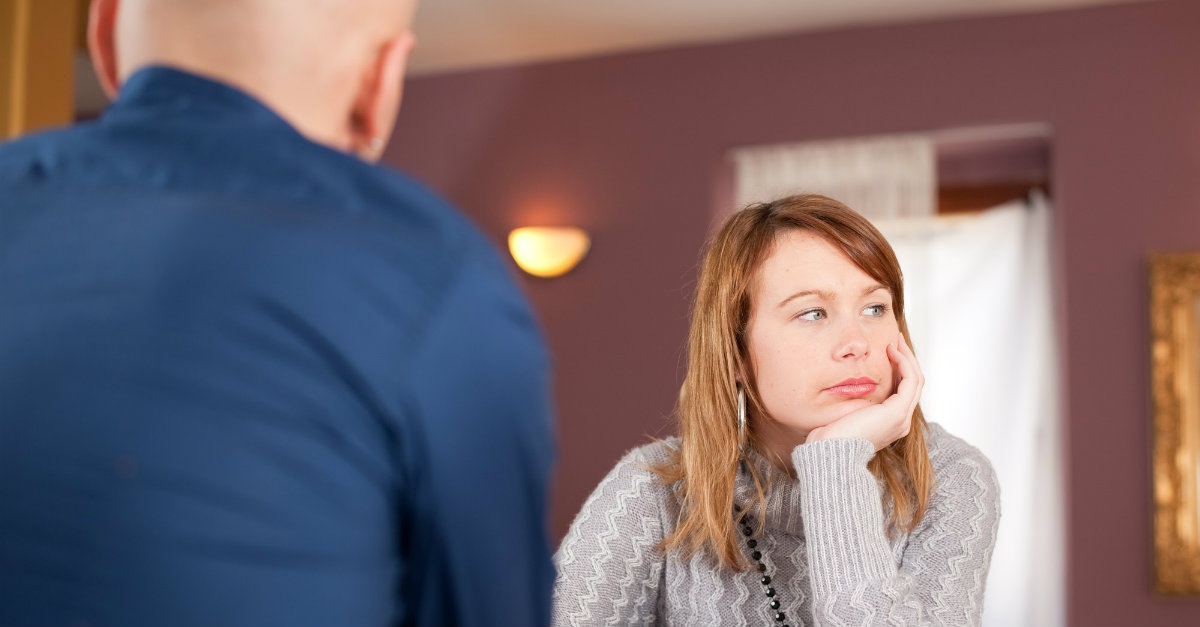 We've all had that friend that has been in the wrong relationship, right? We want to offer her earth-shattering words of caution or life-changing wisdom that will change her situation. We want save her from what is certain to devastating consequences down the road. (Who am I kidding?!  We want to shake her, until she wakes up!)  However, oftentimes, we're left on the sidelines watching and praying. Many of us have even been that friend that's been in the wrong relationship! So, how does a single woman get there – in the wrong relationship dating Mr. Wrong? What happened that led her down the slippery slope of a broken heart, broken relationship, or failed attempt to secure her happily-ever-after?
We could talk a great deal on when to date, if to date, and how to date, and I've written and spoken a on that subject numerous times over the last decade. Dating is probably the subject I'm asked about most often, because let's face it. Most of us want to be in love, one day walking down the aisle, securing our forever mate. There's absolutely nothing wrong with any of that. However, when the desire for that becomes too great, I've found that single ladies can get into significant trouble.
Today, I want to focus on the warning signs that single ladies often ignore in their pursuit to find that Mr. Right. Consequently, they become knee-deep in love, throwing every caution to the wind, with Mr. Wrong! So….here are the top warning signs you are dating Mr. Wrong (or have a friend who is):
There is a frequent need to make excuses for his behavior.  It is normal to have a bad day, where we are tired, overworked, hungry, or maybe have had a series of events that have led to a bad mood. However, when you find yourself making excuses on a regular basis for your boyfriend's bad mood, rude behavior, inconsistency, lack of involvement with church or family, financial despair, or any number of other issues, there's a problem. If you find yourself on eggshells around him (or when you bring him in front of other people), this is a huge red flag. When you find yourself constantly making statements such as, He only did that because of how he was raised. He only acted that way, because he's been hurt. He only….. How often do you overlook his behavior?
He ignores your boundaries. Boundaries are personal. They are determined through prayer and personal conviction. You shouldn't even begin to date until you've established what your personal boundaries are. Once they are set, they should be honored. Ignoring boundaries doesn't happen blatantly, at first. It starts small. It's similar to telling a "little, white lie". It always starts small. If he asks you to behave in any way that you otherwise normally wouldn't - socially, spiritually, parentally, financially, or physically, then he isn't honoring your boundaries. A man who won't honor your boundaries won't honor you.
He does not enrich your life. Enrich means to add to. Proverbs 31:11b says that "…she will greatly enrich his life." This passage is discussing how the Proverbs 31 wife enhances her husband's life, but I think the same can be said of a great future husband. He adds value to your life. That value comes in a thousand different ways. He enhances your walk with the Lord. He brings strength and wisdom. He financially enhances rather than subtracts. He brings joy through laughter and optimism. If you find that he is creating more burden for you, in any way, he is not enriching your life. Some warning signs in regards to subtraction versus enrichment would include considering how often you pay the dinner bill, his ability to financially support you in a future marriage, his words of encouragement versus criticism, and/or his eagerness to borrow money from you.
Your family and friends don't like him. God puts us in relationship with other people for fellowship. He also puts us in relationship so that the old can offer the young wisdom. There is great value in engaging feedback from those you are closest to and know you best in regards to any new relationship. If there is a common consensus among family and friends that this may not be the right guy for you, this may not be the right guy for you.
He lacks self-discipline. Discipline can be translated into many areas of our lives. It takes discipline to work a job every day. It takes discipline to pay your bills on time. It takes discipline to take care of your health. Discipline is necessary to react in love, when others have hurt you or holding your tongue, when they've engaged you in name calling or arguments. It takes discipline to actively attend church, read your Bible, and honor others. If you don't see evidence of self-discipline in his life in these areas, he's not the guy for you.
You keep secrets. Mark 4:22 tells us that everything that is hidden will eventually be brought into the open. The man you are dating is supposed to be a strong candidate for receiving your hand in marriage. If you feel the need to keep secrets about your relationship – whether the content of the relationship or its existence at all – that's a red flag. If you feel the need to be dishonest about him as a person, that's a red flag. Relationships are meant to be celebrated. Where there's light, there is accountability. There's protection.
This list is in no way a comprehensive list. There are many other warning signs that one may be dating Mr. Wrong. It is critical to be honest with yourself. We can all offer excuses for why we've made choices we have, why we are doing what we do, or how that relationship is the perfect one for us. The key to avoiding Mr. Wrong (or ending such a relationship) is in being honest, open, and willing to assess the warning signs and to engage with those who love you and are willing to help you see.
It's also important to mention that Mr. Wrong may be Mr. Right for someone in the future.  Just because he's Mr. Wrong for you today doesn't forever mark this man as a hopeless case. It simply means for this season, he is wrong for you.
Single ladies, it is better to be in no relationship than to be in the wrong relationship! You are worth the wait.
Jennifer Maggio is a national author and speaker who is also a wife, mother, and founder of The Life of a Single Mom Ministries. She has been featured in hundreds of media venues, including The New York Times, The 700 Club, Power Women, Daystar Television, and others. She has a passion to see the women of God live free and impactful lives. For more information, visit www.thelifeofasinglemom.com. 
Photo courtesy: ©Thinkstock
It was 3:30 in the morning, when I received the call that changed everything. "Jennifer, you need to get out of the house. Your neighborhood is flooding," my friend sobbed hysterically. Unsure if I was dreaming, I stumbled from my bed, down the hall, and out my front door. Stunned, I discovered hundreds of neighbors standing in their driveways and lawns, staring with the same awe that I was. We didn't live near a body of water. We weren't supposed to be affected by flood waters. The area had not flooded in over 1,000 years. Yet, flood waters were pouring into my neighborhood, more quickly than I can even describe. As if we lived in a bathtub and the faucet had just been turned on full-strength, we watched the waters rise. I ran inside, awoke my family, and grabbed a suitcase. Within 20 minutes, we were loaded in the car and fleeing the scene. It took only a matter of hours for the Great Louisiana Flood of 2016 to overtake my home last August and wash away virtually everything I owned – baby pictures, wedding albums, my children's first letters, everything.
"This isn't supposed to happen. I've been faithful, God. I've dedicated my life to your service. And….I've been homeless before. I don't need a reminder about how hard that is! How can we go on? How can we rebuild?" I thought.
The days that followed left me disoriented, confused, speechless, sleepless, and exhausted, as I scrambled to make sense of the horror that was now my reality. In the weeks that followed, I coped. I'd love to tell you I did more. I'd love to tell you I thrived and had some supernatural God experience in those days, but I merely survived. We worked 18-hour days ripping sheetrock from the walls and dragging every wet, soggy, and soiled piece of furniture from our home. And I cried, a lot. I worked myself to exhaustion, fell to the floor and cried, then worked myself to exhaustion some more. It was hard, very hard.
Nine months later, we are now back into our newly-refurbished home, managing daily to restock the shelves and establish normalcy. The road has been hard, but I'm on the other side of this tragedy and I've thought more and more about what we do when we lose everything. What do we do when a fire takes our earthly possessions? What do we do when we lose a loved one? What do we do when we lose our marriage? Our job? Our financial security? Our ministry position? Our health? The relationship with the one we thought we'd marry?
I'm not a stranger to losing everything. My parents, grandparents, and most of my extended family were dead by the time I was 21 years old. I've been a homeless single mom with no money, no friends, and no hope. I've been beaten and abused more times than I can count. I've had no food and eaten Ramen noodles 5 times a week, just to feed my kids. I've chased a relationship that I never should've been in, just hoping someone would want me. I've huddled on the bathroom floor, certain no one saw me and no one cared, contemplating suicide. There is someone there, right now. There is someone reading this that has lost everything, who feels she can't go on, and who is certain that no one sees you. I'm writing this for you, today. I'm writing to tell you some important things for you to know, when you lose everything.
You haven't lost everything. It may seem like it, today. It may seem like the dark cloud has followed you way too long. Maybe you've lost a great deal in a short period of time. Maybe you've lost your job and your health is failing, and your mom just died. I don't know what your loss looks like today and I wouldn't dare minimize it. Take your time to grieve the loss. Take your time to heal the wounds of the loss. But be reminded that you haven't lost everything. God is with you. As a born again child of the King, your salvation isn't lost. Your future beyond this earth is secure.
It doesn't matter how you feel today. It doesn't matter if you can't feel God's presence. Feelings are temporal and fleeting. What is true is that He is with you. Satan would like nothing more than to convince you otherwise. He wants to convince you that it's all over. You'll never recover. You can't make it past this. No one cares. They are better off without you. They'll never forget how you've messed up. There are thousands of lies that Satan will whisper in your ear. But that's just it. They are lies - lies from the pit of Hell, designed strategically to hold you down, destroy you, steal you your hope, and kill the joy of your future. Do not stand for it.
You have been given the authority to stand firm against the lies of the enemy. You have the authority to cast down his plans of attack against you. Know that you are God's beloved. He sees you. He loves you. You are not alone.
I have called you back from the ends of the earth, saying, 'You are my servant.' For I have chosen you and will not throw you away. Is. 41:9
* Article first appeared on iBelieve.com.
Jennifer Maggio is a wife, mom, founder of the national nonprofit, The Life of a Single Mom. The author of four books, her passion is empowering single parents and hurting women to live in complete freedom that only Christ offers. For more information, visit www.jennifermaggio.com.
"Mom, do you remember that time you called me the devil?" my son said over dinner one night recently. He was home from college out-of-state, and we were enjoying a rare dinner with the entire family. We were laughing and sharing old stories of times gone by. Between mouthfuls of potato salad and barbecue chicken, my young adults were laughing about all the things they had "gotten away with" as teenagers. The question seemed to come from out of nowhere, and although I laughed it off, it secretly stung a bit, as I remembered an argument we had had some 6 years prior. In retrospect, it was a small incident at school, but at the time it seemed much bigger and I lost my temper. In the heat of the moment, this exhausted mom screamed hurtful things at my then-teenage son. I instantly regretted them. It didn't matter that I had just undergone surgery. It didn't matter that I was disappointed in his seemingly frequent poor choices. It didn't matter that I was juggling lots of plates. I hurt him, and I couldn't take it back.
"Sticks and stones may break my bones, but words will never hurt me!" I recall screaming as I crammed my fingers into my ears, stuck my tongue out, and rolled my eyes in a way that only a small child can master. I'm sure I said that statement dozens of times throughout my adolescent years and probably had it thrown at me a time or two, when I was on the giving end of insults or ugly words. You are likely familiar with it, as well. It seems to be a pretty common adage that parents teach their children early on. Perhaps it can be successfully used to counteract the attacks of a neighborhood bully or deter a sibling who has said something unkind, a parent may think. But words do hurt. They hurt a lot. And sometimes they hurt worse than sticks or stones.
Perhaps the reason my son's questions stung so bad is because I knew it was a failure on my part. Now, I've worked really hard to be conscious of the things I speak over my children. I've tried to be loving and caring, and use words of encouragement, as I've reared them. I've probably spoken thousands of words of accolades over them in the last two decades, hundreds of thousands of praises and hand claps and atta-girls, atta-boys. But that day, the words I spoke over my son hurt him, and no amount of accolades and praises will erase that.
In Genesis 27, the Bible details a significant event in history as it pertains to the power of our words. Isaac, a man who was old and turning blind (v. 1), predicts that he may be dying soon and wants to bless his first-born son, Esau, as was customary in the day. He sends for Esau, explains his intention, and asks Esau to prepare his favorite dish. While Esau was following his father's instructions, Esau's brother, Jacob (with plenty of help from his mother), masterfully tricks his father into thinking he was actually Esau. Inadvertently, Isaac blesses his son, Jacob - the wrong son! Now, can I just be really honest, here? The first time (or dozen times) I read this story, I went over again and again, wondering why on earth this was so significant. I mean, Jacob lied. He wasn't the first-born. He manipulated his father. Couldn't his father simply take back the blessing and give it to Esau, the right recipient? It seemed simply enough, right? As I began to research this topic, I discovered that a blessing, in those days, wasn't simply a well-wishing. It carried weight! It was a form of prophecy. Blessings were the equivalent of "signing it in blood!" The words spoken that day weren't just words, they were future. They were life.
Man, things sure have changed haven't they? Our words to seem to hold less and less merit these days. No longer is a man's word his bond, as was once customary. Today, it seems a man (or woman) can just about anything and choose whether or not they follow through. Words can be spoken in loose, fiery, insult, over social media or the internet with little to no regard for another human being's feelings. And that's just the tip of the iceberg. But things haven't changed for God over the last decade. His word still stands true. And although we may not formally have a ceremony to bless our children, as was once tradition, the words we speak over our children, the things we say to our coworkers, the way we speak to our boss, pastor, teachers, friends, and family, they do matter. They aren't merely utterances to be held with no regard.
Single moms, when you scream at your children, "You're going to be a no-good loser just like your dad!" They aren't just words.
Husbands, when you remark that your wife is "unattractive and lazy". They aren't just words.
Mothers when you speak over your children, your praise or wrath is shaping their future. They aren't just words.
Consider Proverbs 18:21 (NLT). "The tongue brings death or life, those who love to talk will reap the consequences." This is significant! What we are saying from our mouths matters. And oftentimes, it's in the heat of the moment, when we haven't considered the impact on another, that we say something that we can't take back. Before you speak careless words to another person in your life, consider their consequences. Consider how you've felt when someone dishonored you with an unfair lashing of words. Consider how you've been torn down, simply by what another said to you. And most importantly, consider how you can be a giver of life with the words you speak.
Jennifer Maggio is a wife and mom of three children. Between laundry, carpool, cooking, cleaning, and just trying to keep her sanity, she writes and speaks to the body of Christ on the important of living a life of freedom through Him. She currently is CEO of The Life of a Single Mom Ministries. For more information, visit www.jennifermaggio.com.