Christmas is my favorite holiday of the year. Those who know me will attest to that fact. I begin my holiday planning in October. I'm singing Christmas carols at the first hint of a fallen leaf! I start thinking about Christmas décor and holiday gatherings mid-year. I make lists of friends and neighbors that I'd like to bake some goodies for. I relish the day it turns cold, so I can bring out a scarf or sweater. (We Southerners don't get much cold weather here, so we take every advantage of being able to pull out our boots and sweaters, when it crests below 60 degrees!) I love hot cocoa and apple cider and the smell of cinnamon and pumpkin pie and apple pie and….well….you get the point!
But I also fully recognize that the holiday season can conjure feelings of regret or disappointment. Maybe the holidays serve as a reminder of a different time in your life or the hope of something that once was, but is no more. The Christmas season can bring both joy and pain. The laughter of children wrestling in the bedroom during their school break can also be peppered with tears of anger, as you reflect on a dad that isn't there to hear it. I get it. I really do. I have had those same tears of joy and sorrow, anger and laughter. I have sat in the bedroom alone on Christmas day, hoping someone would invite me to lunch. I've also sat in the home of someone who did invite me, fighting back tears, because I felt so sorry for myself and my children that their family wasn't my family.
This time of year can also make me mad and sad, too. I'm sad that commercialism surrounding the Christmas season brings even more pressure to an already tight budget and a single mom whose doing all she can to make ends meet. I'm sad that children will be without their fathers on this day due to death or a relationship that failed. I'm angry that some will choose to ignore their children on this special day. I'm sad that I can't physically hug every single one of you who feel this way. But you and I have some choices to make this season.
Will we allow the joy of the Christmas season (or Easter or Mother's Day or Valentine's Day or any other holiday for that matter) to be dictated by a past that didn't shape up the way we planned? Will we allow Satan to lie to us and tell us no one cares or sees, that we are forgotten and abandoned? Will we rehash the holidays of yesteryear, or will we determine to make new traditions with our family? Will we focus on lack or love? Will we choose to make today about the Savior of the world or the brokenness of the world?
This season is the season to end all seasons. It is THE season! Christ was born that we may be set free. Christ was born that we may celebrate an eternity with the Lord. Christ was born that we – those who would otherwise have no hope – may have hope. His birth is our fortress, our reason for living. Christmas isn't about the number of presents under the tree, or whether you even have a tree. It isn't even about sharing the day with a house full of guests. It's about choosing to focus on the sacrifice our Heavenly Father made and the immense love He has for each one of us that compelled him to send Jesus. Make today a celebration.
That celebration could come in a thousand different ways. If you are spending the day away from your children, make it a point to reach out to a friend to visit with. Choose to go to the nursing home or homeless shelter to visit with those who may be lonely. Spend the day in bed watching old movies. Journal 10 things that God has done for you this year. List all your hopes and dreams for your children's future. Go outside and get some fresh air! Bake some holiday goodies. Sing Christmas Carols with the kids. Be creative. You have the choice to make this Christmas season the most memorable one you've ever experienced.
Jennifer Maggio is a national author and speaker, mom to three, wife of Jeff, and CEO/Founder of The Life of a Single Mom Ministries. The Life of a Single Mom Ministries serves more than 71,000 single mothers each year and has worked with over 1,500 churches across the United States to start, grow, or improve their single parent ministry outreach. For more information, visit www.thelifeofasinglemom.com.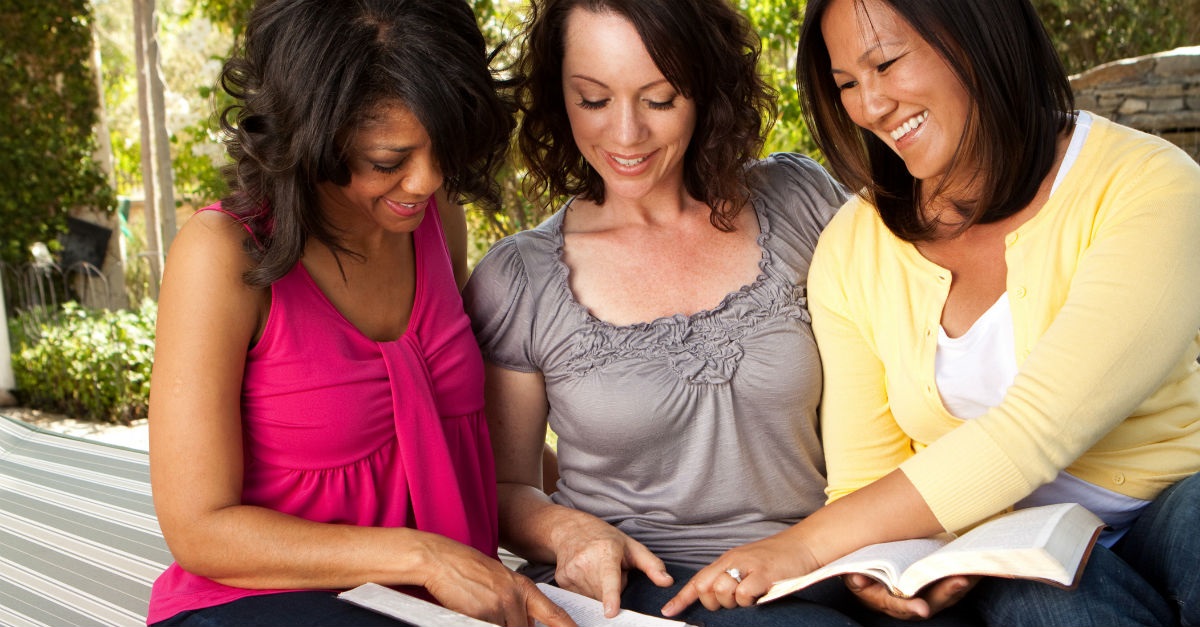 One of the most important things that we can do for one another is serve. And the best serve projects come from those who have been through what you've been through and know the pain. That can be true of cancer ministry or prison ministry or a myriad of other niche ministries. Single moms' ministry is no different. It is so important that the 15 million single mothers in the United States who are raising 25 million children know that they are loved and cared for and that they have time, talent, and treasures that can impact the Kingdom as well. 
Let us not give up meeting together, as some are in the habit of doing, but let us encourage one another—and all the more as you see the Day approaching. Hebrews 10:25 (NIV)
One of the best parts of being in community with other believers is that we are there to encourage one another in our faith. For that single mom friend who feels as though nobody is there, you may be the only source of encouragement for her. She may be so consumed with the circumstances of life that perhaps she's lost sight of the promises of God concerning her. God will trust you to remind His precious daughter of who they are in the Lord, how wonderful they are and how loved they are by God.  
Discouragement will cause us to do one of three things isolate or congregate. Your sister in Christ may avoid church or any similar gathering, such as a single moms group, Bible study, etc. Maybe she didn't feel like she was good enough or that her life is too different to fit in. On the other hand, another single mom may only show up when she feels like her life is so heavily burdened that she can barely function.  For her, fellowship with others is just what she feels she needs at that time. In either of those situations, you can be an encouragement. For some of us, encouragement comes more naturally and others of us have to be more intentional. Ask God to give you a heart for encouraging others, creative ways to do it and the discipline to make it a daily practice.
What are some ways single moms can be an encouragement to other single moms?
Visit a single mom. Whether she's in a hospital recovering or at home avoiding social activity, you can give her the gift of your presence.
Send a note to a single mom. A handwritten note to let her know that she is thought of and cared about will remind her that she is not alone.
Invite a single mom to church. It is said that many people don't go to church because they haven't been invited. Your invitation could be one she's been waiting on.
Serve a single mom. Could she use a sitter or a meal or her yard cut? Serving a single mom in practical ways is a well-received demonstration of God's love and concern.
Remember that God created us as relational beings. He places us in a body of believers where we can receive and give encouragement. So as you live in close relationship with other single moms, be ever ready to encourage them and show God's love through your good deeds.
Who can you encourage today? Who has encouraged you recently that you can thank?  What promise from God's Word can you share with a mom right now? How might God use it?
Jennifer Maggio is a national author and speaker, mom to three, wife of Jeff, and CEO/Founder of The Life of a Single Mom Ministries. She is chauffeur, chief dishwasher, carpool queen, and duct tape aficionado. But more importantly, she is passionate about teaching women how to find complete freedom in Christ. For more information, visit www.jennifermaggio.com. 
Photo courtesy: @Thinkstock/digitalskillet
All of us, whether young or young at heart, married or single, mother or not, will encounter conflict in our lives. The way we handle conflict becomes either an amazing opportunity to give God glory in how it is resolved, or a thorn in our side that we struggle to get right.
Many of the hurts of my past resulted in a great deal of conflict in my life. And all of you have had events in your life, both negative and positive, that have shaped your ability to resolve conflict and more importantly, your willingness to do so.
Proverbs 11:2 says Pride leads to disgrace, but with humility comes wisdom.
I was once a poor girl from Mississippi who used government assistance just to makes ends meet. When I landed a job in Corporate America and became successful, I didn't bother to guard my heart against pride. Humility wasn't my first goal, if I'm being completely transparent with you. Conflict wasn't viewed as an opportunity to give glory, but rather a welcomed opportunity for me to boost my own ego.  So when I told someone off, or gossiped behind their back, or ranted for ridiculous amounts of time…. It made me feel better about me. It helped me to mask old wounds that had been left undealt with.
What are some of the things in our lives that cause conflict?  There are many, but here are just a few:
Insecurity – (Whether our own insecurity or someone else's, it can cause major problems.)
Misunderstanding  - (Sometimes we simply misunderstand someone's intention.)
Satan's plan of division – (Why wouldn't he cause conflict & division? He's masterful at it).
Exhaustion – (When we are doing too much, too often, and not resting, conflict arises.)
 All of us will face misunderstandings or exhaustion and many have dealt with insecurity, so, what do we do to resolve these conflicts well?
Issue grace.  – Most of us would rather receive grace than issue it. It's easier for us to see all the reasons why God should give us grace, because our heart is good and we're good people and we didn't mean to fail Him – than it is for us to see the good in others and just give them a break.  Maybe they are completely unreasonable. And maybe you are completely right. But it's so important for us to look at how we can maintain and mend relationships than how we can be right.  (Ephesians 4:3 – Make every effort to keep yourselves united in Spirit, binding yourselves together in peace.)
Take your offense directly to the person. (See Matthew 18:15.) Girls, it is unfair to assume others in our lives know what we are hurt about, when we don't talk to them about it. And it is even more unfair to discuss it with others when you haven't discussed it with them. And we do both. Don't gossip about it. Don't fester about it. Take it to them in love. And when you take it to them, take it to them in hopes of resolution with a pure heart - not in hopes that you can convince them how right you are.
Speak life over the situation. The power of life and death are in the tongue. (Prov. 18:21)  Most of us are church girls. We get it. We understand about keeping our tongue in line with God's word. Yet, we struggle to do so. When we want to resolve conflict, we must speak honor over those we are in relationship with. If you think you can speak negatively about your girlfriend, your sister, your pastor, your boss, your Bible study leader, and NOT grow division in your heart, you are wrong.  Wouldn't our lives be so much better if we could just watch our mouths?  Never make light of the king, even in your thoughts. And don't make fun of the powerful, even in your own bedroom. For a little bird might deliver your message and tell them what you said. Ecc. 10:20
Battle your thoughts.  Phil 4:8 says to fix our thoughts on whatever is true, honorable, right, pure, lovely, and admirable.  You cannot keep playing in your mind over and over and over what they said, what they did, an expect resolution. You cannot keep negative thoughts from coming into your mind. But it is your choice what you do with them, when they get there.
Friends, we are all armor bearers of something. Whether it's your spouse, a friendship, your pastor, your boss, a ministry you are passionate about, your kids --- you are championing the cause for something and someone. And as such, you must begin to see yourself as mightily carrying the armor for someone else in your life to complete their mission – just as there are those in your life bearing armor for you.
What's at stake if we don't battle well? Rest assured, the conflict will grow. It becomes bigger than it ever needed to be. It shapes us. We become bitter, anger, and offended and no one can stand to be around us, instead of humble and graceful and strong. And we will also be so distracted with the conflict that we don't focus on fulfilling our purpose. How could we be busy about our Father's business, when we're telling anyone who will listen about our conflict?
Let's decide today that we are going to problem solvers, not problem seekers. And when conflict does seek us out, we'll be strong women of God who see it for what it is and determine in our hearts that we'll overcome it with God's help.
Jennifer Maggio is an author and speaker whose personal journey through abuse, death, single parenting, and homelessness has left many around the globe riveted. She is CEO and Founder of the Life of a Single Mom Ministries and has a passion to see the body of Christ living in complete freedom. For more information, visit www.thelifeofasinglemom.com.