Mother's Day and Single Moms
Jennifer Maggio

Jennifer Maggio is a mom to three, wife to Jeff, and founder of the national nonprofit, The Life of a Single Mom Ministries. She is author to four books, including The Church and the Single…

More

2016

May 04
Holidays of any kind can be tough for a mother who is parenting alone, especially if you are new to your role as a single mom. But Mother's Day is perhaps one of the most difficult for single mothers. It can serve as a reminder of all the things that once were, but are no longer. It can hint at all of a single mom's insecurities and provoke such thoughts, as I'm not the mother I want to be. I failed my children. I shouldn't have to be alone today or others.
Single moms, I want to encourage you that today is a day of celebration. It is a day that is all about celebrating the gift that your children are in your life. Don't put a ton of pressure on yourself (or others) to make today perfect. When we expect for any holiday to be perfect, and it isn't, we become disappointed that we don't fit into the storybook lives that others seem to have.
Here's a thought:
None of us fit into the perfect storybook life! It's all imagined. That's why it's a storybook.
Here are some quick tips on how to survive and enjoy Mother's Day.
Go to church today. It's so important that you have an opportunity to join in collective worship and praise the Lord. Give Him thanks for those babies of yours. Thank Him for all the blessings He's given you. Praise Him for being with you during the darkest of times. Praise sure will give you a new perspective.
Make it a point to enjoy your children. What you do is not near as important as why you do it. Whether you have small children who simply want to sit in your lap and cuddle or teenagers who would rather give you a store-bought card with their name scribbled in it, make plans today to enjoy your children.
Don't put a measuring stick on what today should look like. Every mom's story is different. Her journey to and through parenthood is different. Your day may look different from another mom's day, but it doesn't make your day any less or more special. Comparison will be nothing but a joy thief for you today (or any day)!
Find another single mom to serve. There's much to be said for serving others, but on a holiday, it is even more special. Imagine a single mom sitting home today, destroyed because she doesn't have her children this weekend, or hurting because this is her first Mother's Day alone. How can you help? Sometimes, the simplest of gestures are the life-changing ones. Invite her over for lunch. Take her to church with you. Do an art project with her and her children. Create a picnic in the park. There are hundreds of small, inexpensive, and creative ways that you can help bless her day.
Your day can be as special as you want it to be, but your choice today must be clear. You must draw the proverbial line in the sand and say, "Today is the day that the Lord has given me. I will choose to rejoice today and be glad in it." Your Mother's Day may not look like you ever pictured it to look, but God is with you and has blessed you. You are highly favored, chosen, complete, and whole. You are not less than, you are more than.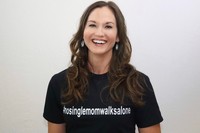 Jennifer Maggio is an award-winning author and speaker, whose personal journey through homelessness, abuse, and multiple teen pregnancies is leaving audiences around the globe riveted. At 19, Maggio was pregnant for the fourth time, living in government housing on food stamps and welfare. She shares with great openness, her pain, mistakes, and journey to find hope in Christ. She ultimately became an 11-time Circle of Excellence winner in Corporate America. While a vocal advocate for abstinence, and sustaining today's marriages, Maggio recognizes that single parenthood exists and is passionate about seeing these parents thrive. She left her corporate successes behind to launch a global initiative to see single moms living a life of total freedom from financial failures, parenting woes, and emotional issues. Her passion is contagious, and her story has been used to inspire thousands around the globe. Today, Jennifer works to ensure that no single mom walks alone as the founder of the national profit, The Life of a Single Mom. For more information and resources, visit the website HERE.
---