When a Single Mom's Life Changes
Jennifer Maggio

Jennifer Maggio is a mom to three, wife to Jeff, and founder of the national nonprofit, The Life of a Single Mom Ministries. She is author to four books, including The Church and the Single…

More

2020

Mar 16
I am often asked why it is even important to have a single mom's outreach and ministry program in the church. Many wonder if the ministry is necessary or if it somehow segregates single mothers. There are other questions that arise about if ministering to single moms somehow condones divorce or unwed pregnancy? (Yes, these are all questions our ministry receives on a daily basis!)
Do you want to know why ministering to single moms is so important in the church? Read the single mom's story below and how the ministry has changed her life forever. There's no way you can have a dry eye after this one! Thank you, God, for what we get to do as a body of believers for your glory. May we always, as a believer, see the least of these, the hurting, the marginalized, the broken, the poor, and the left-out. And may we always be sensitive to the Holy Spirit's prompting to find precious single mothers who are raising tomorrow's future.
"The Life of a Single Mom Ministries has truly changed my life. I was lonely, depressed from the loss of losing a daughter in 2006 due to stillbirth, and afraid to admit my pain. When I had my first son, I felt so alone. When I learned of a local single mom's support group, I joined in 2009, even though I was a bit apprehensive and scared. When I learned of my second pregnancy, I felt stupid and lost. I was embarrassed. I had failed, sinned, and felt so alone. Could God even love me now? There were days I had to literally eat bread and beans so I could have gas money to get to work! I would miss days of church, so I could buy food for my babies. It was hard…but my local single mom's group improved my mood…taught me that there were other people who were going through the same things that I was going through and helped me to mentally prepare myself for the days to come so that I would not fall into a deep depression. I believe in GOD. I trust in GOD. But I learned to LEAN on GOD and have a deeper, more intimate connection to GOD through my local single mom's group. I have learned that I am not alone. I do not have to feel alone. All I have to do is ASK. There are people with IDEAS and PURPOSE who can give me ideas so that I can fulfill my purpose. I have a life changed because GOD put all these people in front of me in order to help me fulfill my walk with HIM and give my children a GOD-BASED foundation for living and not become a statistic. I have learned to dig deeper into my faith…and prayer life….to teach my children how to claim the promises that GOD has for them. I have seen improvements in my life and in my children's lives, and I truly owe it to the Lord because God shaped me and my family. I thank GOD for my church being THE church because no matter how one became a single mother, you are telling us that we have worth, we are beautiful, and no matter what, God loves us." – Angelica C.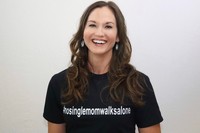 Jennifer Maggio is an award-winning author and speaker, whose personal journey through homelessness, abuse, and multiple teen pregnancies is leaving audiences around the globe riveted. At 19, Maggio was pregnant for the fourth time, living in government housing on food stamps and welfare. She shares with great openness, her pain, mistakes, and journey to find hope in Christ. She ultimately became an 11-time Circle of Excellence winner in Corporate America. While a vocal advocate for abstinence, and sustaining today's marriages, Maggio recognizes that single parenthood exists and is passionate about seeing these parents thrive. She left her corporate successes behind to launch a global initiative to see single moms living a life of total freedom from financial failures, parenting woes, and emotional issues. Her passion is contagious, and her story has been used to inspire thousands around the globe. Today, Jennifer works to ensure that no single mom walks alone as the founder of the national profit, The Life of a Single Mom. For more information and resources, visit the website HERE.
---