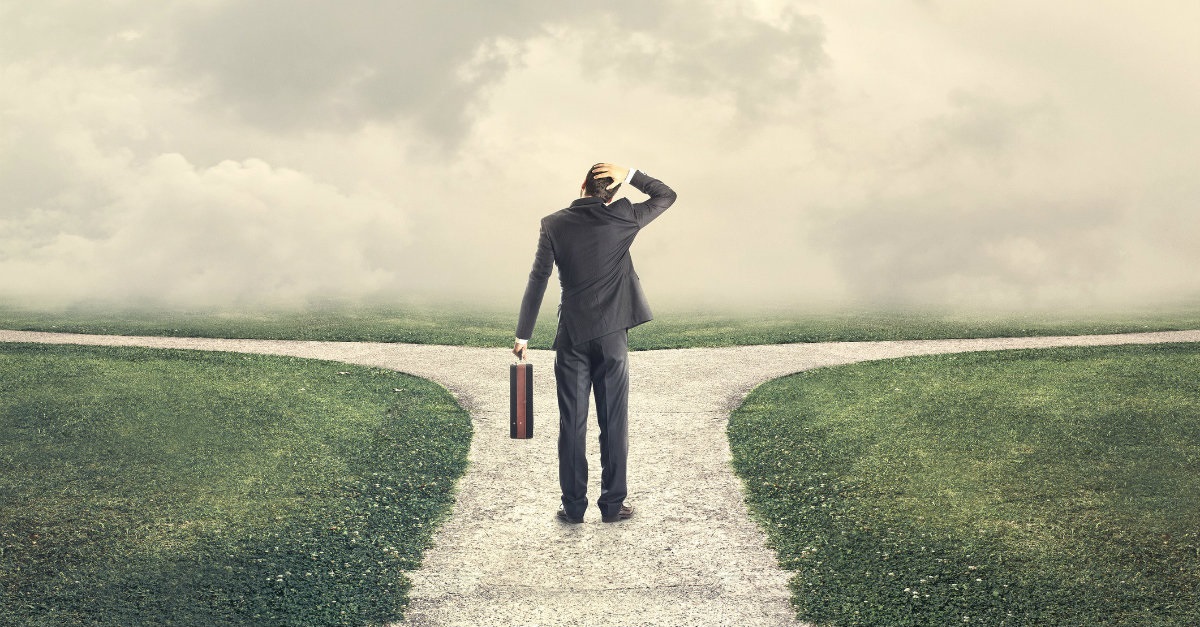 "Lord," I said, "Most churches are afraid of me. If I'm such a good candidate for their church, they wonder why I am still unemployed?"
I had survived an attempt to oust me from leadership of the church I'd pastored the last three years. It had been the most difficult, up-hill period in my ministry. Then, when it appeared the coup had failed and the know-it-alls knew a lot less than they had figured, I was not given time to take a breath before the ringleader said in private, "It's not over, Joe. It'll never be over until you're gone."
He was determined to get me out of that church.
A few days later, the Father said to me, "You may leave now."
Six months earlier, a church leader with ties to the little power group had taken me to lunch with an offer. "If you will leave, they'll give you $100,000. And you can walk away."
I said, "I would love to leave. The stress is killing me. But the Lord will not let me."
A midwest church twice our size had shown interest in me as a possible pastor. I'd sent them recorded sermons–this was before the internet–and we'd had extensive long distance conversations. They were about to send their search committee across the country to visit us when I stopped it.
I told them, "The Lord is not going to let me leave until this issue in the church is dealt with. Otherwise, I'll just be passing it on to the next pastor."
So I had broken off the contacts with the big church. (They promptly turned to their interim and made him the pastor. So, when I became available this was no longer an option.)
The leader across the table said to me, "So, you're determined to stay."
I said, "I don't have any choice. The Lord will not let me leave."
And now, after their little uprising had failed and the matter had gone public, the Lord was telling me it was safe for me to leave.
I gathered key leaders in my office to say if they could work out a paid leave of absence for a year, and if the church voted to endorse it, I would walk away.
Very long story short, that's what happened.
Six weeks later, I found myself unemployed. We didn't call it that, of course. We called it a "paid leave of absence." But the result was the same.
I still had an income–but ask any pastor. While an income is important, that's not the point. God called me to shepherd His people. A flockless shepherd is a contradiction in terms.
I was beyond fatigued and ready for a rest. So, my wife and I rested and put our house on the market, I took some invitations to preach here and there, and we waited on the Lord to show us what was next.
That's when the strange little phenomenon began to occur.
Churches running 100 in attendance were afraid of me.
It got back to me that some were saying things like: "If he's so good, why did they let him go?" "We're not willing to take a chance." "Where there's smoke, there's fire. There must be more to this than a power grab by a few laypeople."
The irony was stunning. I had turned down a church running over 2,000 to see this conflict to its resolution, and now churches running 100 were afraid to talk with me.
And so, the months came and went. I preached a number of revivals, we sold our house and moved into an apartment to wait on the Lord, and I kept in touch with a number of friends who were praying for us and passing along my name to church committees.
What I Began to Pray
Each evening, I walked a four mile route through our part of the city and talked to the Lord. More and more, the prayer sounded something like this:
Lord, most churches are afraid of me. They say, If he's such hot stuff, why is he unemployed? But Father, I don't want most churches. I just want "the one." The one where You want me. That's the church I'm praying for, Father. Please send me there and nowhere else. 
In time, a broken church–victimized by a preacher who stayed only a few months before tearing up the fellowship and running off half the congregation–contacted me. And that's where the Father sent me.
I realized later, looking back, that under normal circumstances I would never have left the big church in the exciting city (with the far bigger salary) to pastor this wounded congregation with needs galore. I know, I know. We should always be willing to go where the Father sends us, right? And it's impossible to say what we would have done under other circumstances. But knowing the shallowness of my heart and the weakness of my faith, I seriously doubt I would have been willing to make this jump without the unusual situation in which I then found myself.
This was of God. The Lord sent me to that church for a 14 year ministry. Afterward, I continued as a member for another dozen years while serving in a broader scope, first as an area denominational leader and then as a retired itinerant minister.
What We Pray for Our Church These Days…
The church where my wife and I now find ourselves members–where God sent us, make no mistake–is experiencing some difficult days. Some say it has a reputation for being hard on its pastors and staff. I've been told that most pastors are fearful of talking to the search committee and would dread moving here.
But that's all right. We don't want most pastors. We want only one.
We want only the one pastor God has chosen for this congregation. "Send him and him only, Father. Please keep all others away. And let our leadership know in no uncertain terms that You are doing this. For Jesus' sake."
God bless all unemployed pastors who want so dearly to be put to work!
If people get their identity from their work–as we are told most people do–then an unemployed pastor may wonder, "Who am I if I am not doing the work God called me to do?" There are no quick easy answers to this, and everyone's situation may be different.
But We Know a Few Things…
–God is in charge. He is sovereign. "Our God is in the Heavens; He does whatever He pleases" (Psalm 115:3).
–God is not limited by fearful search committees or timid churches. He is Lord.
–Pastors–the gainfully employed and the ones still looking–are His children, the work of His hands, the redeemed of the Lord. And we are each to serve Him, whether in big ways or small. "Whatsoever thy hand findeth to do, do it with all thy might." (Ecclesiastes 9:10)
–No unemployed pastor should sit by the phone waiting. Let him (or her*) be up and about, doing the work of the Lord in whatever form that may take. If the issue is putting groceries on the table for the family, the minister should be willing to do whatever it takes–from flipping burgers to selling used cars to peddling insurance.
–In the system used by our denomination, God often uses the method of "one friend telling another friend." So, we counsel unemployed pastors to stay in touch with their friends, let them know if and when they will be preaching somewhere, provide them with a current resume to pass along, and stay focused on the Father, who after all, is the Ultimate Human Resources Manager.
–Let the unemployed pastor stay on his knees, looking to the Father, trusting Him to do His good will.
From time to time, ministers who seem never to hear from a search committee will text to say, "Why is God ignoring my prayers? Why doesn't He send me to a church?" I have no answer, of course. Only the Father knows the reasons. So, I pray for them and for their families who are often hurting as much as the minister is.
Lord, bless your people, please. Give courage to search committees and great faith to congregations. For Jesus' sake. Amen.
Photo courtesy: ©Thinkstock/francescoch
"Lord God of Abraham, Isaac and Israel, let it be known this day that you are God in Israel, and that I am your servant, and that I have done all these things at your word" (1 Kings 18:36). 
I was pastoring a church that had survived–just barely–a massive split a couple of years before I arrived. Many were still carrying guilt over how they had behaved or anger over the misbehavior of others. Or both.
And since these people had ousted the pastor who had provided the spark for all this turmoil, it soon occurred to a strong handful that they could do the same to me.
So, for the first years of my ministry in that church–which actually lasted nearly 14 years–I had to put up with the detractors, people who were determined to find fault with everything I did and turn it against me.
And then one day I noticed how Elijah had prayed on Mount Carmel.
"Lord," he said, "today, let these people know there is a God in Israel. And while you're at it, let them know that I am your servant."
Both things are right, needful, and righteous. So I began praying both.
And God came through. He did both things. My final seven years in that church were healthy and wonderful.
Before praying such a prayer, you have to settle a few things…
Before you can legitimately call on the Lord to "show these people that I'm your servant," you might want to go back and ask yourself three questions.
1. Did God actually call you into the ministry? Or did you become a pastor for all the wrong reasons? Personally, I was 21 years old, a college senior, and singing in the choir during a church revival the night God interrupted the proceedings to say to me, "I want you in the ministry." His exact words. I'll never forget it.
Go back and reaffirm the call of God upon your life. Recommit yourself to His call.
2. Did God send you to this church? Or, are you out of place?
God called me to that church in no uncertain terms. I knew it was His doing by a dozen ways. So, yes. I'm here because of Him.
Recall how the Lord led you here. And claim the promise of 1 Thessalonians 5:24, "Faithful is He who called you and He will bring it to pass." Ask Him to do that.
3. Is your heart right with Him? Are you staying close to Him through prayer and the word and daily obedience? If not, nothing is more important than a time of repentance and recommitment.
"I delight in doing thy will, O God," is a constant prayer of mine.
Considerations for praying "… and let them know that I'm your servant" 
1. To pray such is not presumptuous or audacious.
In the parables our Lord told about servants going out to do the work of the king; those servants represent God's ministers then and now. In those parables, the king saw upon the servants as extensions of Himself. They were obeying Him, doing this thing only because He sent them there.
How they were treated, the King took personally.
So, God's servants are well within their rights to pray, "Father, let these people know You are God in this place–and that I'm Your servant!"
You may recall that when Jesus sent the disciples on a preaching mission, He told them, "Whoever receives you, receives Me." "Whoever listens to you, listens to Me." "Whoever rejects you, rejects Me." (Matthew 10:40 and Luke 10:16).
2. To pray this prayer is actually Christ-honoring.  
The Lord who called you into this work and sent you to this church surely wants to bless your ministry and affirm you in the eyes of His people. As one said long ago, "God don't sponsor no flops!"
So, you are asking Him to do something you know to be His will.
In one of my pastorates, there was a time when some self-appointed critics were expressing disappointment with my preaching. They were not bashful and let me have it on more than one occasion. Later I was to realize they were theological liberals who wanted a different kind of preaching than the biblical stuff I was serving. But in the depth of my pain, while walking my route through the neighborhood at night–for prayer as well as for exercise–I began praying, "Lord, make me a preacher! Make me a preacher." Now, I'd been preaching a quarter of a century. I had the degrees from seminary. But there was this ache in my heart to do it more effectively.
One night the Lord interrupted that prayer to ask, "What exactly do you mean by that?" I almost laughed out loud in the darkness, the question was so on target. I wondered, "What exactly do I mean by that?" So, for the next hour, as I walked my route, I thought about that. And thereafter–continuing to this day–I began to pray four things about my preaching:
1. "Lord, give me a good grasp of the message I'm to preach."
2. "And may it grasp my heart so I preach with power."
3. "Give me a good rapport with the people. I'm tired of that glazed-over look in their eyes!"
4. "And Lord, bring people to Jesus. I want to see people come to Christ!"
All of those requests are Christ-honoring and none is selfish.
So, don't be bashful, pastor. Pray it!
Recently, a pastor on the program in our Mississippi Baptist Convention's annual meeting, told of a time when Atlanta's Charles Stanley was being pressured by a group of church leaders to resign. Eventually, according to the speaker, Dr. Stanley made an announcement to his detractors:
"I could resign. But if I did, I'd have to stand before the Lord and account for why I had deserted my post."
"But if you fire me, you will have to stand before the Lord and give account for running off the man God sent. And I'd rather you do it than me!" 
Did God send you, pastor? Then, it's not selfish or unworthy to ask Him to reaffirm that call to the men and women of the congregation who belong to Him.
Do it.
Claim the words God spoke to Gideon. "Go in this thy strength, and you shall save Israel….  Have I not sent you?" (Judges 6:14).
If He sent you, then stand up straight and speak out clearly. If He sent you, He clearly thought you could do it.
So, do it.
Photo courtesy: ©Thinkstock/Rawpixel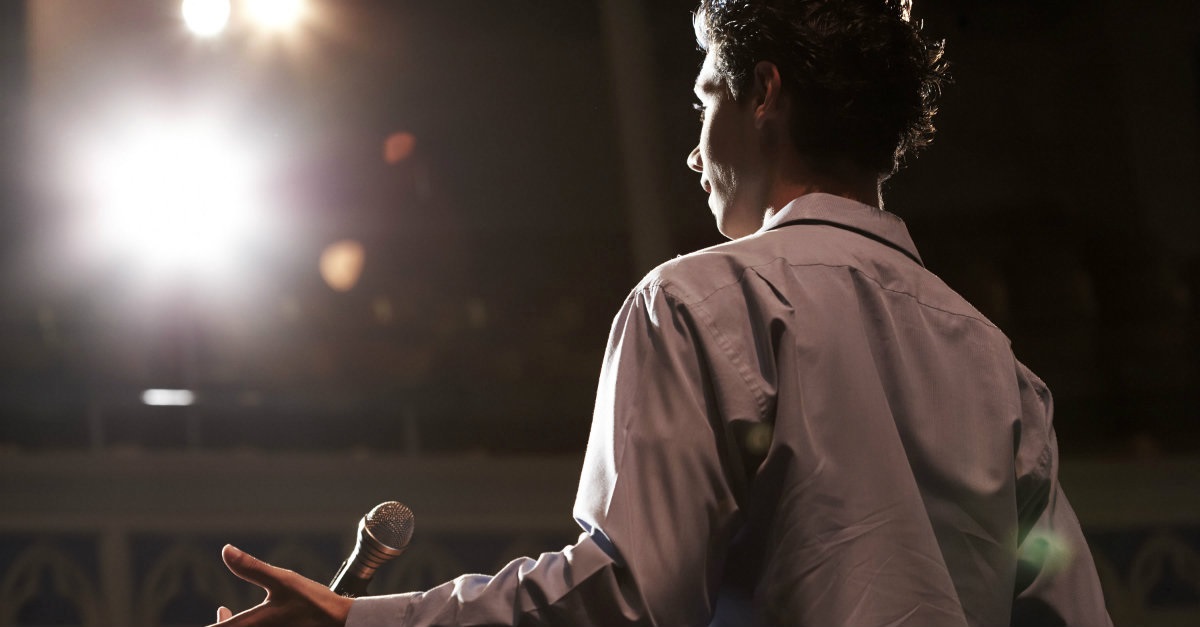 "Not everyone in the pews cares who won that game. They could care less who Mickey Mantle or Hank Aaron, Joe Namath, or Drew Brees are. Tell them a Yogi Berra story and while you stand there waiting on the laugh, they will say, 'Who is that?' An evening at a college football game with you is not a delight but punishment." –The voice of sanity
Keep that in mind as you enter the pulpit area.
Dr. Cecil Randall pastored Tuscaloosa's First Baptist Church during the era of the famous Paul "Bear" Bryant when winning national championships became a matter of routine.  Later, as a professor in New Orleans Baptist Theological Seminary, he told his students not a single time did he mention football from the pulpit.
"Not everyone in your congregation is local," Dr. Randall said. "Some are from those other states and they cheer for those other teams. Besides, you have bigger things to do today than talk about a football game."
Any pastor who questions that should go back and examine his calling.
There is an exception.
When the entire team comes to your church for a special service, you may talk football. All fifty-five athletes are sitting before you in the audience, along with six coaches and their families. Everyone in the building is fully expecting you to talk about them, what they're doing, the season before them, something. Try to inspire them, pastor, with what they are trying to achieve but without dumping on their opponents, some supporters of which are also sitting nearby and eavesdropping.
Pastors who have difficulty doing this–honoring a team and challenging them but without trivializing the gospel message–should seek advice and suggestions from their mentors.
Leave football out of it.
Or basketball if you're in Kentucky, Indiana, or North Carolina. Soccer if you live in Europe, South America, or Asia.
You are on a mission for the Lord Jesus Christ. You are not a lackey for the local chamber of commerce nor an agent of the community public relations campaign. You want this city to do well, but when you stand to bring Heaven's message, you have greater goals in mind.
Ask the Holy Spirit to guide you.
There is nothing wrong and everything right with supporting all that is good in your community. As a pastor, I once headed up the chamber of commerce's beautification committee for our town and often did 10-second television spots promoting a clean and lovely community. And, as a member of the local symphony board, at the end of the worship service I might mention the concert Tuesday night with the hope more would support it. But our town was not large and no one was offended.
I was not slamming another team. God told the Israelites in Babylon to "work for the welfare of the city where I have sent you into exile and pray on its behalf; for as it prospers, you will prosper." (Jeremiah 29:7). Literally, "in its shalom, you will have shalom."
A few quick observations on this subject…
1. You're not going to stop people from discussing last night's game before Sunday School. So, don't even try, pastor. Actually, there's nothing wrong with it. They're fellowshiping, and anything is on the table for that.
2. Personally, even if his preferences are well know, the pastor should wear his partisanship lightly. One church asked everyone to wear a t-shirt for their favorite team the following Sunday. The pastor preached in one from his alma mater. My opinion is he should have worn a plain white dress shirt that day. Or, he could have gotten really creative and made a shirt with the logos of a dozen good teams. But if I'm an Alabama fan and the pastor is preaching in an Auburn t-shirt–or vice versa–this is probably not going to be well-received.
3. This is not to say you cannot use sports analogies or stories in sermons. They're in Scripture. (1 Corinthians 9:24-27; Hebrews 12:1; 2 Timothy 4:7)
4. Never forget the words of the baseball catcher who watched as the batter approached the plate and made the sign of the cross. "Hey Buddy," he said, "Why don't we just let the Almighty enjoy the game?" It's a good reminder. 
5. If you know for a fact that some members of your congregation support "that other team," ask them to let you know if they ever feel you have crossed the line. Assure them of your love for them and respect for their loyalties. If your partisanship is extreme and deep, enlist their help in seeing that you toe the line.
6. Pastor, leave the pennants and wall hangings from your team out of your office. For all the obvious reasons.
7. I'll make a prediction. One of these days you will have in your congregation a professional athlete, someone well known to the sports world, someone who pulls down a zillion bucks a year, someone whose image has graced Sports Illustrated numerous times. And he/she will be impressed that you do not swoon, that you stay on course in preaching the gospel message. Because 99.99 percent of the time, the famous athlete knows better than anyone how ephemeral and shallow are the accolades of his/her profession.
Someone told Bob Devaney, the old coach of the Nebraska Cornhuskers, of a die-hard fan who had ordered his casket in fire-engine red with "Nebraska" all over it. As I recall, he had had the name of the team cut into his teeth, even. "What do you think about that?" they asked. Coach Devaney said, "I think he ought to get a life."
Indeed. And that's where you and I come in, pastor. We know the One who is the Giver of Life and that more abundantly.
Tell them about Jesus.