President Donald Trump approved an executive order this week that asks federal officials to hold social media sites accountable for censoring some political posts.
According to The Christian Post, Trump said the sites are not a "neutral platform."
"Today, I am signing an executive order to protect and uphold the free speech and rights of the American people," Trump said at a briefing in the Oval Office. "Currently, social media giants, like Twitter, receive an unprecedented liability shield based on the theory that they are a neutral platform, which they are not."
The 1996 Communications Decency Act Section 230 says that social media platforms are not liable for the content that people publish, including possibly defamatory posts. Trump's executive order revises the 1996 act.
"My executive order calls for new regulations under Section 230 of the Communications Decency Act to make it that social media companies that engage in censoring any political conduct will not be able to keep their liability shield," Trump said. "That's a pretty big deal."
Trump said when social media sites decide to edit or remove postings, they are making "editorial decisions."
"In those moments, Twitter ceases to be a neutral public platform and they become an editor with a viewpoint," Trump said.
Under the order, Trump asks the Secretary of Commerce, the attorney general and the Telecommunications and Information Administration to file a petition with the FCC to "determine the circumstances under which a provider of an interactive computer service that restricts access to content in a manner not specifically protected by [Section 230] may also not be able to claim protection."
The order also asks that the Federal Trade Commission and Federal Communications Commission take appropriate action against those sites that make "deceptive acts or practices."
Finally, the order will send more than 16,000 complaints of social media censorship to the FTC and the Department of Justice to review.
"In a country that has long cherished the freedom of expression, we cannot allow a limited number of online platforms to handpick the speech that Americans may access and convey online," the order reads.
Photo courtesy: ©Getty Images/Pool
Video courtesy: Fox News
---
Amanda Casanova is a writer living in Dallas, Texas. She has covered news for ChristianHeadlines.com since 2014. She has also contributed to The Houston Chronicle, U.S. News and World Report and IBelieve.com. She blogs at The Migraine Runner.
Christian leaders and well-known Christian celebrities are expressing sadness and calls for justice after the death of an unarmed black man in Minneapolis.
In an Instagram post, actress and author Candace Cameron Bure wrote that her heart was "wrecked."
"Most of you come to my page for happy, uplifting and positive content. But tonight, my heart is wrecked over the racial injustice that has been happening for ages and continues to happen today," she said.
The photo she posted with her message was a digital drawing of George Floyd, the man who died after a white police officer pressed his knee into Floyd's neck. The picture Bure posted read #JusticeForFloyd.
"We are one race, the human race. I pray for this country and the sin in all of us. I pray for God's mercy. I pray for justice," she said.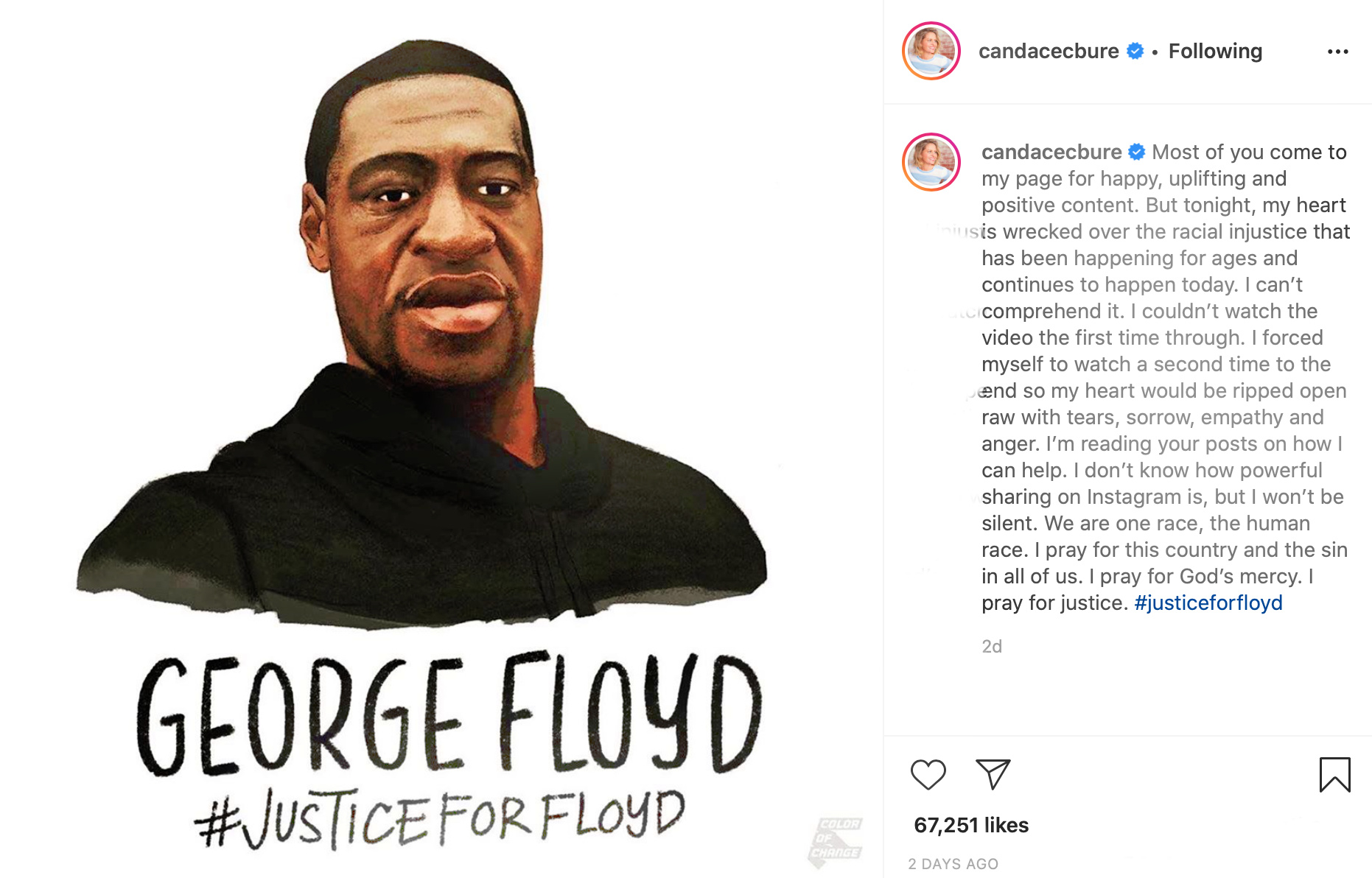 CBN News reports that author and speaker Beth Moore wrote on her Twitter page, asking "fellow whites" to seek justice for all.
"Fellow whites who want Black Americans & PoC to receive equal justice & for egregious white supremacy to be dismantled, speak up. Don't be fragile. You know what's right," she tweeted.
"What I'm trying to say to you is this: be brave. This is about human decency. Dignity. Fairness. Rightness. JUSTICE. Toughen up and accept you're going to be disliked for something. Make it something that counts. Let's be the generation the intimidators can't silence or tire out."
Fellow whites who want Black Americans & PoC to receive equal justice & for egregious white supremacy to be dismantled, speak up. Don't be fragile. You know what's right. Expect:
"You're causing division!" Eye roll. "What about abortion??" I'm pro-ALL-life, conception to coffin.

— Beth Moore (@BethMooreLPM) May 27, 2020
Franklin Graham also released a statement, saying he was "sick to his stomach" and that the police officer's action was "inexcusable."
Founder of Pulse Christian Ministry Nick Hall also criticized the police officers' behavior.
"Yesterday (Floyd) died unnecessarily at the hands of police officers who seemed more intent on displaying their power, than following their code to protect and serve," Hall wrote on Instagram.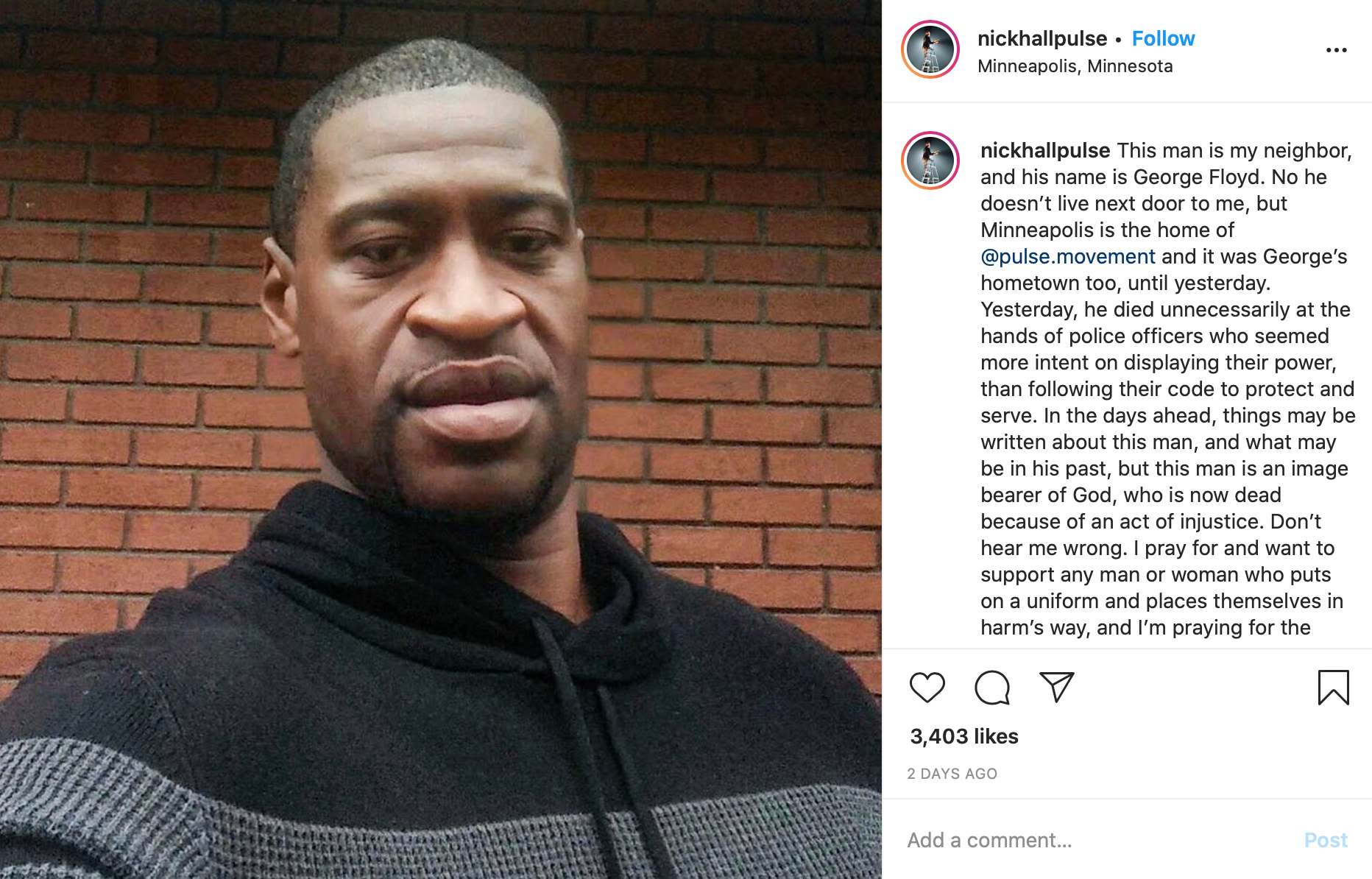 Christian hip hop artist Lecrae called the incident "evil."
"What we're experiencing out here right now in this world is pure, unadulterated evil," Lecrae said on Instagram. "There's no other way to articulate it. It's evil."
Lecrae also implored his followers to be a part of positive change toward justice and equality.
Referencing Psalm 137, he said, "We should be angry, but in the midst of our anger, we should make sure that we are constructive. Constructive anger versus destructive anger."
He continued noting that while some people will inevitably lash out in destructive ways, it is important to not "let evil win."
"Racism and oppression wins when the hatred and the bitterness takes root in your heart," he added.
Lecrae concluded by asking his followers to "use [that anger] for prayer, for policy changes [and] for programs that we can get involved in to change the way that things are right now."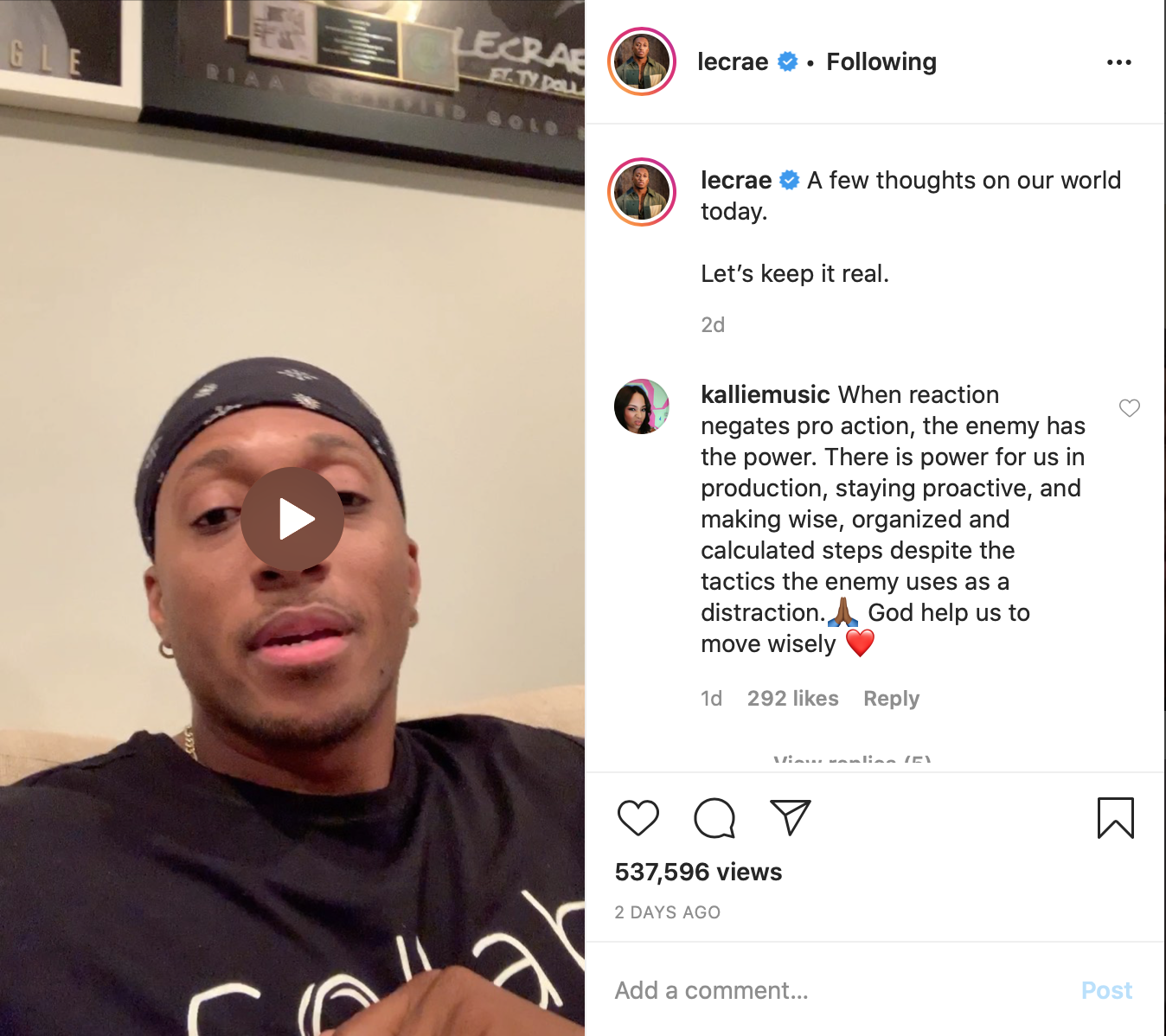 Related:
Police Officers Fired after On-Scene Video Shows Unarmed Minneapolis Man Dying during an Arrest
The Death of George Floyd and Confrontation in Central Park
Photo courtesy: ©Getty Images/Stephen Maturen/Stringer
---
Amanda Casanova is a writer living in Dallas, Texas. She has covered news for ChristianHeadlines.com since 2014. She has also contributed to The Houston Chronicle, U.S. News and World Report and IBelieve.com. She blogs at The Migraine Runner.
JOS, Nigeria, May 29, 2020 (Morning Star News) – Muslim Fulani herdsmen in Kaduna state, Nigeria attacked seven villages from May 19 to Monday (May 25), killing five Christians and destroying four church buildings, sources said.
In the same state, kidnappers said they will not release a pastor abducted earlier this month until he converts to Islam or a ransom is paid, church officials said.
A survivor of the Fulani attacks in southern Kaduna state, Ayuba Bako, said the five Christians killed were members of the Evangelical Church Winning All (ECWA). Bako identified three of them as Atuna Garba, Thomas Asoja and Manager Garba.
Three of the destroyed church buildings – in Etissi, Bakin Kogi and Magunguna villages – belonged to the ECWA, and the other belonged to Roman Catholic parish in Idazau, he said. The attacks took place in Idazau, Etissi, Bakin Kogi, Dutsen Gora, Ungwan Gora, Pushu Kallah and Magunguna villages.
The Muslim Fulani assailants shot and injured 78 Christians, kidnapped 51 and destroyed 607 houses, Bako told Morning Star News.
Sen. Danjuma La'ah, who represents an area of southern Kaduna in the National Assembly, said the attacks were unprovoked.
"It is even getting worse during this period of COVID-19 lockdown, because the bandits are still moving about, killing innocent souls in my area, who obey government directive to stay indoors," La'ah said in a press statement from Abuja. "The attacks have continued, and my people are always the victims. I expect the military, the police, and other security agencies to have come to our aid and protect us, but it is not happening."
Government officials have been referring to the Muslim Fulani herdsmen as "bandits," meaning "criminals," to avoid ethnic and religious connotations. In a recent video released by Fulani herdsmen camping out in a forest in southern Kaduna, the herdsmen say they are not criminals but Muslims fighting for Allah. They challenge the government to send security agents to fight them, saying they are prepared to fight for Islam.
"The military and other security agencies in the state seem not to be interested in what is happening to my people in southern Kaduna state," La'ah said. "As it is now, my people are under the bondage of terrorists."
Ransom or Conversion Demanded
Muslim Fulani herdsmen who kidnapped a missionary in southern Kaduna state's Chikun County on May 9 are demanding that he convert to Islam or a ransom of 2 million naira (US$5,144) be paid for his release, leaders of his mission said.
Pastor Reuben Danbala, a cross-cultural missionary, was abducted from Global Glorious Missions' base in Ungwan Badole (also known as Ungwan Mission), said mission leader Samuel Yahaya.
"We spoke with Pastor Reuben Danbala, he is fine and strong in faith, and they repeated that he refused to accept Islam, so they are demanding 2 million naira [US$5,144] for his release," Yahaya said in a statement earlier this week. "We have been negotiating for his release from his captors who had initially demanded 5 million naira (US$12,860]. We kept pleading and informed them that as missionaries we do not have that kind of money."
At one point the Fulanis lowered their demand to 1 million naira (US$2,572), but as the mission was trying to raise that amount, the kidnappers notified them that the demand had returned to 2 million naira (US$5,144), he said.
Yahaya asked for prayer for the negotiations.
"Pray that the servant of God be miraculously and speedily released, for the financial provision to tackle every need as a result of this challenge, for all our fields, especially the Gbagyi fields, that the Lord will preserve and protect His kingdom enterprise across the length and breadth of all the fields, for Danbala's wife, Comfort Reuben Danbala, and their son, Godwin Danbala, that they will enjoy companionship and communion of the Holy Spirit alongside the entire family," Yahaya said.
On Jan. 30, Christian Solidarity International (CSI) issued a genocide warning for Nigeria, calling on the Permanent Member of the United Nations Security Council to take action. CSI issued the call in response to "a rising tide of violence directed against Nigerian Christians and others classified as 'infidels' by Islamist militants in the country's north and middle belt regions.'"
Nigeria ranked 12th on Open Doors' 2020 World Watch List of countries where Christians suffer the most persecution but second in the number of Christians killed for their faith, behind Pakistan.
If you would like to help persecuted Christians, visit http://morningstarnews.org/resources/aid-agencies/ for a list of organizations that can orient you on how to get involved.
If you or your organization would like to help enable Morning Star News to continue raising awareness of persecuted Christians worldwide with original-content reporting, please consider collaborating at https://morningstarnews.org/donate/?
Photo courtesy: ©Getty Images/Rainer Lesniewski
Design Credit: Kayla Koslosky