One in four babies are aborted in England and Wales, according to a report from Right to Life UK.
The report said that last year, 23.8 percent of pregnancies were ended by abortions. This is up from 20.7 percent in 2012. 
More than 657,000 babies were born alive last year in the two countries, and more than 200,000 babies were aborted.
Catherine Robinson, a spokeswoman for Right to Life UK, said the numbers showed a "national tragedy."
She said, "It is a national tragedy that almost 1 in 4 pregnancies (excluding stillbirths and natural miscarriage) in England and Wales ended in abortion in 2018. This represents one of the highest proportions of abortions to live births since abortion was introduced in 1967 – the only year with a higher proportion was 2001 where 23.9% of all pregnancies ended in abortion."
She continued, "Every one of these abortions represents a failure of our society to protect the lives of babies in the womb and a failure to offer full support to women with unplanned pregnancies.
"On the other hand, these figures show the dramatic difference that laws surrounding abortion make," Robinson added.
According to the Department of Health and Social Care in the United Kingdom, there were 192,900 abortions in 2017.
Much of the increase comes from non-residents traveling to Wales and England for the procedure. 
In Northern Ireland, only one in 20 pregnancies ended in abortions last year. Northern Ireland's law allows abortions only in cases where the mother's life is at risk.
The data showed that more than 1,000 women traveled from Northern Ireland to England or Wales for an abortion.
According to Real Clear Politics, Scotland saw a similar trend, and in 2018 the country saw a ten-year high for abortions. According to National Services Scotland's national statistics publication, there were 13,286 terminations in 2018 – an increase of 843 from 2017. This is a rate of 12.9 abortions in every 1,000 women. 
Photo courtesy: Edward Cisneros/Unsplash
NAIROBI, Kenya, August 16, 2019 (Morning Star News) – The husband of a 32-year-old mother of two children in Somalia had just discovered that his wife owned a Bible and demanded that she reveal who had given it to her.
"I told my husband that I found the Bible in Nairobi and wanted to read it," the secret Christian told Morning Star News. "He just pronounced the word talaq [divorce] to me. I knew that our marriage had just been rendered null and void because I joined Christianity, so without wasting time I left the homestead."
This happened in June in Burao (Burco in Arabic), in Somaliland, a self-declared state widely considered to be an autonomous region of Somalia, a month after the couple returned from a trip to Kenya to obtain medical treatment for her father.
Taking him first to Nairobi Hospital and then to Kijabe Mission Hospital, the woman (name undisclosed for security reasons) had found a Somali-language Bible there and requested a copy to read later in private. Secretly converting from Islam in 2016, she had never owned a Bible.
Having returned to Burao, the mother of two girls, ages 7 and 4, had forgotten to lock the drawer where she hid her Bible. Her husband found it and then proceeded to confront and threaten her, she said.
"There and then he took our two daughters away from me and divorced me," she told Morning Star News. "He gave me a stern warning that I should not come close to the children, and that if I do, he will take the Bible to the Islamic court and I will be killed by stoning for becoming an apostate."
Somalia's constitution establishes Islam as the state religion and prohibits the propagation of any other religion, according to the U.S. State Department. It also requires that laws comply with sharia (Islamic law) principles, with no exceptions in application for non-Muslims.
Somalia is ranked 3rd on Christian support group Open Doors' 2019 World Watch List of the 50 countries where it is most difficult to be a Christian.
She also faced punishment from her brothers after her husband informed her family that he had caught her in possession of a Somali-language Bible.
"My brothers beat me mercilessly with sticks as well as denying me food," she said. "I feared to report the case to the police or the local administration, because they will charge me with a criminal offense of apostasy in accordance with the sharia."
She had become a secret Christian in 2016 after the leader of an underground church explained the meaning of Christ's death and resurrection to her.
The young mother has relocated to another location, undisclosed for security reasons, that is hours from her home, she said.
"God has spared my life, and my fellow underground Christians in other regions of Somalia have received me and shared the little they have, but I am very traumatized," she said.
A leader of an underground church who requested anonymity told Morning Star News that he hopes starting a micro-enterprise can help her overcome the poverty that awaits women in Somalia who lose their husbands.
"Please pray for her to have wisdom, God's favor, growth of faith in Jesus, and means to start her own small business in her new region of residence," he said. "Also, pray for God's intervention in the Muslim community to lift the harsh treatment imposed on indigenous Christians, restricting the use of Bible, and using sharia law to punish those who embrace the Christian faith." 
If you would like to help persecuted Christians, visit http://morningstarnews.org/resources/aid-agencies/ for a list of organizations that can orient you on how to get involved. 
If you or your organization would like to help enable Morning Star News to continue raising awareness of persecuted Christians worldwide with original-content reporting, please consider collaborating at https://morningstarnews.org/donate/?

Article originally published by Morning Star News. Used with permission.

Photo courtesy: Pixabay

 

 

 
To mark the three-year anniversary of his protest against police violence in America, former 49ers quarterback Colin Kaepernick shared a video on Instagram re-igniting conversation about racial division in America.
On Thursday, Kaepernick shared a graphic video to his Instagram account showing the free agent taking a knee during the national anthem at football games, interviews of people who have lost loved ones in police shootings, black lives matter rallies and protests and graphic videos of African Americans being shot and held down by police. 
Kaepernick captioned the video, "Today marks the three year (sic) anniversary of the first time I protested systemic oppression."
He added, "I continue to work and stand with the people in our fight for liberation, despite those who are trying to erase the movement! The movement has always lived with the people!"
The post – which at the time of this writing has been viewed nearly 1 million times – was met with both support and criticism. 
Some Instagram users commented on the post in solidarity with the athlete. One person wrote, "Keep fighting bro. We with you." 
Another wrote, "I see you King. Thank you for your bravery, thank you for your voice." 
Others, however, voiced their disappointment in the former NFL player. One Instagram user wrote, "You've disrespected this nation and it's (sic) military by kneeling for the flag. Truly disappointed."
Relevant Magazine reports that Kaepernick began protesting police brutality in 2016 by taking a knee on the football field while the national anthem was playing. The protest was widely covered by the media and was met with immediate backlash. 
For the last two years, Kaepernick has remained unsigned from an NFL team.
You can watch the video posted to Kaepernick's Instagram here, but warning, it does contain graphic footage of police-involved shootings.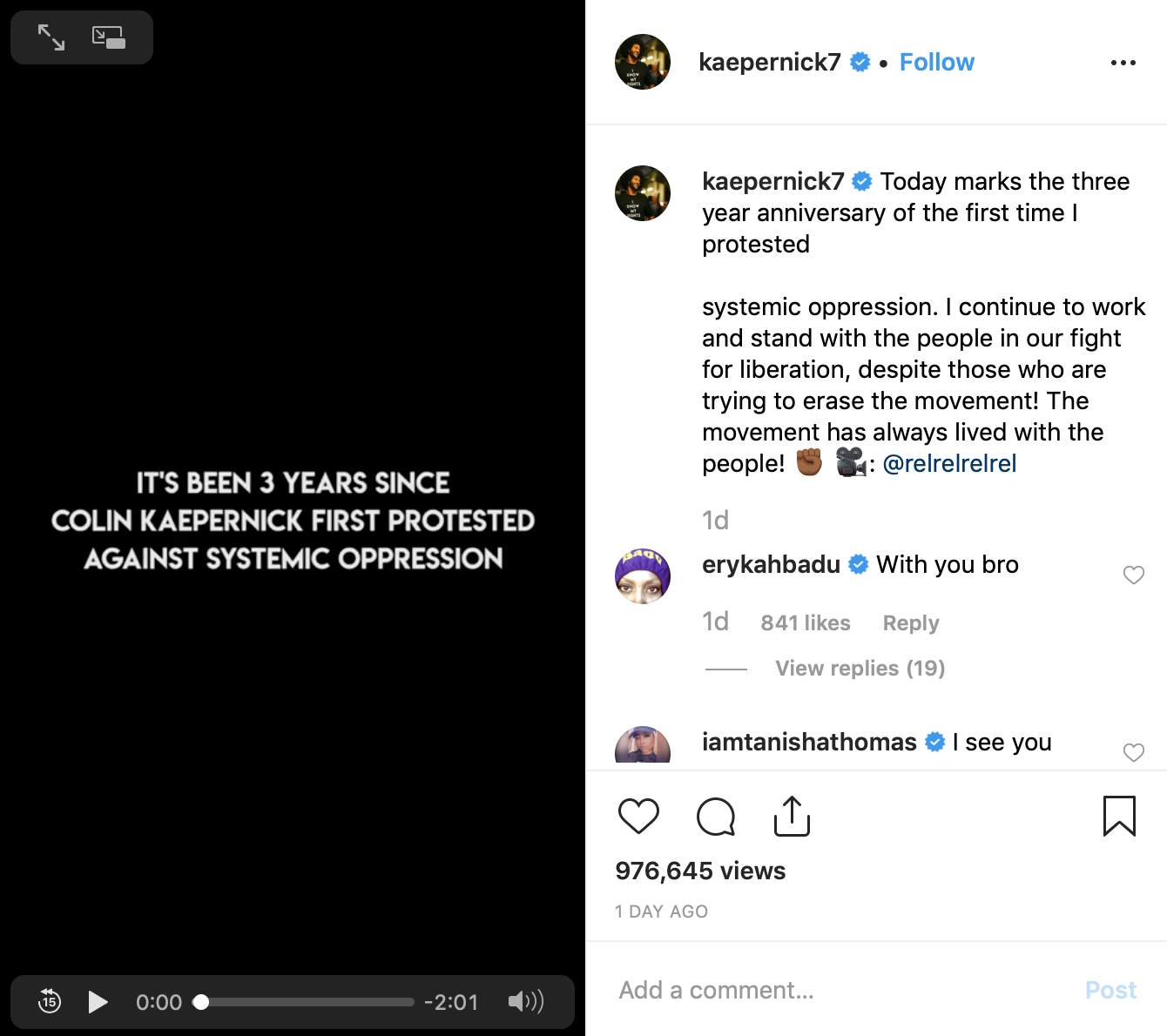 Photo courtesy: Getty Images/Otto Greule, Jr./Stringer