5 Things Parents Should Know about How to Train Your Dragon 3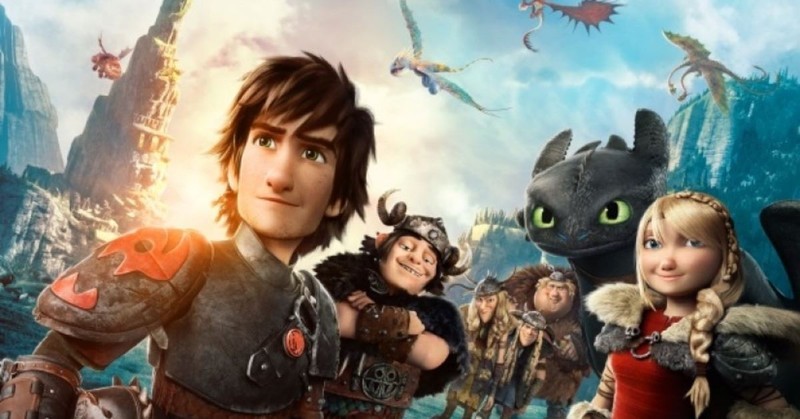 Hiccup is a different type of Viking.
But his friends and family members have known that for a while. At age 15, he befriended a dragon named Toothless and transformed his village's beliefs about the mythical creatures. Previously, they hunted and killed dragons. He taught them to co-exist with these fire-breathing animals. Hiccup and his Viking friends even invited dragons to live in their village of Berk.
Five years later, Hiccup now spends his time saving dragons from ignorant Vikings -- poachers -- who still believe dragons are evil.
"One day you're gonna pick a fight you can't win," a villager tells him.
Perhaps that day has arrived. A bad Viking known as Grimmel the Grisly is hunting dragons and searching for Hiccup. If he can locate Hiccup, then he can find hundreds, perhaps thousands, of dragons that Hiccup is protecting.
Hiccup, though, has a plan. He and the villagers will move to a mythical place, on the other side of the world, where dragons originate. If he can find it, the dragons will be safe -- forever.
DreamWorks' film How to Train Your Dragon: The Hidden World opens this weekend. Here are five things parents should know:
Photo courtesy: DreamWorks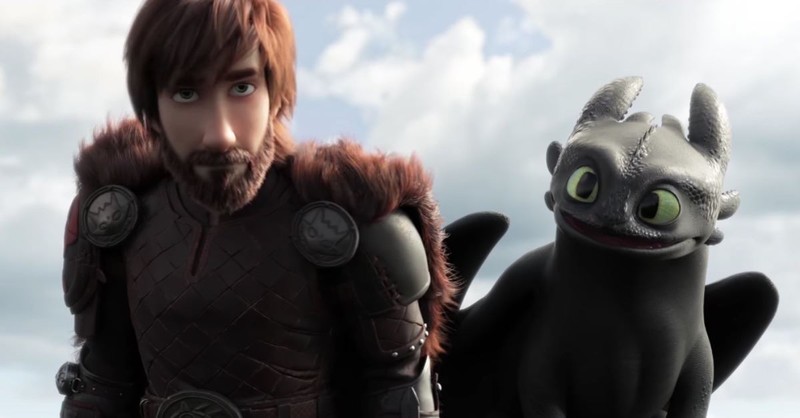 It's a Fun Ride
Who knew that a story about Vikings freeing trapped dragons could be this enjoyable? That's partially because we already know (and like) these characters. We watched 15-year-old Hiccup and his dragon pal, Toothless, transform his village's beliefs about dragons in the first How to Train Your Dragon(2010). In the sequel, How to Train Your Dragon 2 (2014), Hiccup found his long-lost mom, who also loves dragons. In this third movie, Hiccup is an adult who is working feverishly to find a permanent and safe home for these misunderstood, peaceful creatures. Thankfully, Hiccup's childlike wonder and innocence hasn't disappeared. 
The movies -- based on a book series by author Cressida Cowell -- are a coming-of-age story about a kid and his pet. Those of us who had a dog or a cat can relate. His pet just happens to breathe fire.
Photo courtesy: DreamWorks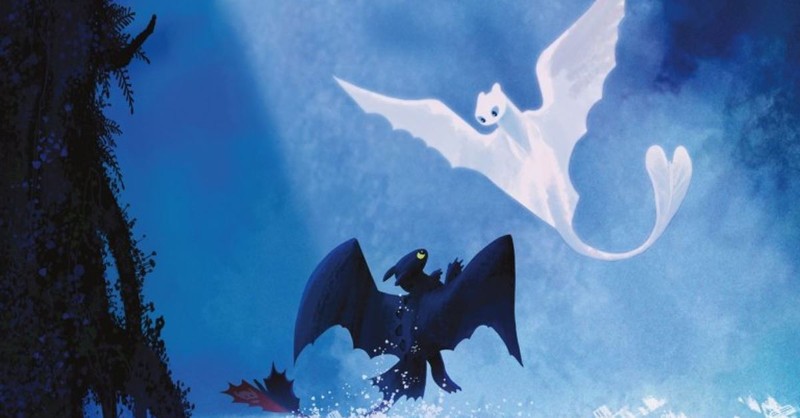 It's All about Love
But in a good, kid-friendly way. Hiccup (played by Jay Baruchel) and his girlfriend, Astrid (America Ferrera), get serious about marriage. Toothless, a night fury dragon, finds a companion, Light Fury (which is a big deal because night furies are rare). We also watch Hiccup experience flashbacks about his father, Stoick, who was a romantic, tender guy even though he was as a big as an ox. 
Prior to How to Train Your Dragon 2, Stoick's wife was presumed dead, having been taken by a dragon. In one scene in the newest film, a young Hiccup is seen asking Stoick: Dad, are you gonna get us another mom? Wiping away tears, Stoick replies: I don't want another. Your mom was the only woman for me. He then tells Hiccup: "There's no greater gift than love." 
The Hidden World is a family-centric children's film that teaches marital commitment-- a value too often missing in today's world. Good job, DreamWorks.
Photo courtesy: DreamWorks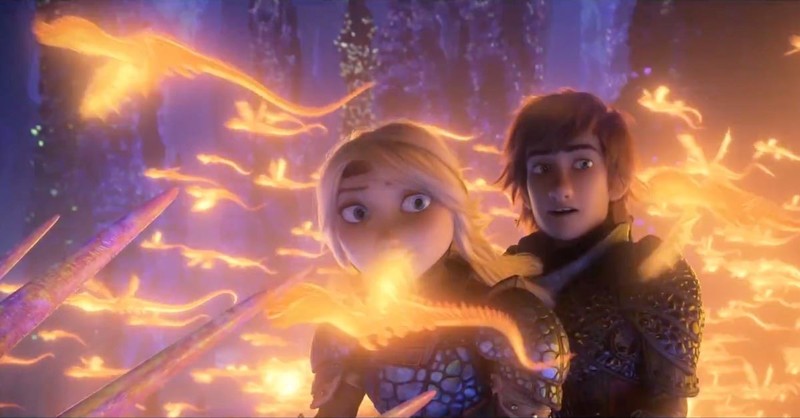 It's Loaded with Great Messages
The movie isn't just about love. Hiccup learns about leadership and then teamwork after he unsuccessfully tries to defeat the bad Vikings by himself. He displays selflessness and self-sacrifice when he puts his life on the line to save Toothless. For her part, Astrid teaches us about encouragement and humility when she helps a discouraged Hiccup without ridiculing him.
The Hidden Worldoffers a lesson about loving and letting go when Hiccup learns he must allow Toothless to grow up and fall in love. (Parents with grown children will understand.) 
Finally, the film gives us a (not-so-hidden) message about loving our neighbor and striving for peace. The bad Viking, Grimmel, only wants to kill dragons: "History has shown that we are the superior species," he shouts. Hiccup's messages is just the opposite.     
Photo courtesy: DreamWorks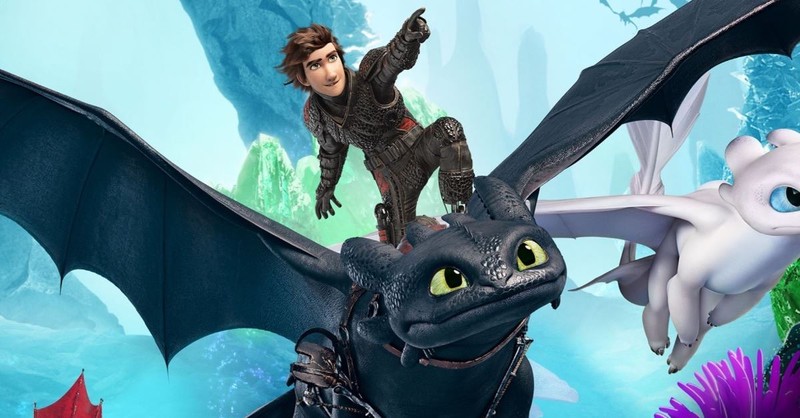 It Closes the Series
Don't expect a fourth film in the series -- at least, if DreamWorks does what is right. 
The Hidden Worldcloses the story arc of Hiccup and Toothless. They find life-long romance, and their former child-like relationship comes to a satisfying conclusion. Director Dean DeBlois has said he opposes a fourth movie.
"When we decided that we were going to do a sequel, I pitched the idea of a trilogy. And I wanted to take it all the way to the disappearance of dragons, concurrent with Hiccup becoming the wise selfless chief, and linking those two ideas," he told ScreenRant.
If the story continues, he said, he hopes DreamWorks uses a "different timeline" with "different characters." 
We live in a sequel-crazed movie world where originality is rare. Here's hoping the story of Hiccup is complete. 
Photo courtesy: DreamWorks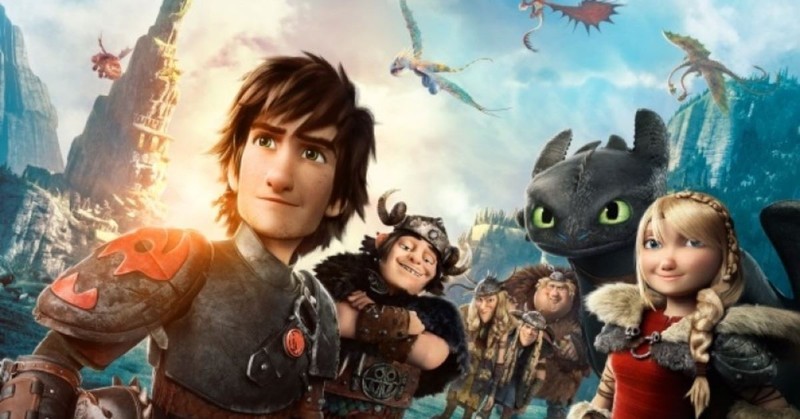 It May Be Too Intense for Small Kids
How to Train Your Dragon: The Hidden Worldis probably OK for most children, but little ones who are sensitive might need to stay away. Sword fights and dragon battles are common, although they stay in kid-friendly territory and don't show killings. In fact, we never see blood. (The most we see is someone getting knocked on the head and passing out.) Grimmel is the scariest character in the film. At one point he breaks into Hiccup's home and threatens him, in the middle of the night. 
Of course, the movie's backdrop is Nordic myth and legend. With that, the filmmakers give us Viking-like exclamations: "gods no" (once), "oh my gods" (once) and "for Thor's sake" (once). There also are one or two possible misuses of the singular "God." For parents who take their children, the difference in worldviews may be worth discussing during the drive home. 
Michael Foust is a freelance writer. Visit his blog, MichaelFoust.com
How to Train Your Dragon: The Hidden World is rated PG for adventure action and some mild rude humor.  
Entertainment rating: 3 out of 5 stars. 
Family-friendly rating:3.5 out of 5 stars.
Photo courtesy: DreamWorks
---