5 Things Parents Should Know about Men in Black: International
Michael Foust

ChristianHeadlines.com Contributor

Updated

Jun 14, 2019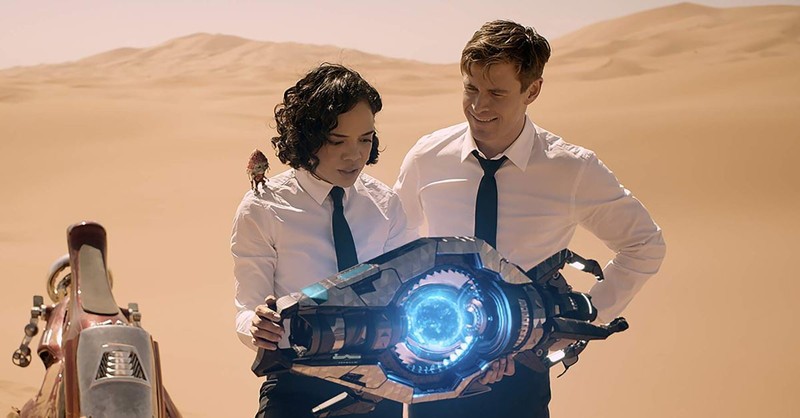 Ever since she was young, Molly has wanted to be a Men in Black agent. 
She's wanted to capture bad aliens, world peace and – of course – wear those hip-looking black sunglasses.  
Everyone tells her the organization doesn't exist, but she knows better. She saw an alien as a young girl. She even watched two Men in Black agents try and capture it.
She knowsshe would be a good addition to the agency. That is, if she could find it.
The film Men In Black: International (PG-13) opens this weekend, telling the story of Molly (Tessa Thompson) as she becomes Agent M and partners with Agent H (Chris Hemsworth) to find the bad guys.
It is the fourth film in the Men in Black franchise and includes a new twist: a mole has infiltrated the organization.
The movie follows Agents M and H as they look for the mole while also trying to keep the world's most powerful weapon – a mega laser blaster – out of the hands of two evil aliens. Along the way, they use so-called neuralyzers to erase the memory of humans who see aliens.
Here are five things parents should know:
Photo courtesy: Columbia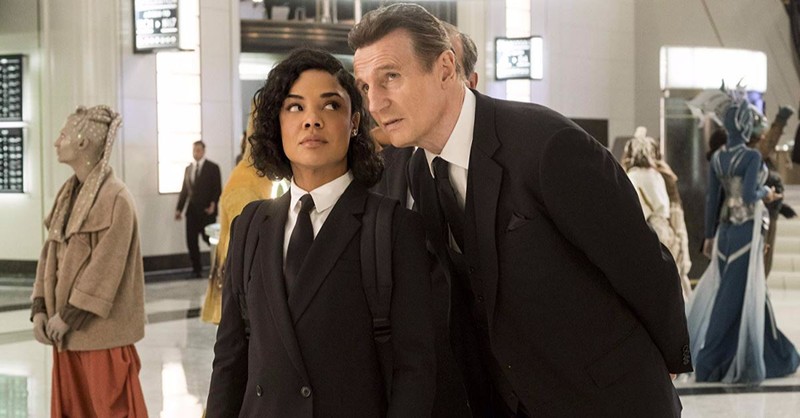 1. It Doesn't Take Itself Too Seriously
But none of the Men in Black films do, right? It's a movie about a serious subject (Earth could be destroyed!) but with a comedy undertone (that's one reason everyone is wearing sunglasses). It's similar to the Ghostbuster series or, more recently, Thor: Ragnarok. Yes, we all could die, but we're going to have a few laughs while we determine how to save the universe. Much of the comedy is appropriate for families, although a few lines could lead to awkward conversations (more on that below). 
Men in Black: Internationaltosses us a new plot: a mole within the organization is partnering with the evil aliens. That leads to a few surprises (who is the mole?!), yet it's not enough to make the film great. At best, this is an average-to-good film. 
Photo courtesy: Columbia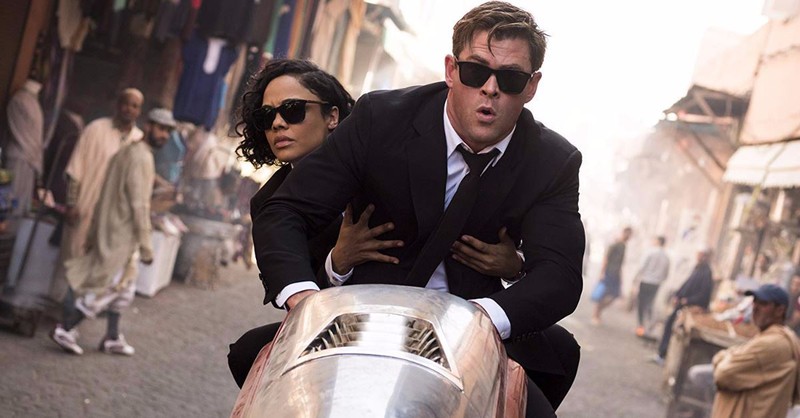 2. It Will Suffer from Comparisons
As a stand-alone film, it has its entertaining moments. Yet it's not a stand-alone movie. It's a sequel that will draw comparisons to its three predecessors – Men in Black (1997), Men in Black 2(2002) and Men in Black 3 (2012) – and that series' dynamic tandem of Will Smith and Tommy Lee Jones, two actors who had mega-chemistry and mega-laughs. Hemsworth and Thompson, who previously worked together in Thor: Ragnarok and Avengers: Endgame, have plenty of chemistry and laughs, but just not as much. The comparisons aren't fair – Smith and Jones could be in the "movie chemistry hall of fame" – but they're inevitable in a sequel.
Photo courtesy: Columbia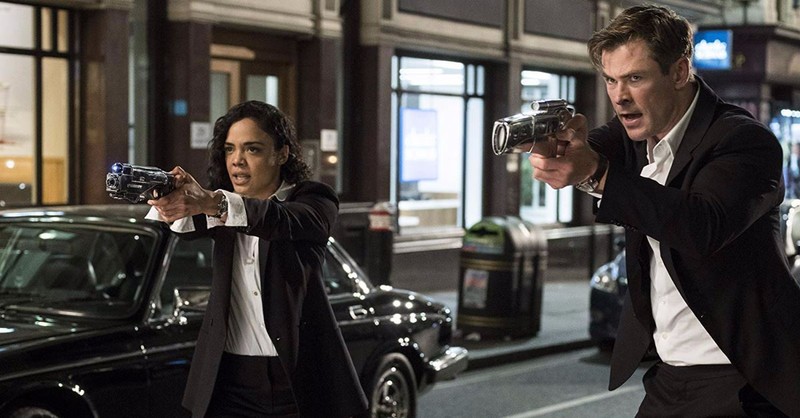 3. It's Violent (But Not Ultra-Violent)
There are laser gun battles, explosions, bare-fisted fights and a few deaths. Still, the violence is less than what is in most superhero movies. This doesn't mean it's automatically OK for small children, though. We see a two-headed snake bite multiple people. We watch two spirit-like aliens "steal" a man's body (it falls to the ground in a pile of mush; they walk away looking like him). The film ends with a battle royale involving a large, grotesque, ugly alien. Most of the film's aliens, though, are tame-looking and on the level with the aliens in the animated film Home.
The film has no bedroom scenes, although one is implied. (A shirtless Agent H wakes up in bed with a still-asleep female alien; he pulls her tentacle off his chest and leaves.) We hear jokes about the characters' looks ("he's so yummy," "he thinks you're hot") and a few lines about sex ("fetish," "fornicating" and "sexual" are all said in passing). Agent M wonders how humans and aliens do "it."     
Language includes: misuse of "God" (7), h-ll (4), OMG (2), d--n (2), a-- (2), d--ck (2), p---ed (2), s--t (3), "a--clown" (2), jack--- (1).
Photo courtesy: Columbia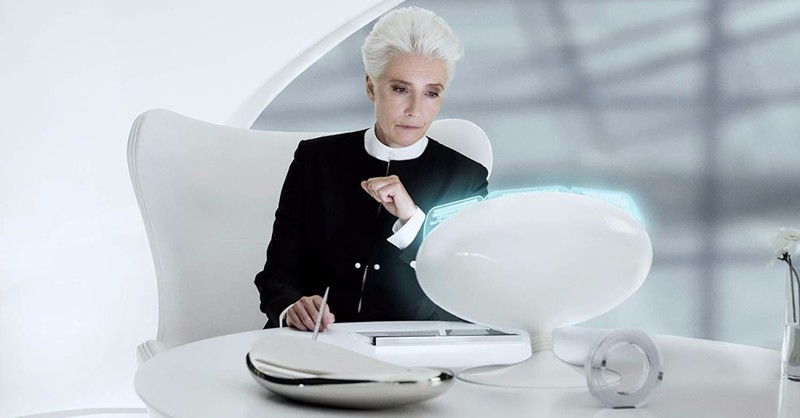 4. It's All About the Meaning of the Universe
Men in Black: Internationalis wrapped in a materialist/pantheistic framework. As a youngster, Molly is seen reading Stephen Hawking's A Brief History of Time. As an adult, she maintains a desire to study the universe. She tells Agent O (Emma Thompson) that she's not interested in romance because it distracts "you from what's important." Asked what she considers important, Molly responds: "The truth of the universe. I want to know everything. I want to know how it all works." 
Later, she tells Agent H that "physical attraction is nothing more than chemical reactions in your brain." A surprised Agent H responds: "Isn't the whole universe a chemical reaction? I'm sure I can trust that. It feels pretty real."    
Agent High T (Liam Neeson) gives us a pantheistic twist on this worldview: "The universe has a way of leading you to where you're supposed to be at the moment you're supposed to be there."  
Scripture offers a better explanation for the universe. God made it. He's controlling it. He loves us. We have purpose because of Him. That's the true "truth" of the universe.
Photo courtesy: Columbia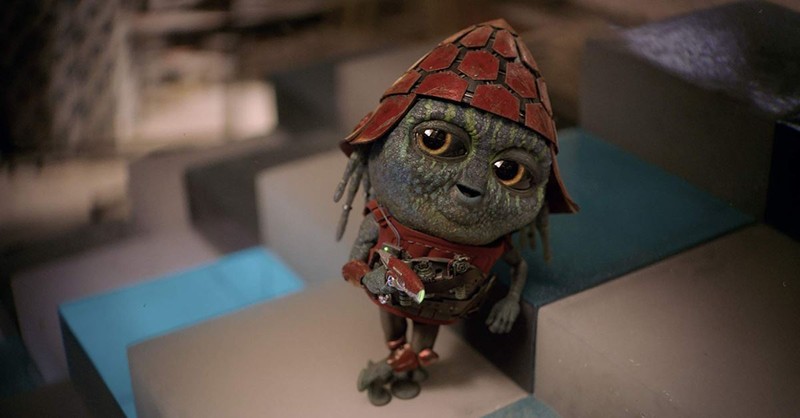 It Could Spark a Few Discussions
Such as: What is the truth of the universe? (See above.) Is love more than a chemical reaction? (Hint: God has a major role.) Is lying ever OK? (Agents H and M say it's essential for their mission.) What does it take for enemies to become friends? (Agent H has a rivalry with a colleague.)  
Then there's the issue of alien life. My kids sometimes ask if they exist. This is what I tell them:
The Bible strongly implies humanity is the only intelligent life in the universe. Why? Because humanity was the pinnacle of God's creation. Jesus was born on Earth. He died on Earth. He rose again on Earth. He's coming back to Earth. Scientists often point to the size of the universe to argue there "must be" alien life out there. But that ignores the reason behind the universe's size. God made a big universe to draw us to worship, to display his glory (Psalm 19:1) and to give us a sense of his size. It's as if He's saying: See that universe I created? I'm even bigger than that.  
Of course, you can enjoy Men in Black: International without having a lofty theology discussion. But in case one arises, you're prepared. 
Michael Foust is a freelance writer. Visit his blog, MichaelFoust.com.
'Men in Black: International' is rated PG-13 for sci-fi action, some language and suggestive material. 
Entertainment rating: 3 out of 5 stars.
Family-friendly rating: 3 out of 5 stars.
Photo courtesy: Columbia
---