5 Things You Should Know about the Downton Abbey Movie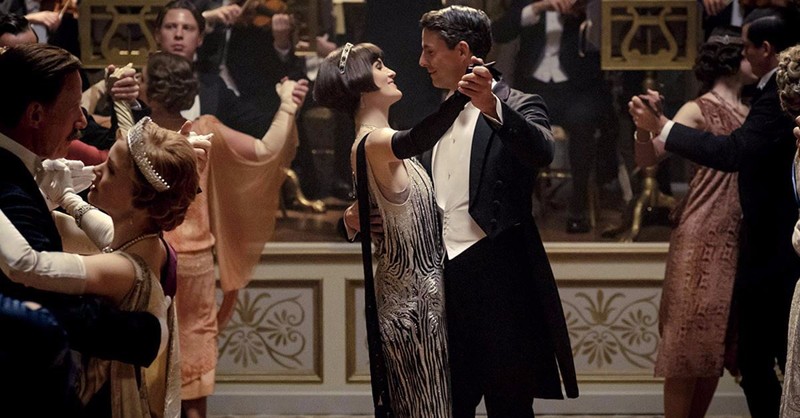 The king and queen are coming to Lord Robert Crawley's 300-room estate, and he has exactly two weeks to get ready for it.
Thankfully, he has some of the hardest-working servants in all of England to help the castle shine. They'll polish the silver. They'll clean every room. They'll prepare the finest meals for the royal court.
Everyone, including the servants, is giddy.
But then the servants receive unexpected news that dampens their enthusiasm. The king is bringing his own chefs and his own servants. They'll cook. They'll tend to the king's matters. And what of Crawley's servants? They can go find something else to do.
It doesn't help that the king's servants are pompous and condescending. They want Crawley's servants to serve them.
"We're not footballs … and we don't serve a kicking," says Daisy, one of Crawley's cooks.
Can the two sides find common ground for the king's visit?
The film Downton Abbey (PG) opens next week, continuing the storyline from the PBS series that ran from 2011 to 2016 and telling of a visit from King George V and Queen Mary of the United Kingdom.
It stars Hugh Bonneville as Lord Grantham/Robert Crawley, Elizabeth McGovern as Cora Crawley, Michelle Dockery as Lady Mary and Laura Carmichael as Lady Edith.
Here are five things you should know about the new movie:
Photo courtesy: Focus Features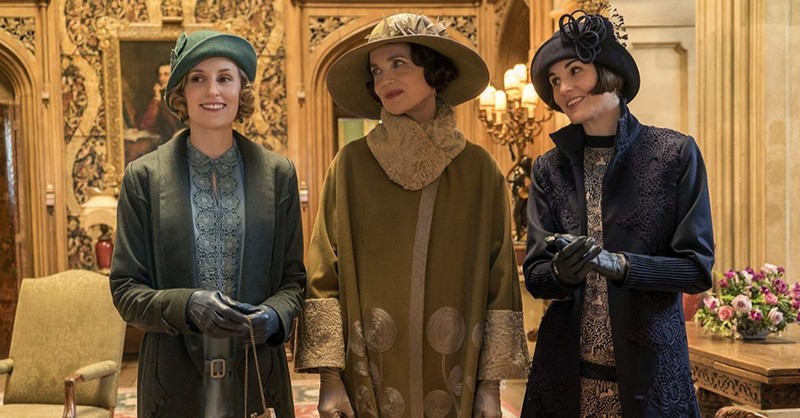 1. It's Just as Charming as the Original
I, too, was one of the many Americans who waited with anticipation for each new show on Sunday nights from 2011-2016. The series was captivating: from the opening music (I loved that bell) to the multiple plot twists (why did Matthew have to die?!) to the introduction of new inventions (Mrs. Patmore hated that mixer!). It was entertaining, yes, but also educational.  
The movie is just as charming as the television series. It has the same feel. The same music. The same characters. (Yes, Violet Crawley is back with her sharp tongue and quick wit.) And, of course, it has plenty of romantic angles (including a couple of surprising ones). It also has a few plot twists.
If you liked everything about the television series, then you likely will enjoy the film. 
Photo courtesy: Focus Features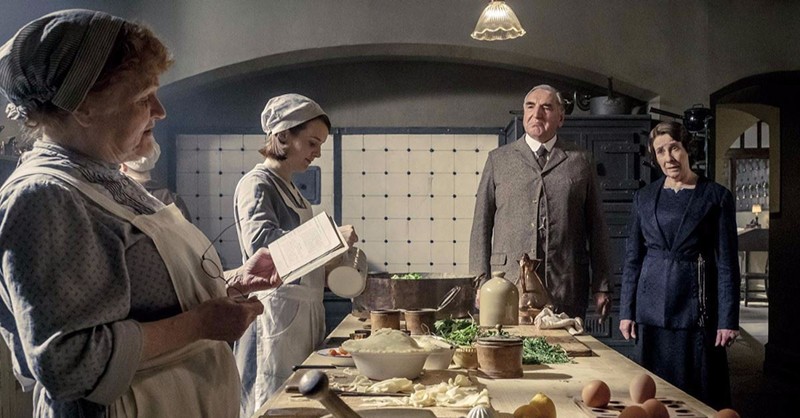 2. It Includes a Recap
Even if you've never watched the television series, you'll be able to follow the plot. That's because the opening 10 minutes is a refresher of the TV program. This recap is hosted by the distinguished Mr. Carson (Jim Carter) and Mrs. Hughes (Phyllis Logan), who show us clips from the six seasons while giving us a CliffNotes-like summary. 
It's helpful to newbies but also beneficial if you're like me and forgot much of what you watched. Honestly, I wish more movies did this, even if they weren't based on a TV series.
Photo courtesy: Focus Features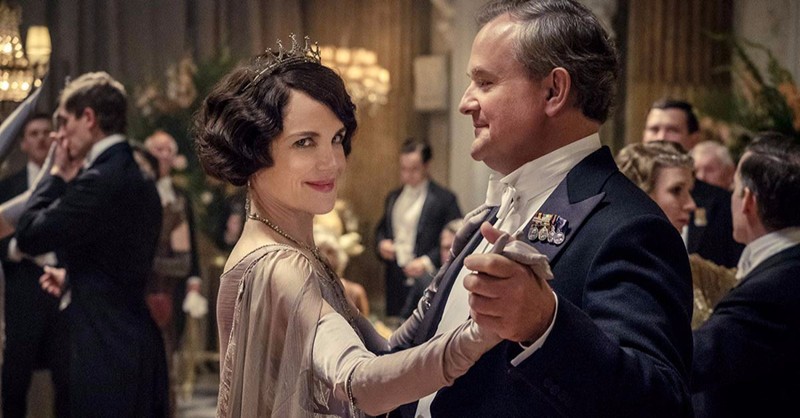 3. It's Bigger (and Better) on the Big Screen
The grandeur of everything is one reason the show was so popular – from the majestic castle, to the gigantic bedrooms, to the lush grounds. This grandeur, though, is limited on a home television set. On the big screen, it is even more magnificent.
The filmmakers took advantage of this format by showing us Highclere Castle in Hampshire, England – where the movie was filmed – from various points of view and at different times of the day. The 300-room castle itself rests on 1,000 acres of what one travel writer called "heavenly gardens." 
When it's viewed on a movie screen that's 70 feet wide, the estate looks even bigger … and more heavenly.
Photo courtesy: Focus Features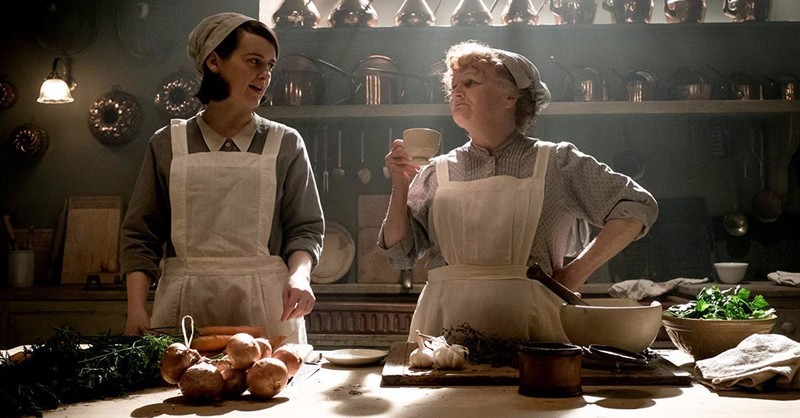 4. It Spotlights Humility and Hard Work
Lord Grantham and his family have come a long way since the first season, when some of them teetered on snobbery. In the movie, they display humility and hard work. 
When portable chairs need to be moved during a pouring rain, Lord Grantham and Lady Mary sprint outside to do the task, rather than asking their servants for help. They treat their servants not as lowly workers but as human beings with real feelings and needs. This contrasts greatly with the king's servants, who display arrogance and look down on Lord Grantham's servants.
For their part, Lord Grantham's servants give us lessons on finding joy in work and doing everything with a good attitude. The lessons are straight from Scripture (Colossians 3:23, Philippians 2:14-15, 1 Corinthians 10:31).
Photo courtesy: Focus Features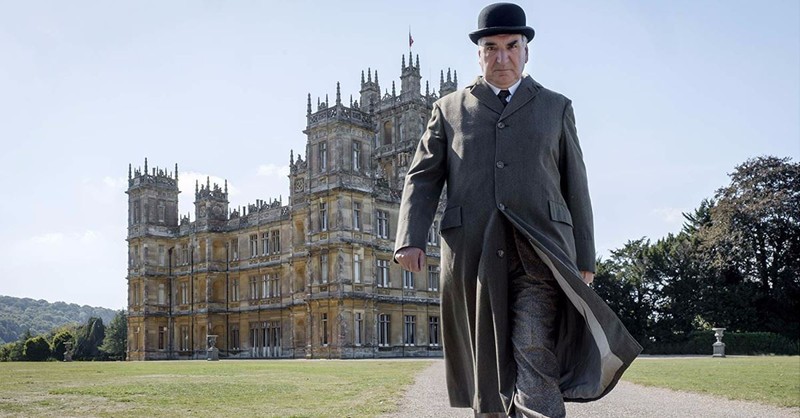 5. It's a Mixed Bag for Families
The film has minimal language (one "my G-d" and one "bloody") and minimal violence (we see someone try to shoot someone else. During the flashback scenes, we hear a rape mentioned). It has a moderate amount of romance (couples kiss briefly, although the film has no bedroom scenes). 
The movie's inclusion of a gay angle, though, will be a disqualifier for many Christian families.
As you may remember, the very first episode of the television series included a kiss between two men – one of which was then-footman Thomas Barrow. That angle was a minor one over the course of six seasons, but in the movie, it's a major one. Barrow, now the butler, visits a gay nightclub with another man, where we see men dance (and two men kiss). Eventually, we see Barrow and his acquaintance kiss, too. Referencing British society's views on homosexuality, Thomas asks him, "Will they ever see it our way?" His companion answers, "I don't know. Fifty years ago, who would have thought men could fly?"  
Entertainment rating: 4 out of 5 stars. 
Family-friendly rating:3 out of 5 stars.
Rated PG for thematic elements, some suggestive material, and language. 
Michael Foust is a freelance writer. Visit his blog, MichaelFoust.com.
Photo courtesy: Focus Features
---