A Music Fan's Guide to Christians in the General Market – Part 2
John J. Thompson

CCM Magazine

2007

7 Aug

COMMENTS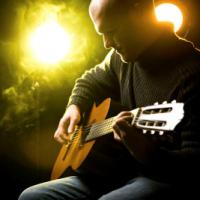 Recently we dropped our collective lines into the mainstream and took a look at a bevy of artists of faith thriving outside the confines of the Christian market subculture. We return to the stream once more for this second installment. Just as the independent music scene has taught us that not all great records come from big record companies, this growing list (definitely not exhaustive) reminds us that not all artists who are believers are working in the Christian music industry.
ASTRONAUT PUSHERS - MYSPACE.COM/ASTRONAUTPUSHERS
The Astronaut Pushers is actually a collective of several accomplished musicians. Matt Slocum (Sixpence None the Richer) plays guitar along with indie darling Sam Ashworth who also adds his breathy vocal style to the mix. Lindsay Jamieson (Ben Folds) plays drums, and acclaimed former Superdrag front-man John Davis holds down the bass. Though all members continue their "day jobs," the band did recently perform another highly touted show in Nashville.
MARY J. BLIGE - MJBLIGE.COM
Soul diva Mary J. Blige wears her faith, and her testimony, on her custom tailored couture. Her prodigal story is as powerful as her voice, and she never shies away from sharing her faith in the midst of the tawdry modern R&B scene that reveres her so deeply. Recounting her conversion for Oprah Winfrey, Blige said, "I invited Christ into one of my pity parties. . . . My life was spinning out of control, and I really needed God's love. And He gave me strength to start again and take control of my life."
DANIELSON - DANIELSON.INFO
There is nothing typical about Danielson or the band's prolific and enigmatic front-man Daniel Smith. More folk art practitioner than professional musician, Smith is bold about his faith and often abrasive in his elements, and, yet, mainstream audiences flock to see him in any of several configurations he puts together. A film on Smith and his "Famile," titled Danielson: A Family Movie, recently released on DVD and is a must-see for anyone interested in the intersection of faith and art.
JEREMY ENIGK - LEWISHOLLOW.COM
Jeremy Enigk's first band, Sunny Day Real Estate, practically invented emo music in the early '90s before his renewed faith led him to leave the band. Enigk continued to impact the alternative scene as a solo artist and as a member of The Fire Theft. Eventually, Sunny Day Real Estate reunited and Enigk maintains a solo career as well.
LIFEHOUSE - LIFEHOUSEMUSIC.COM
After meeting, and forming, as a youth worship band at their church (the Malibu Vineyard), the members of Lifehouse went on to score a massive mainstream pop hit, "Hanging by a Moment"—2001's most played song at radio. The band has continued to tour, record and release hit singles, never playing coy about its faith, while sidestepping the Christian market (though Lifehouse's records have managed to find their way to Christian bookstores through distribution deals). The band's fourth album, Who We Are (Geffen), dropped earlier this summer.
JOSH CATERER - DUVALLMUSIC.COM, SMOKINGPOPES.NET
Josh Caterer's band, The Smoking Popes, was packing out clubs and ruling college radio when he decided to close up shop in 1998 after embracing Christianity. He launched Duvall shortly thereafter, which had tenuous connections to the alternative fringes of the Christian market, but re-established The Popes last year when he realized that he could be a solid Christian, a worship leader and a member of a mainstream rock band.
MINDY SMITH - MINDYSMITH.NET
Though she originally came to Nashville to write songs with Susan Ashton, Mindy Smith learned enough about the Christian market as a songwriter to know it wouldn't be a fit for her. After years of club gigs and writing, she landed a deal with the mainstream Vanguard label and scored a solid "Triple A" radio hit with, ironically, one of the most boldly Christian songs of the last several years, "Come to Jesus." Smith followed that success with last year's Long Island Shores and another excellent faith-fueled song called "You Can Pray."
BRIAN "HEAD" WELCH - HEADTOCHRIST.COM
The metal world gasped a bit when founding Korn guitarist Brian "Head" Welch announced he was leaving the band due, at least in part, to his conversion to Christianity and the fatigue he felt from chasing money and success. Korn had sold more than 11 million albums and was in the middle of signing a new deal when Head made the announcement and followed it with a spiritual pilgrimage to the Holy Land and songwriting for his solo debut due later this year.
LAURYN HILL - MYSPACE.COM/LAURYNHILL
After scoring one of the biggest hit albums in music history with 1998's The Miseducation of Lauryn Hill (her first solo project after leaving the seminal urban alternative band The Fugees), Lauryn Hill disappeared from the music scene and buried herself in Bible study and personal discipleship. She re-emerged as an artist clearly more concerned about sharing spiritual truth with her audience than scoring more hits. Her Unplugged 2.0 album was certified Platinum before Hill disappeared from the public eye again. Then, in 2004 she wrote and recorded "The Passion" for The Passion of the Christ: Songs compilation and the following year reunited with The Fugees to release a single.
DOLOREAN - DOLOREAN.COM
The Portland-based folk/alternative/ country band Dolorean has been earning rave reviews from mainstream press such as the New York Times and The Onion while believers, like author Donald Miller (Blue Like Jazz, Searching for God Knows What), have been trumpeting main lyricist and vocalist Al James as a must-hear. Though frequently dealing with spiritual matters and biblical themes, the "Christian Artist" tag has never stuck to James or his band.
MUTE MATH - MUTEMATH.COM
Few bands have had as obvious, and as ignominious a departure from the Christian market as Mute Math. Though three members had been in Sparrow Records' Christian alternative act Earthsuit, their primary vision for Mute Math had been for the general market from the beginning. As soon as they saw themselves getting pegged as a "Christian band" (thanks to their simultaneous marketing and distribution agreement with Word), Mute Math immediately cut ties with their Christian distributor and actually began legal proceedings.
LADYSMITH BLACK MAMBAZO - MAMBAZO.COM
According to allmusic.com, the unique vocal stylings of Africa's Ladysmith Black Mambazo came to its founder, Joseph Shabalala, in a dream that he had before becoming a Christian and pastor. The haunting, yet hopeful sound attracted the attention of Paul Simon who single-handedly launched the band to international fame when he featured them heavily on his 1987 album Graceland. The band continues to tour and record music that is both traditional and progressive at the same time.
DAVE MUSTAINE - MEGADETH.COM
Few metal bands made it to as many Christian black lists as Dave Mustaine's Megadeth in the '80s. The band's brutal sound and overwhelming heaviness was the perfect soundtrack to a culture in decline. When Mustaine became a Christian, it was probably the most rebellious thing he could do. He has continued to hone Megadeth and has released several albums that reflect his Christian worldview, even if they don't sound like typical Christian metal.
JOSH TURNER - JOSHTURNER.COM
Though still a relative newcomer, the deep-voiced and warmly traditional Josh Turner scored one of the biggest hits of the last few years with the smash single "Long Black Train." The lyric, informed by his deep faith and his own personal struggle with temptation, won over Christian, folk and country audiences alike. When Turner visited CCM's offices three years ago, he told the magazine's staff his biggest role models of "faith in mainstream music" are Johnny Cash and Randy Travis. Though Turner reportedly investigated some potential deals with Christian labels early on, he landed with MCA Records and continues to rack up awards and nominations from CMT, ACM, the GRAMMY®'s and more. With sales of more than 1.5 million copies, his sophomore effort, Your Man, landed at No. 5 on Billboard's Best-Selling Country Album of the Year list for last year.
DASHBOARD CONFESSIONAL - DASHBOARDCONFESSIONAL.COM
Chris Carraba started his musical career as the vocalist for Tooth & Nail emo band Further Seems Forever before hitting it big in the mainstream with a solo project he called Dashboard Confessional. He keeps his faith mostly to himself in regards to Dashboard, though it is common knowledge to his fans. His fifth album, last summer's Dusk and Summer, was produced by the legendary Daniel Lanois who has helmed ground-breaking albums by many other artists of faith including Emmylou Harris, Bob Dylan and U2.
OVER THE RHINE - OVERTHERHINE.COM
Though courted by several Christian labels in its formative years, Cincinnati's Over The Rhine has spent more than 15 years either independently creating its transcendent music or strategically aligned with niche-specific general market labels. The result has been the cultivation of a devoted following and one of the most impressive bodies of work in American music. Though Over The Rhine is constantly and disarmingly transparent about its members' faith and their struggles, the grace that weeps from their songs has endeared them to fans both faithful and not.
BUDDY AND JULIE MILLER - BUDDYANDJULIE.COM
It's no surprise that Buddy and Julie Miller are constantly mentioned by artists of faith as huge inspirations and excellent examples of how Christians should carry themselves in the music world. Their unquestioned excellence and consistent transparency transcends musical and theological divisions. Though Julie did release several records through Christian labels in the '90s, the two now both exist outside the Christian music scene. Buddy, one of the most respected and celebrated songwriters, singers and guitar players in Nashville, has released a string of critically acclaimed solo albums including the GRAMMY® nominated Universal United House of Prayer, while the couple's lone self-titled duet disc was also nominated for a GRAMMY® award.
WAKING ASHLAND - WAKINGASHLAND.COM
Indie phenom Waking Ashland has been generating amazing buzz both in the American and international scenes with near non-stop touring and its accessible power-pop, alt-rock sound. Though the band did release its debut on Tooth & Nail, and front man Jonathan Jones makes no apologies for his faith and the way it influences his writing, Waking Ashland has intentionally avoided the "Christian Band" tag—even while it was signed to Tooth & Nail. Now with the support of Immortal Records (30 Seconds To Mars, Incubus) Waking Ashland has launched its most recent project, The Well, exclusively into the mainstream market.





© 2007 CCM Magazine. All rights reserved. Used with permission. Click here to try a free issue.