Adam Watts Goes Indie With Sophomore "Fire"
Brenten Gilbert

CMCentral.com

2007

9 Jan

COMMENTS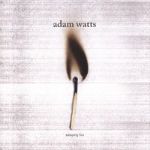 Artist:  Adam Watts
Title:  "Sleeping Fire"
Label:  Independent
Sometimes inspiration is hard to come by and there's no sure way to stimulate it or conjure it up on demand. In fact, the creative process and the motivation to follow it through have often been considered to be forces of their own.
In Greek mythology, these spirits were known as muses – specifically the nine daughters of Mnemosyne and Zeus who presided over a specific type of art or science. Perhaps there's something to that belief or perhaps it's just easier to pass the blame of writer's block onto something else, but it can certainly be frustrating to feel uninspired.
For singer songwriter Adam Watts, it may not be a lack of inspiration with which he struggles, but rather the energy and motivation to pursue his own goals in music after spending most of his energies writing for others. Though "Sleeping Fire" is his sophomore release ("The Noise Inside," BEC Recordings 2004), Watts is probably more known for his work as a writer and producer for such musicians as Jeremy Camp, Jesse McCartney and Hannah Montana. However, as evidenced by his solo work, there's a lot more to the music of Adam Watts than pop veneer and catchy hooks.
In fact, listeners won't likely hear Adam Watts performing any songs on the radio, though with tracks like "Something Better" and "To Believe," "Sleeping Fire" is a bit more accessible than his debut. What they will find, though, is a collection of well-crafted songs with personal and revealing lyrics that can easily serve as conversation pieces. There's a level of depth and richness to the indie rock here on the album that exudes honesty and the struggles – successes and failures – of life.
The title track expresses the importance of finding and pursuing your passions in life, while "Bear With Me" offers insight on the constant struggle to find a balance between confidence and self-doubt and "Something Better" talks about longing to fulfill one's calling in life. Some musical highlights on the album include "Real For Me," which has a lot of rock overtones and solid vocal work, "Because of You," which is somewhat poppy and catchy, and "Invisible Light," an intimate ballad that closes the disc out nicely.
Adam Watts might not be a familiar face or voice, but his talent is undeniable. Whether it's crafting a pop tune for "High School Musical" or writing a song that serves as a personal memoir, Watts proves that art comes in many different forms. As a fan of creative and honest music, I'm glad that he's taken the time to wake the sleeping fire and release the noise inside once again for this independent release. "Sleeping Fire" is quite captivating and definitely worth checking out.


© 2006 CMCentral.com.  All rights reserved.  Used with permission. 



Visit  CMCentral.com now and join the single largest online community of Christian music fans on the internet.  CMCentral features  daily music news, exclusive interviews, album reviews, weekly devotions and feature articles written by some of your favorite Christian artists, and much more.  CMCentral is also the home of the most popular Forum for Christian music fans that you'll find anywhere on the Internet.  Come see what all the buzz is about!