BarlowGirl Stuffs Stockings with Spiritual Values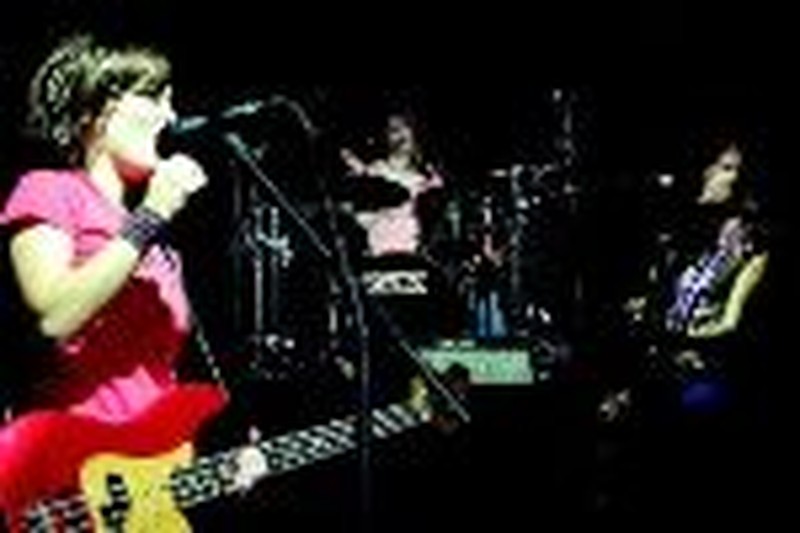 I could almost taste the sweet smell of homemade cinnamon rolls baking in the oven. The aroma seemed as if it could warm the coldest Christmas morning. As these visions of sugarplums, or should I say cinnamon rolls, danced in my head, an eruption of laughter brought me back to reality.

There I was sitting face to face with sisters Alyssa, Becca, and Lauren Barlow, of the new chart-topping Christian pop-rock band BarlowGirl, as they told me about their favorite family Christmas traditions.

"Every Christmas morning ... we wake up to the smell of cinnamon rolls," said Alyssa, 22-year-old bass guitarist, keyboardist, and vocalist of the group.

The three girls and their parents, Vincent and MaryAnn Barlow, are joined by the girls' older brother, his wife, and their two children each year.

"We all have to sleep upstairs. No one can sleep downstairs," Alyssa explained. "We all share my room -- us three girls [that is] -- and we watch Little Women every Christmas Eve."

"And we cry so hard!" added Lauren, 19-year-old drummer and vocalist.

Following a night of sisterly bonding, the girls and their family awaken Christmas morning and eagerly wait at the top of the stairs for all to rise and shine.

"We all come downstairs, and we have coffee and cinnamon rolls," said 24-year-old Becca, guitarist and background vocalist for the band. "The fire is lit, and we read the Christmas story with just candles lit around the room.

"It really keeps the focus, even when we're older," Becca added.

Following the most significant part of Christmas morning at the Barlow home, the family members head straight for their stockings which are also filled with tradition.

"[At] the beginning of December we draw names, and we figure out what everybody likes," Becca explained. "We have to make a homemade gift along with filling the stocking. It's always something random."

Togetherness

When meeting BarlowGirl backstage during the first night of the "In the Name of Love Tour" with Todd Agnew, Building 429, and Starfield, it was very clear to see the importance they place on family every day of the year -- not just Christmas morning.

For example, where there is a Barlow girl there is a Barlow parent since the family travels everywhere together.

While many teens today would cringe at the thought of living like the Brady Bunch with an over-glorified attempt at family togetherness, BarlowGirl sees it differently. There is no pseudo approach to family values. What you see is what you get, and what you get is truly of value.

"Touring as a family has been the greatest thing for us because it's like you have this security," Alyssa explained. "It's not insulting that I have to travel with my mom and dad. It's like an honor because I have them here.

"They're like my accountability. They're our mentors," she added.

Although the Barlow family appears to have it all together, they were quick to tell me that their strong family bonds didn't come easily.

"Our parents worked so hard for us as a family just to get along and to create a place [that] when you're home you're with your best friends -- the people that you trust and love the most," Alyssa said. "Our parents always said if you can learn to love your family, you can love anybody in the entire world."

Such love extends beyond the walls of their Illinois home as various family members take on certain responsibilities in the ministry of BarlowGirl.

"MaryAnn and I are their managers," Vincent Barlow said. "I'm kind of the sound and road manager [not to mention the unofficial driver]. MaryAnn is the merchandise manager."

But MaryAnn also fulfills her role as "Mom," both on and off the road. "Whatever they need, I will be there to take care of their needs," Mrs. Barlow said. "I don't think the roles ever change" -- nor does the family's vision.

"God is using our family," Mr. Barlow said. "He's given us a voice in this country right now, actually around the world, to say something."

More Than the Music

What BarlowGirl is saying is worth hearing. As evident from their self-titled debut album released February 2004, BarlowGirl speaks to the issues of modesty, purity, surrender, trust, and not dating -- values that are becoming obsolete.

From the very beginning, BarlowGirl knew their band was about more than just playing music and performing. "It's about your character," Becca explained.

During the first two or three years of the band, God really molded their characters and laid within them a foundation of what they believe and why they believe it, but it was not an easy process.

"Alyssa was diagnosed with a disease, and I was struggling with eating disorders and so many different things," Becca admitted. "God really got a hold of us and shook our worlds.

"It was the most painful thing I've ever gone through, but BarlowGirl would not be here today if it were not for those three years [of] God pressing in on us and really challenging us and growing us in our faith."

As a result, BarlowGirl uses its foundation as a platform for encouraging and challenging its listeners. They do so by setting certain standards for themselves that they unashamedly proclaim.

"People trust God with some things in their lives, and we want to teach people to fully surrender everything that you are and everything that you have in life to God," Lauren explained.

For example, the girls made individual commitments at a young age to remain sexually pure until marriage, which involves taking a strong stand for modesty.

Research supports the positive effects of teens making virginity pledges, as seen in recently released data from the National Longitudinal Study of Adolescent Health. The data reveals "nearly two-thirds of teens who have never taken a pledge are sexually active before age 18; by contrast, only 30% of teens who consistently report having made a pledge become sexually active before age 18."

Another commitment BarlowGirl holds true to is not dating as a means of saving themselves fully for their future spouses. In fact, they even wear rings that resemble wedding bands on their left hands as a way of saying they are already taken. Such a commitment involves trusting God in the area of love and marriage, knowing He will reveal that spouse in His perfect timing.

"So it's not like we just came up with these rules, and it was easy," Lauren said. "And they're not rules ... It's a lifestyle."

Living the Lifestyle

BarlowGirl patterns its lifestyle around Romans 12:2 which says, "Do not conform any longer to the pattern of this world, but be transformed by the renewing of your mind. Then you will be able to test and approve what God's will is -- His good, pleasing and perfect will" (NIV).

The girls' desire for this verse to become a part of their listeners' lives. "But even before that, it [our desire] is to show people that God is a trustworthy God, and He is so worth it and He is so enough," Becca explained. "We want to raise a standard and a hunger in people that they would desire a relationship with the Lord.

"We want their lives to be transformed and not conformed," she added.

And that is just what they do by reflecting such standards as the themes of their songs -- quite the opposite of mainstream pop as revealed in a recent study conducted by the Medical Institute for Sexual Health.  According to the website of Al Menconi Ministries, The Washington Times reported that "teens listen to nearly 40 hours of radio a week (more than 25% of teen-targeted radio segments contain sexual content; nearly half (42%) of top-selling CDs contain sexual content that is 'pretty explicit' or 'very explicit.'")

Realizing such makes me appreciate even more the standard BarlowGirl is setting with their songs. Listening to the lyrics of BarlowGirl's songs is like reading the pages of their prayer journals.

"We don't know how to write songs ... to be honest," Alyssa admitted.

In fact, the girls almost trashed their song, "Never Alone," which became their first number-one single. The sisters just started one day as God began stirring a passion within them. They began playing their instruments and singing from their prayer journals.

"... Those moments of just that heart connection with God is when the songs come forth," Alyssa said.

If they ever decide to write a song on their own merits, it doesn't happen. "This [type of] song is in our heads, and it's not coming from our hearts," Alyssa explained.

She also admitted keeping their hearts in check by constantly seeking God's face is the most challenging part of this newly-found stardom. "I think our goal is to honestly find out what God's purpose is," Lauren said, and "to feed the people," Alyssa added.

And that is just what BarlowGirl is seeking to do through tours, concerts, and the recording of their second album expected to be available late spring or early summer 2005.

"There's just a deeper level to this record -- musically and in what we're singing about," Lauren said.

While the upcoming CD will not make it onto shelves in time for Christmas, there is no reason to wait to be challenged by their music and message. Pick up a copy of the group's first release. According to music reviewer Randy Brandt of Al Menconi Ministries, "If you have a daughter in the 10-15 age range, you should go buy this CD immediately. The Barlows look like much better role models than most young women in the public eye, and the music is fun and positive as well."

So while BarlowGirl is spending the holiday season with family anxiously anticipating Christmas morning, parents should consider giving a gift of spiritual value to their children this year.

As reported by Common Sense Media, "Sixty-four percent of parents believe that the content in popular media is inappropriate for their children and 66% wish they could do a better job supervising their youngsters' overall media indulgences."

So parents, here is your opportunity. Why not drop a BarlowGirl CD into your family's stockings and together you can be challenged to live a godly life of purity, modesty, and commitment.



Rebecca Grace, a regular contributor to AgapePress, is staff writer for AFA Journal, a publication of the American Family Association.  This article appeared in the November/December 2004 issue.

© 2004 AgapePress.  All rights reserved.  Used with permission.