Defying Gravity: The Science of Falling
Brian Quincy Newcomb

CCM Magazine

Published

Jan 21, 2008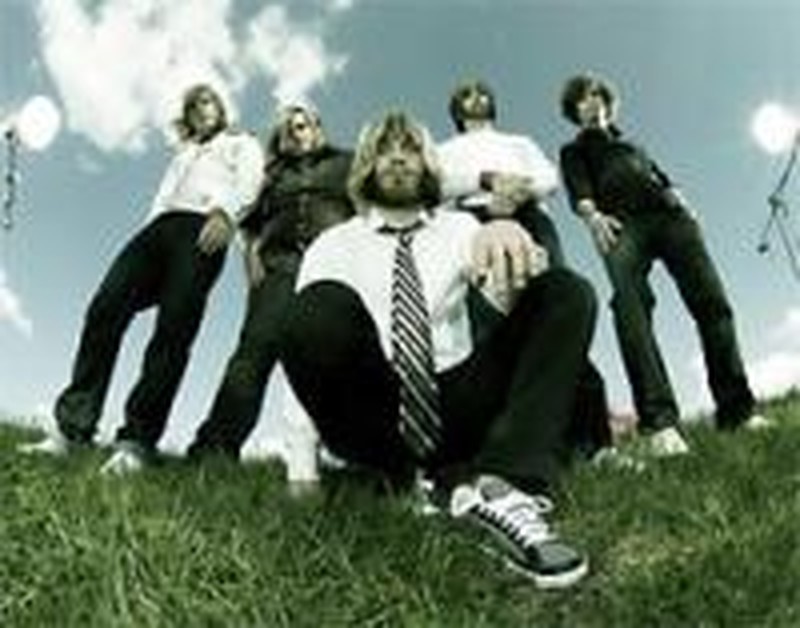 It was not an accident that the last song on Falling Up's sophomore disc, Dawn Escapes (BEC), was titled "Intro/Into the Gravity." For those who've taken the time to read between the lines as the Albany, Ore., band has stretched and grown since releasing the 2004 debut, Crashings, it will be no surprise that the concept of "gravity" plays an important role in the unfolding of the band's newest full-length work, Captiva.
Of course, there's "Goodnight Gravity." Then in "Murexa" we learn that "streetlights in the distance shed light on gravity." And there's the comforting suggestion in "Drago or the Dragons," that "gravity will retrace every step." While we're not sure what all this means, one thing is clear: gravity's not just a suggestion. … It's the law.
Singer/songwriter Jessy Ribordy is less coy and precious in conversation than his often mysterious lyrics would lead one to expect. "Yeah, that's something that's going on," he says. "I hinted in the lyrics at the end of the last record that this one was going to deal with gravity, and there's a story here for our fans to discover. Dawn Escapes had a lot in there about wind and light and water, but at the end, with 'Intro/Into the Gravity,' I gave a hint about the starting place for the next record."
While many of Ribordy's lyrics suggest another world of experience, he's willing to cut through the quixotic metaphors and spell things out. As he does in "How They Made Cameras," which asserts: "No more star crossed tears/He is drawing near/Now salvation sings/Life that Jesus brings."
But he's also not uncomfortable with having his songs compared with more ambitious forms of fantasy and science fiction literature. Ribordy is looking for new ways to express time-worn truths. "I was really interested in exploring science-based ideas versus a more faith-based worldview, and how those compare and contrast. On the surface, those concepts often seem to be in tension, but underneath I think they're more connected. Lots of times, science requires faith—we use faith all the time, when we step on the brakes and have to trust that they're going to work."
And with songs on the new disc titled "A Guide to Marine Life," "Hotel Aquarium," "Murexa" and "Maps," Ribordy & Co. have to have faith that their fans will go along with many of the more obscure references and figure out the hidden meanings over time.
Drummer Josh Shroy says that's exactly what happens: "We have some fans who write in with their thoughts and theories about the story Jessy's written—what they think the songs mean, what they are getting out of our music. For a lot of our fans you can tell that it's really fun for them to seek out the meaning behind the songs. After we did Crashings, one fan wrote us this long, three-page letter with a paragraph about every song, and he was right about every one except 'Ambience.' He thought it was about a girl."(Note to self: The song "Ambience" is not about a girl.)
So singular and committed to his vision is Ribordy that there was little room for two songwriters in Falling Up. This led to the departure of guitarist Joe Kisselburgh, who now fronts his own band, The Send. Citing no hard feelings, Ribordy reports that "Joe was writing a bunch of songs on his own and, of course, wanted to do his own stuff and make his own record. It was something he'd always wanted to do. With Joe wanting to do his own music, it just made more sense for him to go his own way, than to try and balance two songwriters. With him leaving, it freed us both up to stretch out in new directions."
Falling Up has yet to bring a full-time guitar player into the band, which has impacted the band's sound. Ribordy reports, "With the new record shaped around more keyboards and one guitar, things sound a little bit more compact, a little more electronic. It's worked out pretty good, but it's a little bit different feel. Luckily, we had the remix album (Exit Lights) that kind of transitioned the sound from what we were doing to where things are headed now, which is cool. Before, we were more guitar-riff driven; now things are more organic, more open and band driven."
As for Ribody's rediscovery of old synth sounds, he says it wasn't love at first hearing, but the sounds grew on him. "When we did the last disc, Dawn Escapes, there was this Korg MS-2000 synth that our producer, Elvis Baskette, really wanted me to use. He'd grown up on that sound, but it was the first time I'd really heard it. As I experimented, I fell in love with those old-school synth sounds. It's the sound you hear on Pink Floyd's Dark Side of the Moon, which had a lot of synth on it, but most people don't notice so much. It's those analog synths sounds that provided the motivation to go after those sounds and incorporate them in my songs." And it's probably where he got the title: "The Dark Side of Indoor Track Meets."
While there are more keyboards and a timeless melodic quality about Captiva, Ribordy says the real change in sound for Falling Up is maturity. "We're growing up. It would be unfair to hold a band to what it did on its first record, when you consider what a person goes through in their walk with the Lord, and what happens over time as musicians grow and develop and bands evolve. We're trying to live and record and play at the level where our musical maturity has brought us. And it's important to us that that comes through on Captiva."

Brian Quincy Newcomb is the Rev. Dr. Brian Q. Newcomb, pastor of Christ Church UCC of Maplewood, Mo., just left of St. Louis … and just left of about everybody, for that matter. myCCM.org/bqn

© 2007 CCM Magazine. All rights reserved. Used with permission. Click here to try a free issue.