Everlife – Three Sisters, One Mission
Harold Schrader

Contributing Writer

2004

25 Aug

COMMENTS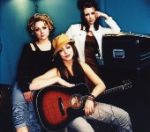 In the neighborhood where I live, two six year-old girls recently invited me to come hear their new band, a duo actually, featuring just drums and lead vocals.  I knew for sure that these kids had no drums or microphones, but there was no denying their imaginations, and that someday they could rule the charts.
Their story is not unlike the origins of another new pop group, Everlife, featuring sisters Amber (20), Sarah (16), and Julia Ross (14).  By all accounts, lead singer Julia, quite the Type A personality, was only nine years old when, on Christmas day, she informed her older siblings they would be forming a musical act together that would share Jesus with the world.  Never mind the fact that the Ross family of Pennsylvania had no performing arts background, save for their grandfather's polka band (seriously).  The girls enjoyed singing, and young as they were, that was enough to build a dream upon, despite reservations.
"I wasn't too keen to the idea," remembers Amber, the quiet, contemplative guitar player.  "I was so shy in front of people, but eventually we sat down and wrote some little songs and starting singing them for people.  Our instruments came a few months later, and it has been like a snowball effect over the years.  We asked churches and coffeehouses if we could play, and within a few months our parents were getting calls asking for us to come to different events and perform.  We really didn't know what we were doing, but we never stopped moving forward."
As the girls matured, so did the dream, and the proverbial snowball rolled to Nashville just last year, where Everlife (a name that implies "eternal life") moved with their parents and signed to Tovah Records in association with Crowne Music Group, led by music veteran Gary Chapman.
Creatively and spiritually influenced by bands like Newsboys and Switchfoot, the girls teamed up with producers Kevan Cyka (Hilary Duff, Jump5) and Dan Needham (Stacie Orrico) to record and co-write their self-titled debut album, available now. 
Everlife sounds as dynamic and instantly appealing as the sisters' personalities – a strong mix of Julia's enthusiasm, Amber's maturity, and keyboardist/vocalist Sarah's compassionate, friendly manner.  The set opens with two full-tilt rock and rollers, "Heaven Open Your Eyes" and "Take A Ride," that conjure up memories of dc talk's "Jesus Freak" heyday.  Those cuts may sound great in concert, but the grass is even greener on the pop radio side, where songs like "I'm Over It" and the soaring first single, "Evidence," are anchored by giant melodic hooks and vocal sweetness.  Julia's voice, surrounded by family harmonies, has the same wow-factor that so quickly brought Orrico and Rachael Lampa to national awareness in 2000.
In all, Everlife comes across as both student-scene cool and adult contemporary acceptable, with massive potential to charm the gamut from Audio Adrenaline to Avalon fans in a single album.  And the lyrical message, a universal one, is about "seeking truth and communicating with God," says Amber.
That search for truth was instilled in the girls of Everlife by their parents very early, and continues to rejuvenate as they grow up and share their encounters with God among a youthful audience.
"The three of us grew up in the church, and our parents worked with youth ever since I can remember, so I accepted Christ when I was four," Julia says.  "I didn't really understand everything though, I was so young.  When I was nine, I used to sit in with my mom and listen to her preach to so many hurting teenagers, and I would learn so much just seeing the eyes of the kids she was reaching.  I didn't want to hurt like they did…I loved seeing change in people, and I still do today; that's why I do what I do."
She continues, "In 2001, I rededicated my life to Christ on a missions trip to Brazil, and I finally felt that change that I constantly saw in those teens' eyes."
Sarah calls the group's debut project, "a seeker album, in that it's very introspective and has a lot of personal realizations in the mix…We want everyone to see the joy you can have in Christ, no matter what the circumstances."
Likewise, Amber speaks knowingly about the transformation that can come from living faith.  "My sisters were pretty outspoken when we started the group, but I had a real problem with social anxiety.  It was a big deal for me to get up on a stage, let alone share the Gospel.  But I can give testimony to the fact that God can take a person out of her shell to become who He wants her to be."
Balancing such spiritual depth and clear purpose, one must not forget that the Ross sisters are also prime-of-life young people who love to have pure nonsensical fun.  Julia matter-of-factly describes the group's onstage presence as, "Total crazy attitude, rock and roll, lots of energy."  And when asked to name her youngest sister's best habit, Amber says, "Laughing.  It's contagious, we'll be laughing for 20 minutes because of Julia and then realize we don't know why we started!"
Modern Christian music fans will just be glad that Everlife started, despite their curious beginning.
"Yes, I was the nine year-old that had the crazy idea of starting a band," concludes Julia.  "I didn't actually think that my sisters would want to go along with it though.  Only because the next day I would have probably wanted to go up in space or something crazy like that!  But there was something about it all.  It was a choice that the three of us made, and we've stuck to it, obviously."

To learn more about Everlife and hear music from their self-titled debut on Tovah Records, visit www.everlifeonline.com.