Furthering the Fire
David McCreary

Contributing Writer

2003

2 Jul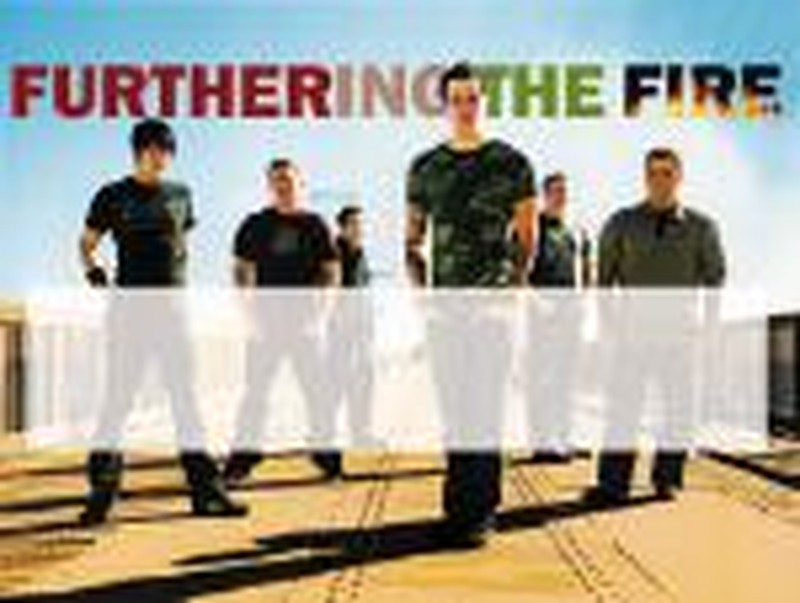 It's 3:30 in the afternoon. A steady rain falls in South Florida, home to bassist Chad Neptune and alt-rock band Further Seems Forever. Neptune (yes, that's his actual surname) speaks into his mobile phone with a nonchalance that, by the sound of it, leads one to believe the musician woke up just moments earlier.

Despite his laid-back demeanor, Neptune quickly proves himself an accomplished multi-tasker. How? By conducting an interview while driving his girlfriend to lunch, stopping at an ATM, drinking a Coke from a glass bottle and somehow staying focused even as his companion talks incessantly into another phone.

But perhaps more impressive is Neptune's propensity to eat his first meal of the day closer to dinnertime than lunch. "Technically, this will be breakfast," he says jokingly. "I'm just being lazy, but I really do like [to sleep] on days like today that are overcast."

The Madness

Overcast. That's an interesting word choice, especially considering the somewhat cloudy circumstances FSF has encountered since the group's genesis in 1998. Certainly most inclement was the departure of original vocalist Chris Carrabba, now an MTV mainstay, emo heartthrob and — oh yeah — front man for wildly popular acoustic outfit Dashboard Confessional. As it turns out, Carrabba recorded FSF's first full-length project, "The Moon Is Down" (Tooth & Nail) but left prior to the album's 2001 release — not exactly ideal timing for a group trying to find success in the general market.

"When Chris left the band, it was tough at first," Neptune confesses, "but in retrospect, it was probably the best thing for us and for him. Although several online and print publications have written extensively about FSF's apparent struggle to overcome a so-called "Chris-Carrabba-backup-band" stigma, Neptune debunks this notion as nonsense. "We don't think about that at all," he says confidently. "We just get in front of people and do our own thing."

FSF remains on good terms with Carrabba, and the members keep in touch as much as possible. Furthermore, Neptune shares that Carrabba has continued to be a source of encouragement to the band, although the superstar's busy schedule understandably prohibits frequent reunions. "We're totally supportive of him, too, but it's not like he needs our help," says Neptune, laughing.

The Music

Replacing such a high-profile lead singer was no small task, but the band scored Jason Gleason, a trained vocalist and erstwhile front man for Minneapolis-based metal act Affinity, to fill the void. While it's too early to tell if FSF devotees will fully embrace Gleason, early critiques of his talent have been highly favorable. In fact, Alternative Press Magazine raved recently, "Gleason sounds like he was born to front this band," while CMJ New Music Report wrote, "Gleason emotes with the best of them, and his voice is powerful enough to fill a room without ever sounding whiny."

Another fairly significant thing happened to FSF along the way: The band ever so slightly changed its musical identity. After tweaking its sound from an emo/hardcore style to more progressive rock flamboyance, the group reemerged this year with its sophomore effort, "How to Start a Fire" (Tooth & Nail).

"[This album] is a much more mature record than any of our previous efforts," says Neptune. "We wrote this disc knowing that our last one really had the same vibe to every song. On this album, there's a lot more depth and diversity." Much of the credit goes to producer James Paul Wisner, best known for his work with — surprise — Dashboard Confessional, who helped the band hone and polish its sound.

But for all the talk about FSF's recent changes, some may wonder what happened to the ministry-oriented hardcore group Strongarm, a '90s outfit in which three of the current FSF band mates were heavily involved (namely Neptune, drummer Steve Kleisath and guitarist Josh Colbert). Neptune explains: "I believe God [initially] called us to minister through Strongarm because He blessed us in countless ways. As time passed, though, we had grown tired of playing hardcore and wanted the freedom to do something different."

The Message

Whereas up-front ministry was definitely Strongarm's primary modus operandi, FSF chooses to take a more subtle approach. The band doesn't preach from the stage; and the lyrics to their songs, while spiritually salient, are not overtly evangelistic. Still, Neptune insists opportunities arise for band members to present their faith. Most of these encounters occur with fans backstage or after a show.

Neptune speaks at length about the personal relationship with God each band member possesses, then explains: "We don't want to give anyone the misconception that we're trying to be a ministry-oriented band like Supertones or Relient K. I think it's great that those bands feel God is leading them to do that, but that's not what we feel called to do."

Although they do not label themselves as a "Christian" band, the guys in FSF recognize that sometimes they have tremendous opportunities to represent Christ in places where others might not. A case in point is FSF's sharing the stage with general-market acts like Bad Religion, Mighty Mighty Bosstones and Good Charlotte (they did just that during the "Warped" tour last year). "It's important to be a good witness," Neptune says. "Sometimes that's hard to do because we're not perfect."

Perfect or not, FSF has established an overarching goal to provide hope and inspiration to anyone who hears its music. If the response the band has received so far is any indication, then that objective seems to be working. Neptune says a lot of FSF's young fans, mostly teenagers, have approached the band and thanked the guys for offering a positive message in their music. "Sometimes these fans are more inspiring to us than we are to them," he says.

What's more, the band's new disc recently hit No. 1 on Billboard's Heatseekers chart (a list of best-selling titles by new and developing artists who have never appeared in the magazine's Top 100), and at press time its incendiary single, "The Sound," was No. 5 on mp3.com's Alternative Downloads chart.

Not bad for a band that has weathered its share of storms. Looks like the upcoming forecast for FSF is definitely looking brighter — and hotter.



Used by permission.  CCM Magazine © 2003  Click here to subscribe.