"Gloria": How Much is the World Worth?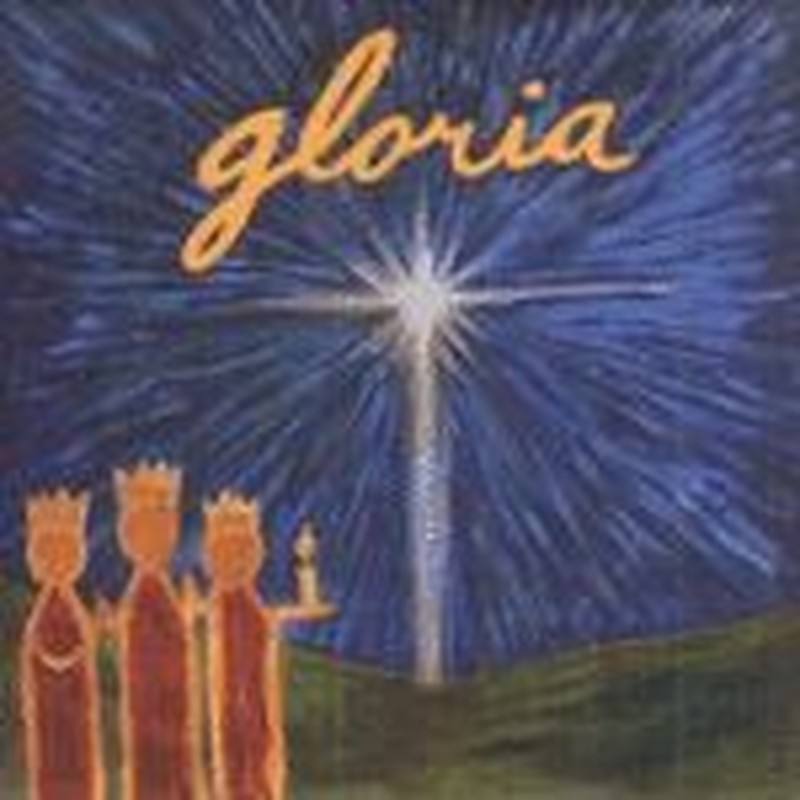 To gain revealing insight into one of 2004's most ambitious projects — "Gloria" — all you need to do is take a listen to Christine Denté's new song, "Christmas Kind of Feeling." Initially you may find yourself so taken with its delightfully catchy and jovial presentation that you ponder what it takes to become a classic such as "Winter Wonderland" or "Jingle Bells." (After all, "Jingle Bells" was originally written to celebrate Thanksgiving Day.) But as soon as you engage in listening to the lyrics, you realize there's something far more profound going on here than sleigh bells ringing or someone dashing through the snow.
"I wanted 'Christmas Kind of Feeling' to be light-hearted and to have depth to it," Denté says of the track she co-wrote and performs on Rocketown Records' newly-released compilation. "And so, in the midst of the 'cookies baking' and the 'children making angel wings,' there's a feeling that 'the world has felt its worth.' This is the Christmas kind of feeling."
The world has felt its worth? So much for a happy-go-lucky Christmas carol. With that potent lyric, Denté reveals the creative drive behind the album.
Last winter the project's producers, Charlie Peacock (Switchfoot, Sara Groves) and Scott Denté (Christine Denté, Out of the Grey), gathered with some of Christian music's most renowned singer/songwriters at Peacock's Art House. Together they set out to fashion a Christmas album that would nurture a spirit of community, serve the church in its thematic profundity and, of course, own you musically.
On the spirit-of-community front, consider this: In addition to the Dentés and Peacock, "Gloria" features the collaborative songwriting skills of Michael W. Smith, Jars of Clay's Steve Mason, Cindy Morgan, Wayne Kirkpatrick, Chris Rice, the women of Alathea and Taylor Sorensen. Furthermore, Amy Grant, Shaun Groves, Ginny Owens, Watermark's Christy Nockels and George Rowe join most of those artists in sharing lead vocal duties. With such a turnout, one might be left to wonder whether the Art House is also a bed and breakfast. (It's not.)
Now about that Christmas kind of feeling — you know, the one where the world feels its worth? According to the producers the "idea of Advent" inspired the collective songwriting process for Gloria. As a result the album is built on the foundation of anticipation that connects with the very heart of Christmas — the expectation of Christ's birth 2000 years ago, and, ultimately, His return.
"The concept (for the album) is unique," explains Shaun Groves, who, along with his Rocketown label mate George Rowe, performs "O Come All Ye Faithful," one of only three traditional covers featured on Gloria. "We tried to make a record about the season of waiting for the birth of Christ instead of just the birth itself. The Jews waited for hundreds of years for the prophecies about the Christ to come to pass. We tried to focus as much on that anticipation — the darkness before the Light of the World came — as we did on the birth of the Messiah."
Cherishing the Advent — the celebration period, which begins, for Western churches, the fourth Sunday prior to Christmas and is highlighted by prayer, fasting and repentance — is an early church concept that's not only foreign to most evangelical Christians but also many mainline Protestants. Is that why it's taken the Christian music community 35 years to make this album?
"I think that we in the evangelical church have sometimes cast out the baby with the bathwater and lost some of the great traditions, the great church calendar that would put the year into pieces — as remembrances of Christ's coming," says Christine. "And I think this record being based around Advent is a great, maybe, reintroduction for some American Christians—a reminder that there are some traditions that are set there as pillars to guide us and to leave markers along the way for future generations.
"As a mom, I know that passing on knowledge of Jesus Christ and true faith to (my children) doesn't happen with words and with essays and assignments; it happens in the day to day." she continues. "It also happens in attitudes and how we respond to situations. So, if I want to show my children that I love Jesus and I trust Him in all things, well, I'd better act like it in the hardest of times. In the same way, in the Advent season, if I'm saying that Christmas is a special time and that we truly believe that Christ came as a child, and if I treat it just like a one-time done thing but don't really give them the tools to remember, to learn, to grow from it year after year ..." she pauses briefly before adding, "because human beings are so forgetful. I think Advent is a great way to remind my children and to pass on to them the facts, not just the religion. I want them to truly know."
Ginny Owens — who duets with Peacock on the album's kickoff, "Sing Gloria," and then flies solo for the bluegrass-infused closer, "Go, Tell It On the Mountain" — cites American culture's influence on the church. "I think waiting and longing are so important, and I think that the church probably doesn't embrace those ideas as much as it used to; and I think it's partly because our society doesn't wait or long for much of anything anymore. That's kind of reflected also in the church's behavior — just in the sense that Christmas is much more about having a Christmas program and how much shopping we have to do, and then we might set aside a couple hours on Christmas Eve or Christmas Day to wait and long."
Getting personal, Shaun Groves divulges, "I know that I haven't associated that longing with Christmas in the past. I forgot about the 400 years of waiting that the Jews did — years without a new prophecy from God. That must have been a dark time to live. I can't imagine the kind of doubt that may have set in for some and the kind of mocking the Jews must have heard: 'How long are you going to wait for this "Messiah" of yours? You've been fooled. It's all a lie.' And I'm not sure we associate anything that is unpleasant with our faith anymore. We've rewritten so much of the story of God's relationship with man in an effort to make it more attractive and positive. But the story of His birth begins with darkness and doubt and silence from God. Only against that backdrop can Christmas morning appear as bright, hopeful and saving as it really is."
Bright, hopeful and saving — three realities of Christmas that "Gloria" clearly conveys in all its authenticity. Musically and lyrically joyful in spirit, the moody album uplifts — unabashedly celebrates — while leading us to anticipate the astounding birth and then ultimate sacrifice. The birth and sacrifice that would show the world how much it's worth.
Isn't that something — Someone — worth waiting for?
"I have this great picture in my head of a table with all the place settings," says Christine, as she offers the mental image behind "Prepare a Place," the song she co-wrote with Michael W. Smith and performs with him on Gloria. "And everyone has a place, except there's this one place setting that's empty. It's waiting. It's a special place. And, to me, that's how we prepare our hearts."
The "Gloria — Rocketown Christmas Tour," featuring Ginny Owens, Shaun Groves, Watermark, Cindy Morgan, George Rowe, Taylor Sorensen and Alathea, may be coming to a town near you. Beginning Dec. 3 in Lakeland, Fla., the tour will run throughout the month of December. For more information visit GloriaChristmas.com.

© 2004 CCM Magazine.  All rights reserved.  Used with permission.  Click here to subscribe.