He's a Little Bit Gospel and a Little Bit Rock & Roll
Deana Warren

CCM Magazine

2004

5 May

COMMENTS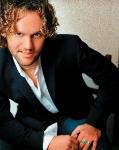 Sitting at the piano onstage in the center of an empty, 20,000-seat arena, David Phelps softly plays a song. While a scurry of technicians are making last-minute audio, video and lighting adjustments near and on the stage, the venue staff is busy aligning chairs on the floor for the evening concert. The building is dimly lit on this particular Saturday afternoon, and Phelps is in his own world, oblivious to the events around him. Dressed in shorts and a t-shirt, he has just finished a jog around the arena during which he had an idea for a new tune and has now made his way to the piano to "play out" the idea.
But who is David Phelps, you might be asking, and why is he playing at a 20,000-seat venue? Phelps just happens to be one-fourth — and the youngest member — of the legendary Gaither Vocal Band. And now the questions are probably really swimming in your head: How did he get in the vocal group in the first place, why does he have a solo record out? And why would an artist who's "got it made" in the southern gospel world want to cross over into the pop-rock/contemporary realm of Christian music?
These are all good questions. At the beginning, Phelps' love for music developed at a young age, eventually propelling him to enter and win the Gospel Music Association's 1988 "Seminar in the Rockies" talent competition in Estes Park, Colorado. He went on to pursue a musical degree at Baylor University in Texas, where, the native Texan explains: "I had a teacher who tried to lead me toward other styles of music; but when she finally accepted that Christian music was what God was calling me to do, that became a real turning point for me."
In 1996, Phelps and his wife, Lori, made the move to Nashville, like so many other music hopefuls; however, after only six months, his hopes of landing a record deal waned. The two ran out of funds and contemplated moving back to Texas. Upon learning of the couple's situation over Christmas that year, his family gathered around them and began to pray. And like a scene in a movie, the next day, a record company meeting, in which he had no hope of any positive outcome, turned into the opportunity the family had prayed for. Phelps was asked to audition for the multi-GRAMMY winning Gaither Vocal Band.
Two weeks later he shared a stage with Bill Gaither and the Gaither Vocal Band, singing to more than 15,000 people. "I didn't know very much about southern gospel artists until Bill introduced me to them," Phelps relates. "They have embraced and welcomed me, and my life is so much richer as a result of the impact they have had on me."
And now seven years later with six albums, 27 gold and platinum-certified videos and countless appearances to his credit as a Vocal Band member, Phelps is finally realizing his dream as a solo artist. But does this release mean his Band days are over? Apparently not. "Bill has seen what my desire is, artistically," Phelps explains, "and he's encouraged that and given me a platform to sing songs I've written."
And "Revelation" certainly isn't another southern gospel record along the lines of the Gaither Vocal Band's sound. With styles ranging from pop/rock to R&B to Latin, "Revelation" spans the gamut of Phelps' early influences. "I was raised in a very eclectic household, listening to a lot of different musical styles; and I learned to appreciate them all. I grew up when contemporary Christian music was coming into its own. I listened to Sandi Patty, Michael W. Smith, Amy Grant and the Gaither Vocal Band (with Michael English). I also listened to rock bands like Journey and REO Speedwagon. My exposure to those varying styles has affected who I am and the music I enjoy performing."
That diversity has also influenced Phelps' songwriting craft as well, and he admits: "We know no truth outside the universe and eternity other than what God makes known, and that encompasses this entire project. Each song on "Revelation" tells of something God has revealed to me." But, according to Phelps, it's the first line in the song "Break Free" that really sums up the project as a whole and the message he hopes to convey: "Forget what you've heard about Jesus if it doesn't begin and end with love."
"We live in a cynical world," the father of four explains. "We have all these reality TV shows, and nothing is real about them. The news is based on ratings rather than the truth. We have a generation of people who have seen TV preachers go to jail because they don't practice what they preach, but that's not Jesus. That's not who He is. He didn't come to condemn us. The truth is, the only reason He came was to show us love."
Another cut, "Arms Open Wide" that's written by Rita Baloche and portrays that same message of Christ's unconditional love, is the project's first radio single. "This was one of the first songs I heard when we were considering songs for this album, and it just blew me away. Actually, I had been toying with writing a song about this same subject when I heard it," Phelps says. "Musically, it's fun; and it reflects how Christ lived His life here on Earth — holding nothing back. He lived, and He died with His arms open wide. Now that's love."
A favorite for Phelps is the title cut, a song he invested a lot of time and effort in writing. "I was listening to one of Gloria's [Gaither] poems," he remembers. "It was a brilliant poem with such an original viewpoint, and I thought it was a great idea for a song. The song turned out to be one of my favorites because it represents a lot of what I love about music. It's a bit like a rock opera in that it tells a story about what turns out to be the day of the second coming of Christ."
Phelps plans to support "Revelation" with a 30-city tour in June and July. But dates with the Vocal Band won't suffer as a result, as 70-plus dates with them have already been booked throughout 2004. "Some people have questioned if I'm leaving the Vocal Band," he confesses. "The answer to that question is, 'No.' I love being a little bit of who I am with the Vocal Band, but I can do my solo dates with a full band, lights and production and let people know my heart. The people who have seen me over the past six years with the Vocal Band have rarely heard me talk onstage, and they haven't had a chance to get to know who I am. But at my solo dates I can be honest with the crowd, share my heart with them, joke with them and have a great time doing the songs with the band. It's great to be able to do both.
"I've come to understand that Christian music isn't about a style," Phelps explains, "It's about a message. In order for us to get our message across, obviously, we have many genres represented; however, if the song is good and it tells the truth, people of all ages will embrace it."

© 2004 CCM Magazine.  All rights reserved.  Used with permission.  Click here to subscribe.