Nicol Sponberg's Resurrection Makes a Comeback
Kevan Breitinger

CMCentral.com

2007

19 Jul

COMMENTS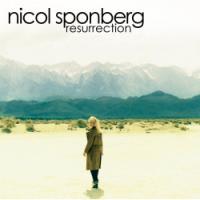 Artist: Nicol Sponberg
Title: Resurrection (Re-release)
Label: Curb Records
After Curb Records' initial release of Nicol Sponberg's 2004 sophomore album, Resurrection, kicked back four hit radio singles, including a mainstream AC smash, they decided to reissue it with the addition of a remixed track and bonus cut. This is my first time hearing it, and I was surprised by its strengths. Though not every track appeals, none are unpleasant, and when she's good, she is very good indeed.
My attention is captured immediately by Sponberg's husky vocals on the opening "Jacob's Well," a nicely nuanced track that features bluesy guitars, robust background vocals, and interesting movements. By the time I listen through the dramatic and thickly programmed "Not You Again," a forceful declaration of resistance to the "old self," I'm solidly appreciative of Sponberg's unique approach. She leans heavily toward an AC pop-rock bent, with a large dose of '80s energy and plenty of soul, very reminiscent of Annie Lennox, especially on the album's earliest tracks.
As she moves into the more pop-oriented tracks ("Safe" and "A Better Place"), her vocal tone and strength brings Kathy Troccoli to mind, but I enjoy her more when she's rockin'. She co-write half of the 10 songs, many with producer Mark Heimermann, and those are really the tracks of most interest on Resurrection. Sponberg knows her strengths well, and plays to them intelligently, writing movingly of the soul's desperation on the powerful title track, written after an encounter with an old college friend who had lost her joy. "Resurrection" gives Sponberg room to stretch out, the thoughtful arrangements showcasing her vocal versatility and wide range of expression. The album's first three tracks ("Jacob's Well," "Not You Again," and the title track) are the album's best, and might have been better spread throughout, although the title track is remixed for radio and tacked on at the end.
Single "Crazy in Love," a radio-friendly mid-tempo pop track, surprised everybody by becoming one of the 30 most played songs of 2006, understandable given its breezy affability. Another radio hit is upbeat dance track "Hallelujah," full of electronica and strong guitars, nicely backed by a full gospel choir. Less successful is another '80s-influenced pop-rocker, "The Spirit in Me," which I appreciated lyrically but its weird programming lost me. An album highlight for me is the power-ballad of declaration, "All That I Believe In," which Sponberg delivers ferociously with strength and passion.
Resurrection closes on another high note, with the simple and poignant piano ballad, "Love Will Bring You Home," gorgeously written by Chris Eaton, Brian White and Don Poythress. I'm not sure how the talented Nicol Sponberg manages to stay this low under the radar but this re-issue of Resurrection should change all that.



© 2007 CMCentral.com. All rights reserved. Used with permission.



Visit CMCentral.com now and join the single largest online community of Christian music fans on the internet. CMCentral features daily music news, exclusive interviews, album reviews, weekly devotions and feature articles written by some of your favorite Christian artists, and much more. CMCentral is also the home of the most popular Forum for Christian music fans that you'll find anywhere on the Internet. Come see what all the buzz is about!