Point of Grace Comes Alongside Peers on How You Live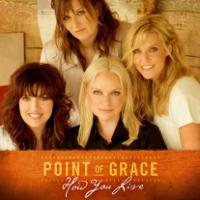 Artist: Point of Grace
Title: How You Live
Label: Word Records
The longstanding Word recording act Point of Grace returns with their 11th studio project, one of their more personal albums yet. The strength behind the musical ministry of Shelley Breen, Leigh Cappillino, Denise Jones, and Heather Payne has always been in their great ability to find common ground with their audience, generally female.
This album, and their upcoming kick-off of more Girls of Grace conferences in February, will only seal their spot as a favorite of mainstream adult Christian women. The lyrics come alongside women in their daily lives to offer encouragement (upbeat pop-rock "He Believes in You") and practical guidance (the title track, overflowing with life proverbs).
But you'll have to like pop to enjoy the adult contemporary flavor of How You Live. The quartet's signature tight vocal mix has made them one of the genre's most identifiable acts, and has garnered them a substantial list of awards in their 15 years of singing. They unabashedly take up their responsibilities as role models to young women, and frame their songs accordingly. Lead single "All The World" kicks things off with Brown Bannister's immediately recognizable tight production values highlighting POG's rich harmonies over the track's percolating rhythms. It is followed by the Scripture-rich "Fearless Heart," an uplifting song of commitment and declaration. "How You Live (Turn Up the Music)" features thoughtful words of advice to women on how to make the most of the days they're given. Some are fairly frothy ("use good dishes," "wear your red dress"), while others offer more weighty counsel ("Have what you want, want what you have"); these lyrics will have meaning and appeal to women of a certain season.
A slight country tinge runs throughout many of the album's twelve tracks, brought out often by the use of violin and mandolin. It's a nice addition, working especially well on the gentle "God's Green Earth," a mandolin-tweaked track with skillfully descriptive lyrics that tie the beauty of Creation with the power of the Creator. There are also several outstanding bridge moments, like the sweet instrumental flourishes of praise track "Anyway" and the layered vocals of "Heal the Wound"'s too-brief bridge. The latter track, a quiet string-infused ballad, delivered passionate vocal power, somewhat diminished by the thick strings. I'm generally of the less-is-more school of thought when it comes to strings, but in this case, it does match POG's honeyed vocal approach.
"You Are Good," another quiet piano ballad, offers a few lustrous note-bending moments under its tender worship, and warm horns bring up an edge to the ever-so-slightly Celtic movements of "Because You Are." But my favorite track by far is the a capella closer "Because the Throne of Grace." The quartet's harmonies are as sweet and tight as ever, the vocals positively flying their way up to the big finish. That magnificent track deserves to make its way past the soccer mom crowd and into the general population.


© 2007 CMCentral.com. All rights reserved. Used with permission.



Visit CMCentral.com now and join the single largest online community of Christian music fans on the internet. CMCentral features daily music news, exclusive interviews, album reviews, weekly devotions and feature articles written by some of your favorite Christian artists, and much more. CMCentral is also the home of the most popular Forum for Christian music fans that you'll find anywhere on the Internet. Come see what all the buzz is about!