THIS WEEK'S NEWS: Pinnacle Project's "Hosanna" Anthem & More
Laura MacCorkle

Senior Entertainment Editor

2005

28 Jan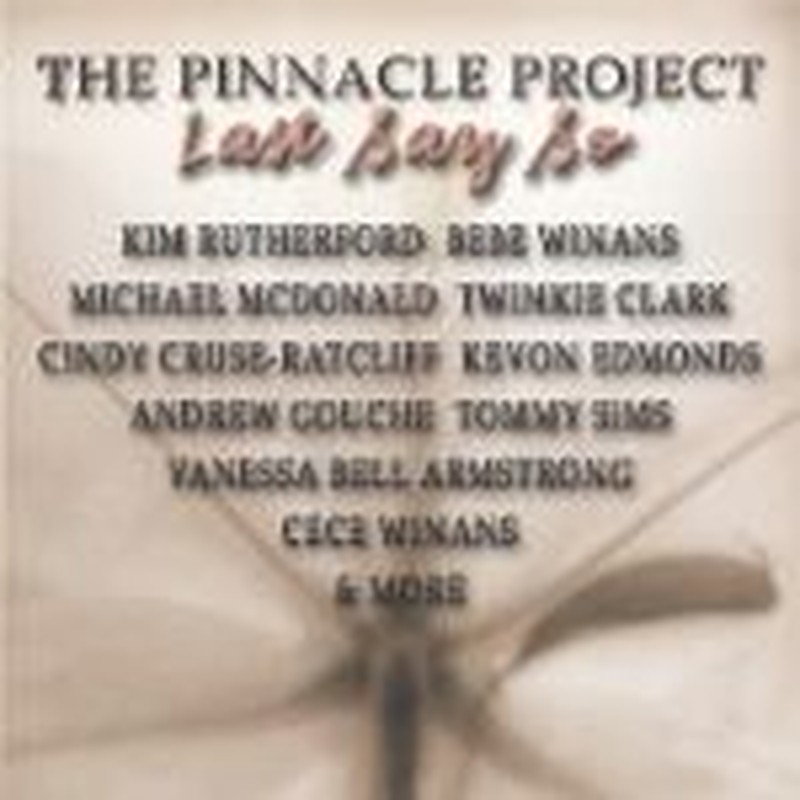 Okay, you fellow children of the '80s out there.  You know who you are. 

You might still have your Member's Only™ jacket hanging in your closet and your jelly shoes stashed away behind that.  Or maybe you're entertaining the notion of buzzing some stripes over your ears or trying out some other asymmetrical 'do.  Whatever your affinity with that not-so-heinous decade, I know you'll be tickled to the max by my first bit of news this week. …
Remember slick '80s pop/rock band Toto?  Who can forget "Rosanna," right?  It won a GRAMMY for Record of the Year and propelled the group's fourth album into music history.  Well, good news.  Now "Rosanna" lives on as "Hosanna," a derivative work of the '82 hit single that has been rewritten and arranged by producer Marc Harris.  After a reworking of the song (with the blessing of Toto keyboardist and songwriter David Paich, naturally), Harris brought in the big guns to lend their vocals on what is now a 2005 worship anthem.
Worship leader Cindy Cruse-Ratcliff, Take 6, Kevon Edmonds (After 7), Montrel Darrett (Commissioned), Chris Rodriguez and Darci Chism-Finch all contribute, along with blues musician Jonny Lang on guitar and GRAMMY-winning producer Keith Thomas on keyboards. 
"It's exciting for me to see something that we all loved from the beginning – a song like 'Rosanna' – take on new life and really represent the life that we live," says Cruise-Ratliff.  "'Hosanna' is an incredible rebirth of this son, and to be a part of that is awesome."
"Hosanna" goes for adds at AC, CHR and Inspo radio stations nationwide next Friday, February 4.  It's the first single from Christian/gospel music compilation, "The Pinnacle Project: Last Say So" on Pinnacle Entertainment (a label also founded by Harris) which released this week via Provident-Integrity/Sony-BMG Distribution.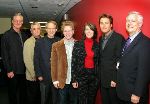 Continuing on with our compilation theme … many artists came together in Nashville this past week for a special fundraiser concert – "An Evening for Restoration:  Music City Comes Together for Tsunami Relief."  Held at Belmont University, the sold-out show brought in more than $50,000 for international relief agency, World Vision, which has thousands of staff members currently working in the stricken South Asian region where more than 200,000 people have died.
Co-hosted by Michael W. Smith and Kathy Mattea (picture above right, backstage), "An Evening for Restoration" featured an all-star lineup:  Steven Curtis Chapman, Diamond Rio, CeCe Winans, Ricky Skaggs, Steve Cropper, the Oak Ridge Boys, Kirk Whalum, tobyMac and Diverse City, Crystal Gayle, MercyMe, Lee Greenwood, Jaci Velasquez, The Whites, The Crabb Family, Dr. Bobby Jones, Michael Martin Murphey, Micah Stampley, Billy Walker and the Nashville Chamber Orchestra and special guest Vince Gill who made a surprise appearance as the guitarist for the house band.  Thanks, Vinny!
An additional $27,000 came in for the cause during intermission when World Vision representatives made a plea for additional donations.  For more information about World Vision's ongoing tsunami relief and restoration initiatives, click here. 
Now if you missed that show, then get thee to another benefit concert with proceeds directed toward Operation Blessing which is happening February 9 at Rocketown in Nashville.  Scheduled performers include Avalon, Tait, Rachael Lampa, Everlife, Tiffany Farnsworth, George Rowe, David Phelps, Anthony Evans, Natalie Gage and K.P. Westmoreland.  For more info, click here.  (Also, John Tesh recently traveled on behalf of Operation Blessing to Sri Lanka.  Read from his journal here.)

Before wrapping up, there are two upcoming and interesting newbies to put on your radar for this spring.  First up is Circleslide, a Cape Girardeau, Missouri-based band with an Americana-Brit pop style that's just signed with Centricity Records out of Bellevue, Washington.
And believe it or not, there is an '80s connection here, too.  Remember The Choir and their alternative leanings?  If you do, you've probably already put two and two together by this point.  The title of The Choir's 1990 critically-acclaimed project, "Circle Slide," was, in fact, the inspiration for Circleslide's name. 
What's even more intriguing is that The Choir's own founding members Steve Hindalong and Derri Daugherty have offered their production talents to the upcoming Circleslide project, which is slated to drop in late spring.
"Working with Steve and Derri has been a dream come true for us since we are all huge fans of The Choir," says Gabe Martinez, Circleslide's lead vocalist.  Along with Martinez, the band's lineup includes bassist Tim Martinez, lead guitarist Aaron Gillies and drummer Fred Mandujano.  Listen for first single, "Walking on Waves," in the months ahead.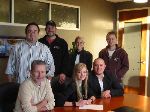 A little later this spring, recent Essential Records signee Krystal Meyers (pictured right, as signing) will see her very first major-label project release to Christian and general market retail on June 7.  The 16-year-old rock singer got her start at a Barefoot Republic youth camp where she performed a ditty she co-wrote, "Anticonformity," at a talent show. 
"The idea of 'Anticonformity' is not conforming to the ways of this world, but instead living a life by God's standards," says Meyers.  After the talent show, the aspiring singer/songwriter was asked to cut her personal theme song for a Barefoot Republic Camp benefit CD, which included  tracks from established artists like Audio Adrenaline and Pillar.  One thing led to another, and now she's got a deal with Essential Records and producer Ian Eskelin and the L.A.-based Wizardz of Oz production team (Avril Lavigne, Liz Phair) are on board to man the helm of her debut. 
So … I guess that camp must be where it's at as Meyers even attended summer camps focused on songwriting as a child.  Later in junior high, she started her own band to play at school events, and now all of that experience is coming into play as she's prepping to play for the masses.  I see big things ahead for this spunky, punky chica.

Well, thanks for joining me again this week.  Hope you enjoyed the '80s throwback. And if you are the only person in the history of the world who has EVER completely figured out the Rubik's Cube, a hearty congrats to you!  Sadly, I can only do one side. …