We've Got the Beat
Christa A. Banister

Senior Music Editor, GospelMusicChannel.com

2008

23 Sep

COMMENTS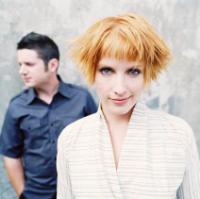 Singin' Another Song of Sixpence
After calling it quits amicably nearly four years ago, Sixpence None the Richer's Leigh Nash and Matt Slocum have decided to give the band thing another chance.

In addition to playing a few shows across the pond next month, Sixpence has been working on a Christmas album titled The Dawn of Grace. Hitting store shelves in October, the project features 10 songs that are a mix of traditional and more avant-garde fare. Nash said the album, which includes a guest appearance from Jars of Clay's front man Dan Haseltine, is in response to many fans' wishes over the years.
"It was something we always wanted to do, but somehow time got away from us," she said. "Now that we are back together, we thought a Christmas album would be a nice gift for our longtime supporters. We love it and hope they will too."
Apparently bitten by the proverbial studio bug, the duo is also working on new material for its next non-holiday project, which is tentatively slated for an early 2009 release.
Pressin' On
For those of you who've been wondering how Steven Curtis Chapman has been doing after the tragic loss of his youngest daughter, Maria Sue, on May 21, Chapman's manager Jim Houser encourages people to continue to "pray on for this family" on his blog. Suffice it to say, it still isn't business as usual in the Chapman home.
On the musical end of the spectrum, Chapman has been playing a few of his scheduled shows, and a tour with Michael W. Smith (beginning in October) is in the works. And while the line-up of two Christian music greats is definitely impressive in its own right, the big payoff is that they'd perform several of their hits together. So if the thought of Chapman singing with Smitty on "Friends," and Smitty returning the favor on "The Great Adventure" excites you, well this could be a dream musical scenario.
And with 37 albums between them (not counting greatest hits projects), could you imagine having to whittle down the set list? Yeah, me neither.
Fools Rule!
While hitting the road with Newsboys on the "GO Tour," Rush of Fools managed to squeeze in some studio time in preparation for their sophomore project, Wonder of the World.
Releasing earlier this month, the album picks right up from the Alabama-based band's self-titled debut left off with a catchy pop/rock style the band dubs "progressive worship." Produced by Jason Ingram (Bebo Norman, The Longing) and Rusty Varenkamp (MuteMath, Plumb), Wonder of the World is inspired by the band's personal and collective life experiences.
"It doesn't matter what aspect of life you're working on, you always have to learn how to recreate something," said lead singer Wes Willis. "You always have to learn how to grow and change, and from a musical aspect, that's definitely what we've done with this album."
Look for the band to team up with Big Daddy Weave at a venue near you this fall.
Don't Just Listen – Act!
Hang out with Brandon Heath, Sara Groves or Derek Webb and his wife Sandra McCracken for very long, and you'll quickly learn that music and social awareness go hand in hand for these artists.
And now with the upcoming "Art*Music*Justice" tour this Fall featuring Heath, Groves, Webb, McCracken and fellow troubadours Charlie Peacock, these artists hope to inspire audiences to make a difference by providing awareness about injustice – mainly human trafficking.
For more information about the tour, check out www.saragroves.com.
About the Writer
After graduating with a B.S. in Journalism from North Central University in 1998, Christa Banister moved to Nashville, Tenn. and eventually started working at CCM Magazine/Salem Publishing in various editorial capacities (including managing editor) for five and a half years. After that, she launched her own freelance writing company and writes for numerous clients including CCM Magazine, Crosswalk.com (she reviews movies for them each week), Christian Single, Christianity Today, Threads Media, Songs4Worship.com, BurnLounge, PassAlong.com and helped kick-start the first Christian music blog for MTV. She also writes bios for professional recording artists and authors and penned her first two fiction novels for NavPress in 2007.

© 2008 GospelMusicChannel.com. All rights reserved. Used with permission.
**This column first published on September 23, 2008.
About Gospel Music Channel
Gospel Music Channel is the fastest-growing network in television and can be seen in more than 40 million homes on various cable systems around the country and on DIRECTV on channel 338. For more information, visit www.gospelmusicchannel.com.