You Can Dream
Staff

Homecoming Magazine

2004

8 Mar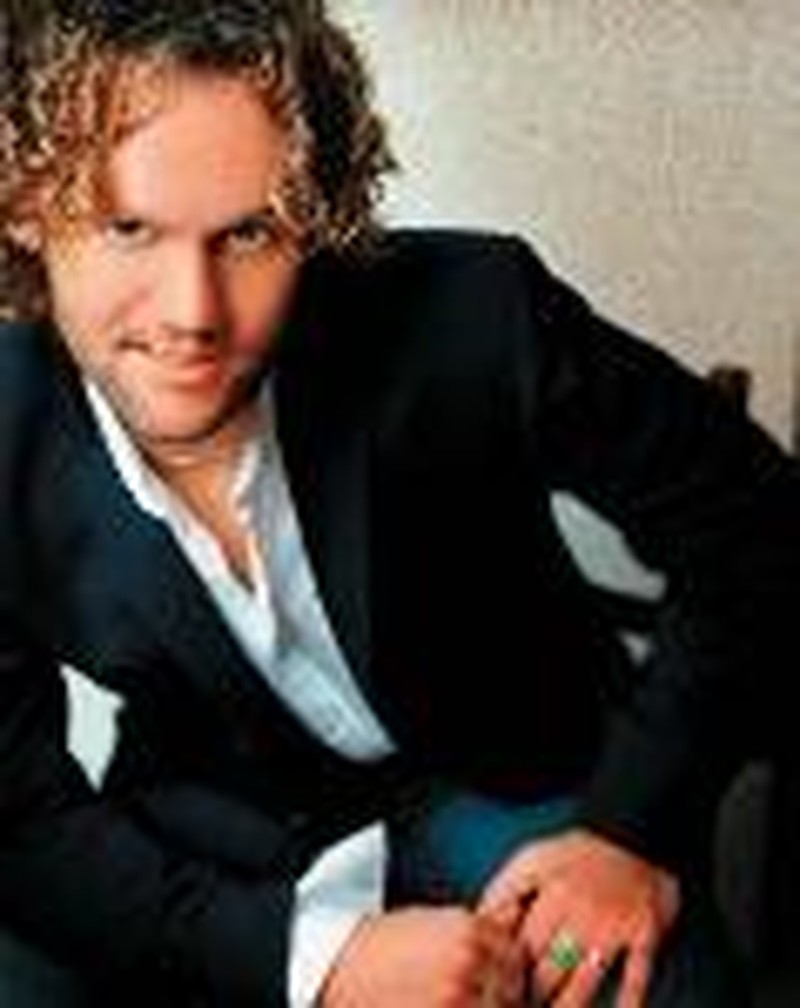 David Phelps is one busy guy. With one of today's most spectacular voices, he has seen thousands rise to their feet for his powerhouse performances. In addition to his regular duties as tenor with Gaither Vocal Band and at Homecoming events, his audiences have also included George W. Bush, crowds at Billy Graham Crusades, and millions of "ABC News" viewers. He single-handedly arranged most of the songs on GVB's "A Cappella" project, and spent the fall writing and recording more than a dozen new songs for his new solo recording, "Revelation," which is hot off the presses.
Recognized from an early age for his talent – several of his teachers expected David to pursue a career in opera or on Broadway – he always intended to perform music for the glory of God. In 1996, as a young man developing a solo career, David and wife Lori packed their bags for Nashville, Tenn., with the hope of landing a record deal for David.
After six heartbreaking months, David had not found an opportunity and the young couple was running out of funds. While visiting his family one weekend back in Texas, David told them, "We really feel like God was calling us to Nashville, but it's just not happening." Instantly, his family gathered around David and Lori and began to pray for a miracle.
That miracle came the very next day when, back in Nashville, David met with executives from Word Records. "They mentioned that the Vocal Band was looking for somebody," he recalls. "[The label] made the contact for me and I sang with the group. We just had a great time." Two weeks later, he officially joined the group that has brought him four Dove Awards, two GRAMMY Awards, and more than a dozen gold and platinum-selling projects. "The nine years prior to my joining the Vocal Band I sang solo, and I've continued to do that when I'm not singing with the guys. It keeps me busy."
Given what Homecoming audiences are accustomed to David singing, he hopes "Revelation" won't come as too much of a shock. However, those familiar with Homecoming favorite "End of the Beginning" should see the new album as a natural extension. "My musical tastes are so eclectic," he says. "To me it all makes sense. Singing southern gospel and inspirational songs with the GVB is something I love and is as much a part of me as performing more modern styles. What I strive for most of all is to find great songs. After all, Christian music is not necessarily defined by a style, but by a message."
As writer and co-writer of most of the album, there were times David had to fight for certain songs because he believed in them so deeply. "They might never be great radio hits, but they said something I needed to say – a message God gave to me.
"At the same time, I let go of some songs because, in the end, I had to admit they weren't up to par. It is a challenge, but I do try to 'let go' to some extent when my work is done. I am an artist and a writer. I am not a marketer. When all is said and done, I have to trust God (and my management and label) to take care of the things I cannot."
From dramatic ballads to R&B-influenced groove and rock-tinged, energetic pop, "Revelation" reveals the musical passion and substantive message behind this exceptional singer/songwriter. "The foundation of this album lies in knowing who Christ really is," explains David. "There's a line at the beginning of the song 'Break Free' that sums it up well – 'Forget what you've heard about Jesus, if it doesn't begin and end with love.'
"We are bombarded with so many images of Jesus – many of which are false. Some of us have an idea He is vengeful, waiting for us to mess up so He can pounce. Then there is the image of Jesus with His finger in our faces guilting us into submission. Or maybe the idea of Jesus with His hand out asking for donations is more familiar.
"I'll never forget listening to Billy Graham start one of his sermons at a crusade when the Vocal Band sang. He said, 'If you hear nothing else tonight, hear this: God loves you.' I hope those words ring through the music and the lyrics of this recording."
Although the accolades and the cheers from the crowd can be a struggle, David says Lori and the kids help him stay grounded. His wife of 11 years, Lori, helps David balance his dual roles as acclaimed vocalist and down-to-earth husband and father of three (soon to be four). "My real world keeps me from living in the applause too long," he says. "Working on a stage of any kind can give you a really unrealistic view of life if you're not careful. In her own loving way, Lori won't let me live in that place of applause; I'm very thankful for that."
In an example of the "at home" life of David Phelps, while he was writing songs for the new album, he was also building Lori a laundry room and teaching their children the harmony parts to a carol they would sing on his Christmas tour. "I help Lori with the dishes, listen to Callie recite her lines for the upcoming Christmas play, compliment Maggie Beth on her latest drawing, and wrestle with Grant on the living room floor."
He admits that sometimes it's difficult to balance everything when it gets busy. "But God gives us the grace to be able to do that and get through it. It's something we have to work on."
David is making sure his kids have the same musical opportunities he had by taking them on the road with him and Lori to his concerts. Lori homeschools their two daughters – 8-year-old Callie and 6-year-old Maggie Beth – both at home and on tour in order to let them and 3-year-old Grant spend more time with Dad. The couple are preparing for the arrival of a fourth little one, due just in time for the release of "Revelation." For an artist who makes nearly 150 concert appearances every year, the decision to educate their kids themselves was the only right one for them. "I'm gone pretty much every weekend," says David. "Homeschooling allows us to pick up and go when we need to, and as a result, our kids have been able to see some wonderful things around the country."
Despite the fame and the awards, David says the most important thing to him is his kids and playing outside with them. "Roller-skating, playing kickball and all that kind of stuff," he lists. "Just building a bonfire out in the back, or whatever it is to make warm memories for them. And it's also a privilege to get to go out and do what I do. To go out and sing – it is a dream come true."
As for his day job with GVB, David also says he continues to be a grateful student of Bill Gaither. "It's been a dream-come-true to work with Bill," he says. "He's taught me a lot about communication. From the moment you walk onstage until the moment you walk off, your body language as well as the song you are singing is communicating something to the audience. Do you believe what you're saying? Then your whole countenance has to show it. Bill has an incredible gift of bringing the best out of an artist. I'm still learning."

Sue Halford helped report this story. Additional material supplied by GaitherNet.com.

© 2004 Homecoming Magazine.  All rights reserved.  Used with permission.  Click here to subscribe.