REMEMBER WHO YOU ARE 

When I left Laurel, Mississippi, to go to the University of Alabama, my dad said to me, "Son, remember who you are." I am ashamed to say today that I snickered at those words. I thought, "Remember who I am? I'm the son of a country store merchant. What does that mean?" But during the next few years, in moments of tremendous tension and pressure and temptation, I would hear his voice saying, "Remember who you are." Through those words, I recalled times of family altar, where my mother read the Bible, and compelled me to read along with her. And although I was far from home, I never forgot my upbringing.
When we remember who we are, we always know what to do and how to live. When we forget who we are, we become uncertain of what is right and are easily swayed by the world. Who are you? Well, if you are a Christian, you are a child of the King. You are adopted into God's family as a son or daughter, and you have a place at God's table. You are an "alien" in this world, but you have a home in heaven. Also, you are God's workmanship. He designed you, created you as a one-of-a-kind testimony to His excellence, and you have been made for "good works," and not for evil.
When the world tries to squeeze you into its mold, remember who you are!
MEMORY VERSE 

For we are His workmanship, created in Christ Jesus for good works, which God prepared beforehand, that we should walk in
them.

READ THROUGH THE BIBLE 

Genesis 46
Click here to sign up for your free Winning Walk newsletter!
OUR THANK YOU TO YOU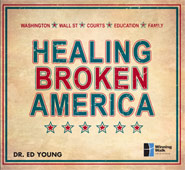 Healing Broken America
CD Series