WHAT IS A CHRISTIAN?
A Christian is a Christ-follower. He is someone who has said "I confess my sins to the Lord, turn from them, and ask Christ to come in and take over my life." I am amazed at how many believers have never told another person how to receive the eternal life that they enjoy. If someone asked you "What is a Christian?" could you rightly respond? Would you?
Several years ago a friend of mine was giving the commencement address at a Kentucky high school. A young man in his congregation was the class valedictorian, and following the ceremony he said to my friend, "Pastor, I want to talk to you. I want you to tell me what it means to be a Christian." This pastor was surprised at the question, since the young man had attended church all his life. But he agreed to meet with him the next morning so they could talk. You've probably guessed by now that that meeting never happened. The young man died that night in an automobile accident. His father recounted that his son regained consciousness before he died, and asked his Dad the same question he had asked my friend. His father could not answer. Could you?
There is no more important question than this: "What is a Christian?" Make sure you know the answer, and be ready to give it without hesitation.
by Dr. Ed Young
MEMORY VERSE
If you confess with your mouth Jesus as Lord, and believe in your heart that GOD raised him from the dead, you shall be saved. ROMANS 10:9
READ THROUGH THE BIBLE
Genesis 1
;
John 1
Click here to sign up for your free Winning Walk newsletter!
OUR THANK YOU TO YOU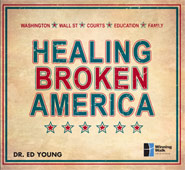 Healing Broken America
CD Series