JOY KILLERS 
Two men who hadn't seen one another for 20 years met up at a high school reunion. One looked at the other and said, "What have you been doing with yourself all these years?" The second man replied, "Well, I own a ranch." Not knowing much about ranching, his friend said, "How interesting. What's the name of your ranch?" He said, "My ranch is called the Greater Los Alamos Santa Gertrudis, Charolais, Black Angus, Quarter Horse Ranch of North America." His friend was impressed. "My goodness. That sounds like some ranch. How many head do you have on that spread?" The rancher shook his head. "Not as many as you might think. The branding kills most of 'em."
Do you know what kills our joy? It's when the world puts its brand on us. When the world brands us, we're encumbered by worry and people and circumstances and situations that wear us down and rob us of the joy of Christ. The best way I know to combat the joy killers of the world is to say these simple words: "Thy will be done." When we say "Thy will be done" in response to the worries and concerns of the world, we die to selfishness, and as we die to selfishness, God gives joy. As we seek His will for our lives, He will kill out the boredom, wickedness, greed, lust and striving in our hearts. As we desire His will, we receive His joy.
MEMORY VERSE Rejoice in the Lord always; again I will say rejoice!
READ THROUGH THE BIBLE 
Click here to sign up for your free Winning Walk newsletter!
OUR THANK YOU TO YOU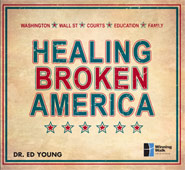 Healing Broken America
CD Series