PRACTICAL INSANITY 

Do you know what the practical definition of insanity is? A person is practically insane who keeps repeating the same behavior and expecting different results. In whatever area of life we continue to do this, we are what I would call "as crazy as a road lizard." And a road lizard is crazy. It might run at you…or it might run away from you. It might run into the path of a car, in circles, or in a straight line.
We may try to hide our particular brand of insanity, but the first step to healing it is to admit we are out of control in that area, and need help. The second step is to believe that Almighty God can heal and restore us. And the third step is to abandon our will totally to Him. Jim Dethmer has a wonderful illustration of this kind of abandon. Imagine you are on top of a building. There is a terrible fire, and you cannot escape. Then, from out of this burning building, you see a wire stretching from the other tower to yours, and a man with a wheelbarrow walking on that wire toward you. He asks you to get in the wheelbarrow, and allow him to take you to safety. What do you do?
You and I are like that man in the burning building. We are trapped in our sin, and Jesus Christ has walked the wire of the cross to save us. We know we need to get in. We know we should get in. The question is, will we get in? We cry, along with the father of the young boy possessed, "I do believe; help my unbelief." You need an escape from that area of your life in which you are "road lizard crazy." Will you get in the wheelbarrow?

MEMORY VERSE 

And Jesus said to him, "If you can! All things are possible to him who believes."

READ THROUGH THE BIBLE 

1 John 3; Psalms 149
Psalms 149Click here to sign up for your free Winning Walk newsletter!
OUR THANK YOU TO YOU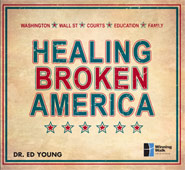 Healing Broken America
CD Series