WHO NEEDS SAVING? 

Imagine you are a sales representative with a big presentation to make. You've prepared. You look your best. You have all your ammunition ready. Landing this account could mean the difference between success and failure for your fledgling company. Before you arrive in your potential client's office, you make one last check in the restroom, only to discover an ink stain the size of a Frisbee on your crisp, white shirt. Water won't remove it. You don't have another shirt. You try to hide it with your tie, but to no avail. You are hopelessly, horribly stained, and there is nothing you can do to remove the mark.
Every single man and woman alive is sin-stained. We are not able to remove the blot of sin on our lives, no matter what method we try. But many people resist the idea that they need to be saved from sin. "Saving" is for other people—people whose marks are more obvious than their own. But the Bible says all of us have sinned, and fallen short of the mark of perfection required by a holy God.
There are four realities that sinners like you and me need to know. First, the stain of sin is permanent. It will not improve on its own, nor be removed by human effort. Second, inspection day is coming. You have an appointment with the Lord God Almighty who judges sin, and there is no escaping that appointment. Third, there is only One who can remove the stain of sin. Only Jesus Christ, the Son of God is equipped to cleanse it. Finally—and best of all—Jesus is in the cleaning business! Jesus' clean-up procedure is called salvation, and it takes place when a man by faith receives Jesus Christ into his life. "Jesus paid it all; all to Him I owe. Sin had left its crimson stain. He washed it white as snow."

MEMORY VERSE 

For all have sinned and fall short of the glory of God.

READ THROUGH THE BIBLE 

James 5; Psalms 129 
Click here to sign up for your free Winning Walk newsletter!
OUR THANK YOU TO YOU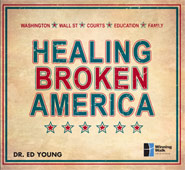 Healing Broken America
CD Series