TIRE-KICKERS 

Every church has its share of tire-kickers. I welcome them! The passion of my life is to introduce others to Jesus Christ, so when folks who are just looking come through the doors of the church, I'm thrilled. But not every tire-kicker is a serious seeker. Some who say they are looking for God are actually not looking for Him, but for what they hope He will do for them. And there's a difference. Some are looking for a panacea. They want some area of their life "fixed," and wonder if God can do it. Others are seeking not God, but God's power. They have their own agenda securely in place, and would like just a little of God's "voltage" to power up their plan and put them over the top.
These are the folks who usually pass through the church, then move on. They go away disappointed, believing that God was not interested in them, their pain or their desires. But they are wrong. God is interested in them. But He is not a supernatural errand boy. God Almighty cares deeply for the lost, yet He has established the immutable conditions by which He can be found. They are not easy, but they are simple.
God will be found by every serious tire-kicker, every seeker, who confesses his sin, repents of that sin, and receives Jesus Christ into his life. The words God longs to hear are these: "Lord, have mercy on me, a sinner." They are music to His ears.

MEMORY VERSE 

For he who comes to god must believe that He is, and that He is a rewarder of those who seek Him.

READ THROUGH THE BIBLE 

2 Thessalonians 1; Psalms 120  
Click here to sign up for your free Winning Walk newsletter!
OUR THANK YOU TO YOU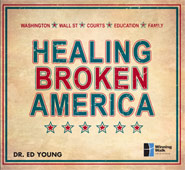 Healing Broken America
CD Series